He's Been Pretty Busy for a Non-Royal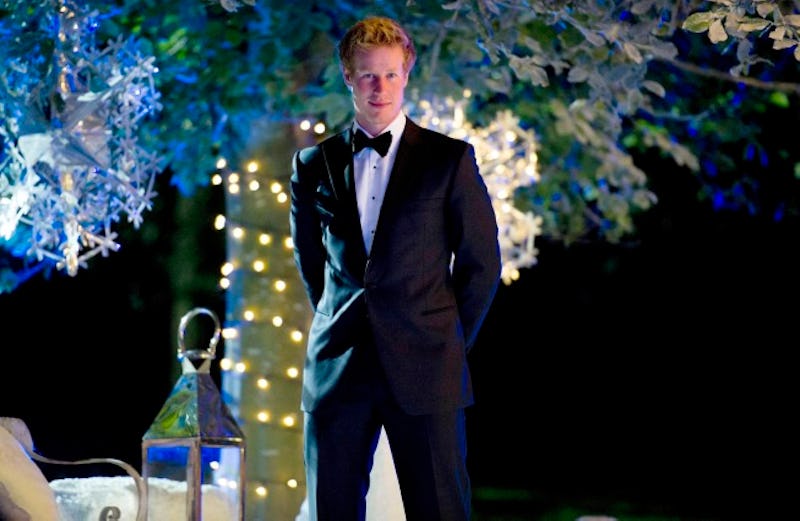 Matt Hicks, the average bloke who pretended to be Prince Harry on FOX's short-lived I Wanna Marry Harry , may no longer be living in a remote castle or going on extravagant dates fit for a royal, but that doesn't mean the fun has to end as quickly as the show did. When the first and only season ended, viewers watched as Hicks revealed his true self to Kimberly Birch, who accepted him for who he was, or perhaps, who he was not. And it is a good thing she did. Because of her accepting nature, Hicks and Birch were awarded $250,000 to split between the two of them.
So what does that mean for the couple now? Since the show finished filming at the end of last summer, Hicks and Birch haven't seen much of each other. Hicks explained that since he is in England and Birch is living in New York, "It has been hard to sustain a romantic relationship." As for their professional lives, Birch, an actress, told Bustle that since the series ended, she's signed with a new agency and is hoping to start working in theater in New York. But what about the actor at the center of all this, Hicks? Other than not really dating Birch, what has the faux prince been up to since I Wanna Marry Harry ended? Here's what we know.
HE WENT TO VEGAS
Talk about life imitating art. Las Vegas is known as one of the real Prince Harry's favorite party places, so it only seems fit that Hicks would travel there and see what Sin City is all about (especially after the women on the show grilled him about Harry's antics there). #dangerous #pardy
HE'S BEEN TEXTING WINNER KIMBERLY BIRCH
In an interview with Bustle, winner (but not princess) Birch said she and Hicks have been texting regularly in hopes of furthering their relationship. According to her, they are "Hopefully planning a trip sometime this year," whether he travels to New York, where Birch is living, or she travels back to England. Good news is, they have a quarter of a million dollars between the two of them, so maybe they can do both.
HE TRAVELED TO SOUTH AMERICA
You can't win $125,000 and not go on a little vacay with the boys, right? Seems like Hicks is putting that money to good use and jetting off to Rio de Janeiro for a little World Cup action.
HE SHOT DOWN THE #HATERS
I Wanna Marry Harry received a lot of backlash from viewers. It was considered manipulative and misleading and according to this Facebook user, "SAD SAD SAD." At least Hicks has a good sense of humor about the whole thing, that and an eye for typos.
HE KEPT IT REAL
Let's call a spade a spade and admit that we would all consider going on a reality show that paid us, put us up in luxurious accommodations, and let us date beautiful people for six weeks, if we had a job that would allow us to return to it after. When asked how he was persuaded to take part in the show, Hicks said it like it is and didn't feed fans lies about how he just wanted to find his soulmate.
HE BECAME VERIFIED ON TWITTER
It really is the little things in life. At only 107 followers (which has since grown to 4,791), Hicks received "a little blue tick and stuff," making his #zlist dreams come true.
Images: Fox, iammatthicks/Instagram, iammatthicks/Twitter