#FreetheNipple With the Ta Ta Top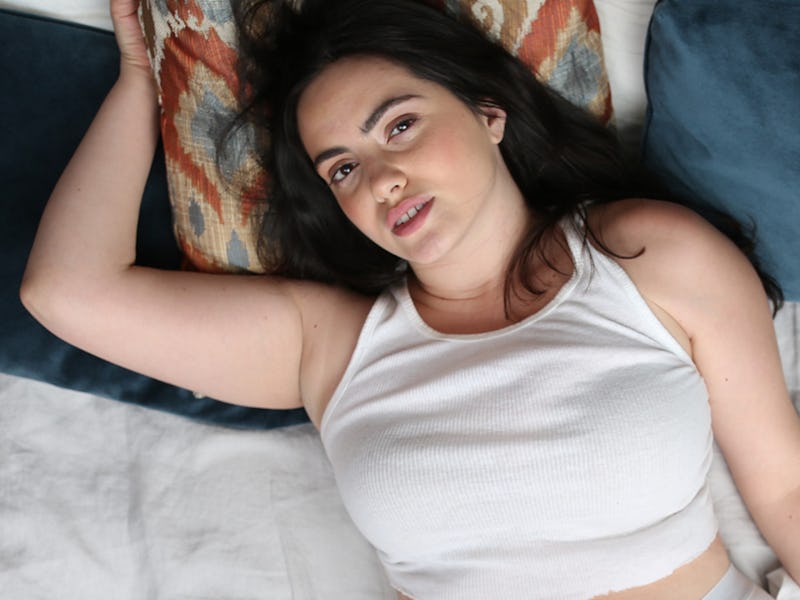 Image: Bustle Stock Image
Nipples have been big news lately, specifically female nipples, due to the #FreetheNipple campaign aimed at getting Instagram to quit it with the outdated (and sexist) no-nipple policy. The latest thing, thanks to Rumer Willis, seems to be wearing printed nipples on your clothes. I like this concept because it's like giving censorship the finger. That's where the Ta Ta Top comes in.
The Ta Ta Top is a (light) flesh-colored triangle bikini top with nothing special going on except for the big pink nipples printed at about where your real nipples would be. Fashionable? No. Awesome? Yes! According to the Ta Ta Top website,
The original TaTa Top is the perfect piece for almost any occasion. Whether it be at the beach, on a boat, walking down the street, or a child's birthday party-the TaTa Top makes a bold statement saying "It's just boobs, ya'll. Get over it!!"
I love that. Yeah, it is just boobs (I'm looking at you, Instagram), so let's stop acting like they are going to bring on the downfall of the nuclear family and render all men incapable of functioning. Founded by Robyn Graves and Michelle Lytle, Ta Ta Top "is meant to make the sight of the female anatomy something ordinary — like, oh, say, the male nipple," according to Salon. Hm, how novel.
Want some even better news? Five dollars from every $28 purchase will go toward the Lynn Sage Cancer Research Foundation, a breast cancer research facility. Anyone else feel like heading over to TaTaTop.com and buying out the whole stock? Just me, then? Graves and Lytle claim the top is realistic from as close as 10 feet away for white people, but the women also assured Salon that two more skin colors are on their way. We can't wait to see what Rihanna does with hers.
Strangely enough, the Ta Ta Top has run into some censorship issues with Instagram even though the top fully covers the actual nipple of the wearer. Thankfully, the company's Instagram is currently active and uncensored. To those of you who might be horrified by a spotting little fake (or real) female nipple on your Instagram feed or your trip to the gas station, I have one thing to say: It's just boobs. Get over it.
Image: Bustle Stock Photo