Mark Ruffalo's 7 Most Charming Movies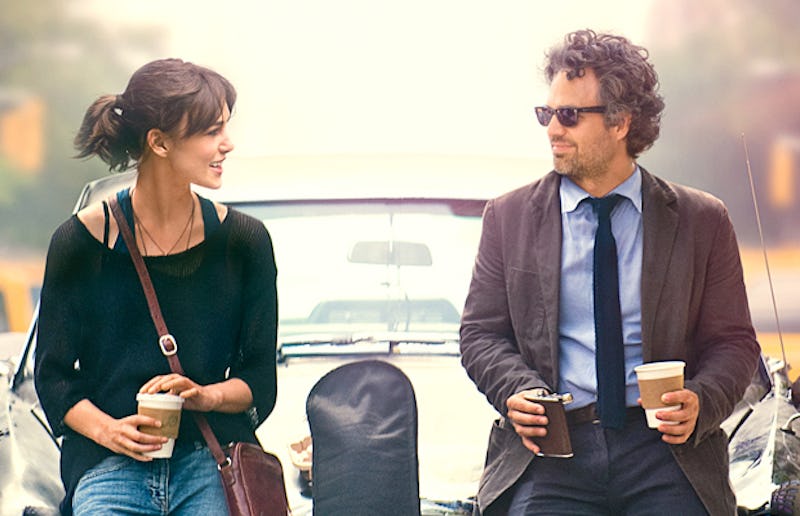 When I first learned that I would be seeing Begin Again , John Carney's follow-up to Once , I was excited for a number of reasons: 1) I love musical movies, with literally no exception, 2) the trailer looked great, so I wouldn't have to be embarrassed about loving this particular musical movie, and 3) it stars Mark Ruffalo, one of the most appealing, likable, and adorable actors in Hollywood.
Mark Ruffalo, you say skeptically? The guy who aged 10 years at the Oscars and mumbles all his lines in movies? Yup, that's him. While he may be an unlikely leading man, there's something about Ruffalo's performances that are just so damn charming. It's impossible not to fall for his characters, whether he's playing a grumpy but lovable loner in 13 Going on 30, or a grumpy but lovable loner in Begin Again, or a grumpy but lovable loner in... well, you get the point. Ruffalo may get typecast a bit too easily (save for a few recent exceptions), but there's a reason for that: he's great at what he does.
And what he does, of course, is charm. A look back at Ruffalo's seven most endearing roles:
7. Eternal Sunshine of the Spotless Mind (2004)
Ruffalo's role in the beloved drama may have been small, but he still made quite an impact as a guy who charmed his way into an affair with his co-worker (Kirsten Dunst). Even Ruffalo's least likable roles still somehow manage to be appealing.
6. Begin Again (2014)
At first, the idea of pairing Mark Ruffalo up with Keira Knightley seems questionable; how could those two actors, as different as can be, manage to seem believable as romantic interests? Yet all doubt is destroyed by their first few scenes together, in which Ruffalo proves that he has the ability to charm literally anyone he meets, no matter how unlikely it seems. There's simply no way not to fall for him, at least a little bit.
5. The Kids Are All Right (2010)
It's easy to see why Jules (Julianne Moore) and the kids (Mia Wasikowska and Josh Hutcherson) were drawn to Ruffalo's Paul in this Oscar-nominated dramedy — despite all his flaws, he was effortlessly likable, able to bond with anyone who came in his path. For someone like Nic (Annette Bening), immune to his charms, Paul's inconsistency and lack of consideration for others was just infuriating, but for those who adored him, none of that really mattered.
4. The Avengers (2012)
To clarify: we're talking Ruffalo as Bruce Banner here, not Ruffalo as Hulk. Playing the careful, nervous scientist with appealing charm, the actor made us care about his character, which is more than most past Hulk iterations can say.
3. Just Like Heaven (2005)
Was Just Like Heaven a particularly good movie? Nope. Was it superbly enjoyable, mostly because of Ruffalo's sweet, lonely widower? Absolutely.
2. You Can Count on Me (2000)
Starring as Terry in Kenneth Lonergan's 2000 film was Ruffalo's breakout role for a reason; in the family drama, the actor played the unreliable, immature brother of the film's lead (Laura Linney), who got away with his actions by charming the socks off of everyone he met. Even as Terry gave us a million reasons not to do so, the characters, and audience, just couldn't help but root for him.
1. 13 Going on 30 (2004)
Oh, Matty. The 13-year-old may have gotten picked on and been friendzoned, but it was hard to imagine his 30-year-old self having too many troubles. Reuniting with Jenna (Jennifer Garner), Matt was initially resistant, but as she wore him down, his grumpiness gave way to adorable likability. This was Ruffalo at his most charming best. I mean, RAZZLES.
Images: Paramount; Focus Features; The Weinstein Company; Columbia; Dreamworks; Marvel