What Our Favorite Shows Look Like Abroad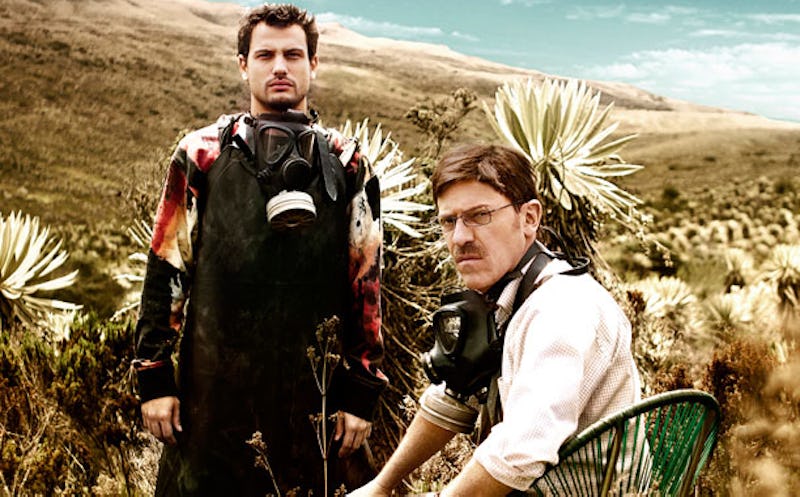 A school bus instead of an RV. A fountain instead of a pool. Paramilitary instead of Neo-Nazis. No, this isn't some toned-down, school play version of Breaking Bad (although we kind of love that idea), but the basis for Metastasis , the Spanish-language remake of the AMC show that premiered in Latin America on June 8. Yet while a few changes had to be made to fit the series' new setting (including a vest-sporting Hank, which got Dean Norris' approval), the majority of the remake is eerily similar to the Breaking Bad American viewers know and love.
Still, while a subtitled version of the show wouldn't seem like a such a big deal, it's an odd feeling to realize that an entirely new rendition of Bad exists, and that while people across the continent can now call themselves fans of the series, the actual show we're seeing may differ from place to place. In other countries' versions, is Jesse still a fan favorite? What breakfast foods does Walt Jr. eat? Does "I am the one who knocks" still sound just as powerful when spoken in a different language?
If done well, of course, the answer could be a definite yes, and judging by its great-looking trailer, Metastasis has major potential to be just as compelling as the American Breaking Bad. How do the foreign versions of other U.S. TV shows stack up to their originals, though? Let's take a look:
Med Cezir, aka The O.C. (Turkey)
Yes, there is a Turkish version of The O.C., and no, we don't know if Chrismukkah and bagel slicers are just as popular overseas. The 13 episodes of the remake premiered last fall, and according to a Warner Bros. rep, "it looks glossy and perfectly replicates the original series with a Turkish twist." Unfortunately, the trailer and clips aren't available in the U.S., so we'll have to make do with just imagining what kind of adventures Captain Oats and Princess Sparkle would get up to in Istanbul.
24 India, aka 24 (India)
The first season of the Hindi edition of 24 , set in Mumbai, premiered in October. Anil Kapoor, renowned Indian actor who memorably played President Omar Hassan on the eighth season of the American 24, is Jack Bauer (or Jai Singh Rathod), and except for a few cultural differences, the two versions are relatively similar. Its second season might have even more deja-vu, however, as Kiefer Sutherland has talked about making a guest appearance.
A Corazón Abierto, aka Grey's Anatomy (Columbia)
There are a few international adaptations of Grey's Anatomy, but the most well-known is the Columbian version, which premiered in 2010. The show was hugely popular with audiences — nearly half of Colombian TV viewers watched the premiere — but only lasted two seasons. Still, the remake, modified to a five-episode-a-week telenova format, certainly made an impact.
Chrysa Koritsia, aka The Golden Girls (Greece)
The Golden Girls may be an older show, but it's more popular than ever, judging by the many foreign versions of the series that have been commissioned since the original's cancellation. There's Chrya Korsia, the Greek version shown above; Golden Girls , the Dutch edition (complete with a Dutch theme song); and Bolshie Devochki, a Russian remake translated literally to Big Girls, among others. Betty White must be so flattered.
Voroniny, aka Everybody Loves Raymond (Russia)
Like The Golden Girls, Raymond has had plenty of overseas remakes, including this Russian version whose adaptation process was made into a documentary called Exporting Raymond . No, we're not kidding. There's also the less exciting, but still important, Polish, Dutch, Israeli, British and Egyptian (in which the show is aptly retitled "Close Doors") versions of the series.
How I Met Your Mother (Russia)
The most notable thing about the Russian How I Met Your Mother remake is how similar the cast looks to the original. Now that's just creepy.
Law and Order: UK, aka Law and Order (U.K.)
In 2009, this acclaimed version of Law and Order became the first adaptation of an American drama series to be adapted for British TV. The two series are nearly identical, except for the location (UK is based in London) and the government's laws. Basically, the arrests might be different, but the story itself is as close to the original as can be.
China Girl, aka Gossip Girl (China)
The biggest difference between the American and Chinese versions of Gossip Girl is that the setting is changed from a high school to a college, which, considering the characters' nightly actions, is a bit more reassuring.
Merhaba Hayat, aka Private Practice (Turkey)
It's a universal truth: people love medical shows. Private Practice may have been an odd choice to remake overseas — was the show even that popular in the U.S.? — but in 2012, it happened. Filmed in Istanbul, the show closely followed the original's storylines, changing the names of the characters but leaving their jobs and relationships mostly intact — Addison Montgomery's hair, though, is another story.
Al-Shamshoon, aka The Simpsons (U.A.E)
Some shows just don't work overseas. Take Al-Shamshoon , the short-lived Arabic version of The Simpsons that, in order to fit that culture's norms, had to cut all references to alcohol, pork, and any other taboo items. Also, Springfield became Rabeea, although it still was meant to look like an American town — just one with a large Arab population.
A Guerra dos Pintos, aka Married With Children (Brazil)
A few of the many, many Married With Children remakes: Casados con Hijos, a hugely popular Argentinian version; Bracne vode, for Croatia; and A Guerra dos Pintos , the Brazilian edition translated to The War of the Pintos.
Powerpuff Girls Z, aka The Powerpuff Girls (Japan)
The Japanese version of The Powerpuff Girls was made as an anime series, and aired for just one season from 2006-2007. That's not the only change, though; the girls, for instance, had their names changed to Hyper Blossom, Rolling Bubbles, and Powered Buttercup. Thankfully, however, Mojo Jojo is the same in both countries.
Pobeg, aka Prison Break (Russia)
A few elements are changed, but the main story of the adaptation, which premiered in 2010, is the same: one brother imprisoned by mistake, another who gets himself arrested in order to help his sibling escape. It seems that no matter where a show takes place, brotherly love is universal.
Desperate Housewives Africa, aka Desperate Housewives (Nigeria)
As the re-titling implies, the Nigerian version of Desperate Housewives, created by TV mogul Mo Abuda (above), isn't too different than the American show; there's still crazy drama, family fights, and ridiculous, non-suburban clothing. The cast, however, is pan-African, the setting is Lagos, Nigeria, and the show is described as having "an African flavor." It's too early to tell if it holds up, though, as it only premiered this summer.
La Tata, aka The Nanny (Italy)
Fran Fine becomes Francesca Cacace, Judaism is replaced by Catholicism, an extended family appears out of nowhere, and voila, you have an Italian Nanny remake!
Geordie Shore, aka Jersey Shore (The U.K.)
Judging from the title, one would assume that Jersey Shore wouldn't work as a series overseas. Apparently, though, that's incorrect, as several remakes of the show have been made, including a very popular British version called Geordie Shore that's been on the air since 2011. The new show is set in Newcastle, a Shore-like town, and although the weather's a bit colder, the tans, hairstyles, and life morals are pretty much the same.