We Found The Next Bachelor For You, ABC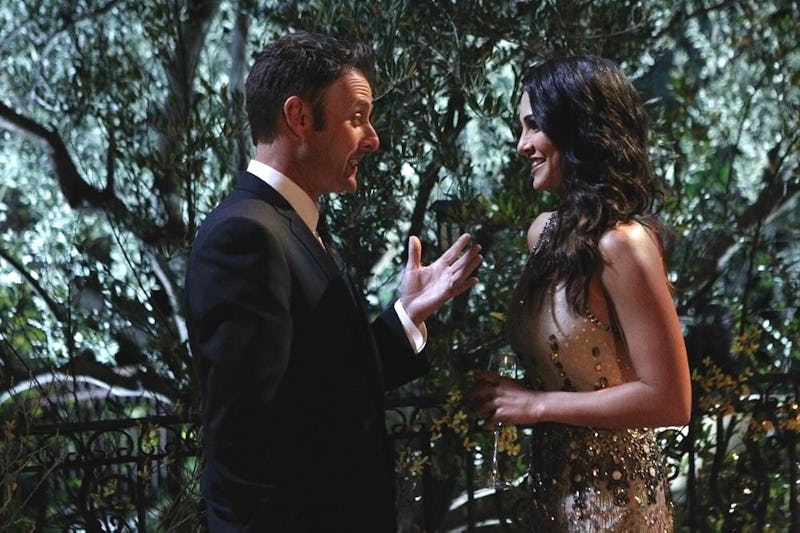 It's an irrefutable truth that Chris Harrison and The Bachelor and Bachelorette are one and the same. We wouldn't love the show nearly as much without our favorite host's soothing voice opening the show, heart-to-hearts, words of wisdom, and comforting presence in the most trying times, like announcing the last rose and gently telling our rejects to "say their goodbyes." For so many seasons, Chris Harrison listened intently as our Bachelors and Bachelorettes worked through their feelings of confusion and "falling in love" from the perspective of a long-time, happily married man. As an audience, we took his sound advice from someone who had a relationship the show's contestants were vying for.
That was, until news broke that his 18-year marriage was ending, and Harrison was in the same position as the Bachelor or Bachelorette and all the love-seeking contestants. As Andi's season heads to hometowns, and speculation begins to rise as we await the announcement of the next Bachelor, it brings us to the question — why not Harrison?
There are a lot of eligible departed gents from the current season, but something just seems right about relatively-newly single Chris Harrison handing out roses and pondering his next love-fueled move in front of an altar of single women's photos. Harrison has had his time to adjust to single life, and allegedly try his hand at a few rebounds, but it's hard to argue with the tried and true Bachelor process.
He's the show's number one cheerleader
Juan Pablo wouldn't say the L-word, and found... emotions and Bachelor success despite that. Brad walked away without a fianceé his first time around, and Emily and one-F-Jef's very public display of engagement was all for show. Harrison stays in the loop with the whole Bachelor family, hosting and officiating weddings and seeing how the process can really work. For someone whose main income draws from singles' search to find love, he must believe in it, so he should see if it could work for him.
We already love him
Juan Pablo's season ended in semi-disaster for many reasons. Des's season fell a little flat. Ashley made a lot of people pretty angry. It's hard to know how someone will play out after minimal screen time on another season. We know Harrison well after so many seasons, and we know we won't be disappointed by his theoretical journey to find love.
We want to see the flip side of a Chris Harrison heart-to-heart
Harrison is the standard voice of reason, making the contestants spill all. But what would it be like to have him stuck between possible women, unsure who to choose and who to send home? And who would he work this out with, himself? This would be quality TV that I would not want to miss.
He Has Kids, Which Means He'd Have to Be Serious
Everyone loves a bachelor with kids and a juicy romantic past. Unlike many young hopefuls who exploit their past relationships for emotional value, Harrison has a real past that we can sympathize with and would, frankly, make for great TV. Kids give the choice gravity, and create a connection with other potential fianceés who also have kids to consider. There'd be more to Harrison's decision, and we'd be dying to see how it plays out.
Bonus: he's stylish (Yeah, Really)
Harrison is often the best dressed guy in the room. He knows his way around a casual ensemble, and when he has to suit up, he knows how to do that as well. Harrison even has his own menswear line. Each week requires so many outfit changes that culminate in one formal cocktail party and rose ceremony, and I wouldn't complain about what he could pull out every episode.
Images: ABC (2); instagram/chrisbharrison; Getty Images (2)