You Are Cordially Invited To Season 2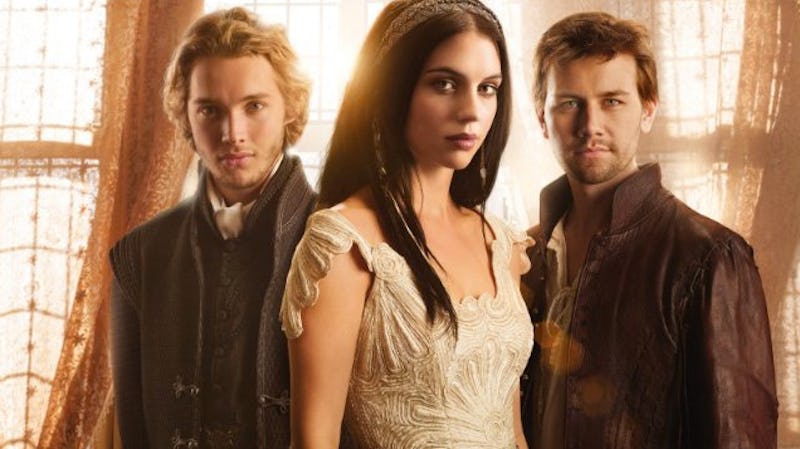 If the first season of Reign has taught us anything, it's that life in the royal court is never easy, especially when your name is Mary Queen of Scots. Let's face it: the poor girl wards off death threats as often as Catherine tries to poison someone (so, very often). And based on everything that happened during the finale (Henry's death, Lola going into labor, a potential Plague threat — you know, the usual), Season 2 is bound to pack quite a punch in the drama department.
Speaking of which, according to The CW fall premiere schedule, Reign 's second season premiere will kick off on Thursday, Oct. 2, immediately following The Vampire Diaries. And aside from the fact that this date seems extremely far away (mostly because it is), it does give hardcore addicts like ourselves plenty of time to start pondering Reign theories and scouring the internet for clues as to what lies in store when Mary & Co. return. And boy-oh-boy, have we found a few.
From brand new characters to exciting plot twists, there's no doubt that we have a ton to look forward to from our favorite French Court characters. However, there are a few things in particular that have us on the edge of our royal seats. Such as…
THE INTRODUCTION OF PRINCESS CLAUDE
The series will see many new faces grace the French Court next season, but one person who has especially caught our interest is Princess Claude, Henry and Catherine's daughter. TVLine describes the character as being a "very sexually advanced" young lady with an eye for mischief. We're hooked already. As of now, Princess Claude's motives remain unclear, though chances are her return to court has something to do with King Henry's recent passing. But will she be there to mourn or make a move for the throne herself. Our money's on the latter, and we can't wait to see how it all unfolds.
MORE LEITH
Now that Jonathan Keltz has been made a series regular, it's safe to assume Leith will be getting a lot more screen time come next fall and we couldn't be happier. Not only does this allow his adorable bromance with Francis to continue to grow, but it also gives Greer and Leith (Greith?) shippers hope that these two crazy kids will be able to work things out — though by the look of the finale, Greer's going to have some competition on her hands… from her future step-daughter, Yvette Castleroy. Awkward.
BABY MAMA DRAMA
Now that Francis knows about his and Lola's love child, there's no telling how all this will play out. Perhaps, if this whole Plague thing blows over, Lola will become his mistress like Bash's mother was to Henry. (Like father, like son, as they always say.) Either way, this extra layer of complications should make for a truly compelling story arc.
THE GLAM FACTOR
The country (and their love lives) may be in complete disarray, but that's not stopping these royal ladies from looking fabulous each and every week in ridiculously gorgeous garments — a trend which we're sure Season 2 will continue to uphold. Sixteenth century wardrobes are so in right now.
BARE BASH
Nothing's been confirmed or anything, but it sure would be nice to see Bash show a little extra skin again next season. Just some food for thought, writers.
Images: The CW; destielisdestinygifs/Tumblr; thebashtille/Tumblr