'Teen Wolf's Cast Is Very Different This Season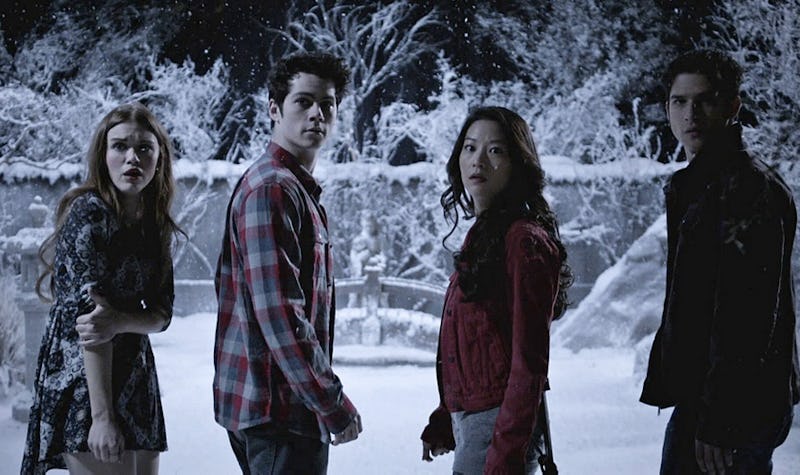 If you're one of the many people who watch the surprisingly good Teen Wolf on MTV, you've already noticed some great and some weird changes in the show for Season 4 as compared to its previous season. The setting for the season premiere was changed from the fictional Beacon Hills to Mexico as the gang searched for Derek who went missing again, the humor seems to have returned a bit, and most importantly, the cast list is quite different. Yes, that's right, Teen Wolf' s cast has changed for Season 4, adding some new faces after the intense Season 3 and awesomely enough, a majority of those new faces are strong females.
That's right! Teen Wolf's new blood is mostly comprised of women and I couldn't be happier considering how testosterone-filled much of this show was for the last few seasons. Seriously, it was like everywhere fans looked there were men, from the alpha twins to Derek and Peter Hale. Even the Argents, who supposedly have a tradition of women making the decisions when it comes to hunting, have killed off the only women in their clan. Though to be fair, Teen Wolf has just resurrected one of those women. Welcome back Kate Argent!
So who is officially part of the main cast? Well in Season 3, we had the obvious male leads, Tyler Posey as Scott McCall and Dylan O'Brien as Stiles, who is my personal favorite. Rounding out the cast were Crystal Reed as Allison Argent, Tyler Hoechlin as Derek Hale, and Holland Roden as Lydia Martin. Most of this main cast is still on the show and the only person we've lost is Allison, in one of the saddest deaths in recent TV history.
The fourth season's main cast is still comprised of the original castmembers Posey, O'Brien, Hoechlin and Roden, who are now joined by newbie Dylan Sprayberry as Liam and Shelley Hennig as Malia Tate, a werecoyote and Stiles' new love interest. This season also adds Arden Cho as Kira Yakimura, a Kitsune and Scott's love interest.
We already got a taste of Malia and Kira in Season 3 after Malia was found living in her coyote state for several years. Kira and her family helped create most of the plot points for the second half of Season 3, which involved the Nogitsune, that took over Stiles and caused him to inadvertently kill both Allison and Aiden. But Sprayberry's Liam is completely new and didn't even appear in the season premiere.
Liam won't be the only new face, the recurring cast has also changed quite a bit from Season 3. Gone are the alpha twins as Ethan left Beacon Hills after Aiden died and for some strange reason, Daniel Sharman's Isaac has also now left the show. Teen Wolf already addressed Ethan's departure in a great scene with fellow recurring guest star Danny, but will the wolf pack even bring up the fact that Isaac, one of their own since Season 2, has also left? Perhaps they'll attribute it to Allison's death as Isaac and Allison were getting hot and heavy before she was killed.
The recurring cast is also gaining mercenary Braeden, who we first met for a brief second in the first half of Season 3 and returned in the Season 4 premiere, as well as newbies on the Beacon Hills lacrosse team Khlyin Rambo as Mason, an openly gay athlete, and Mason Dye as his best friend Garrett. How exactly these two will fit into the story is anyone's guess. Plus there's the newest big bad, creepily titled "The Benefactor." So basically, no one knows what the hell will happen when the gang returns to Beacon Hills from their little trip to Mexico. And Teen Wolf writers, you have us all excited to find out.
Images: MTV; Tumblr/fantasizingmyfantasies; Tumblr/theteenwolf05; Tumblr/allisonargent