This 'PLL' Couple Should Be Done — For Real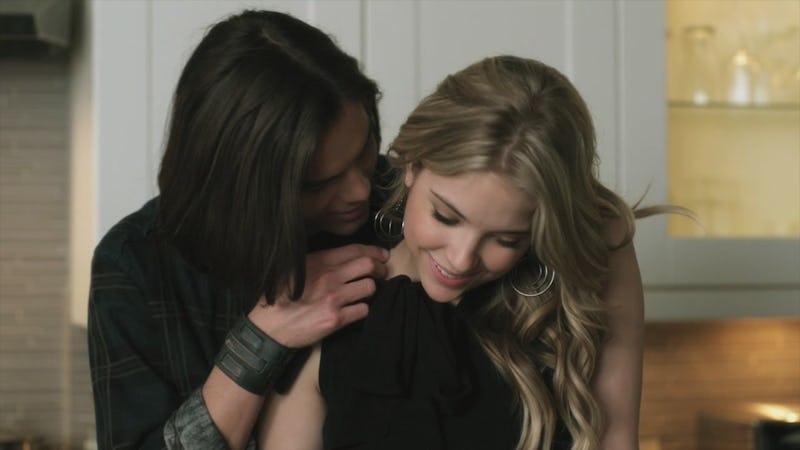 I have betrayed you, my fellow Pretty Little Liars superfans. Typing out these words hurts me as much as I'm sure reading them will hurt you, but I need to be true to my own heart. Ready? Okay. Here it is: Caleb and Hanna shouldn't get back together. (There, I said it.) "But why not?!?" I imagine you screaming at the computer. "Caleb's coming back! Ravenswood was cancelled! They already have an adorable couple name!" I hear you, PLL fans, but unfortunately, all of those reasons (as valid as they are) don't exactly make me feel any better about the reunion of Haleb. Despite Caleb (Tyler Blackburn) returning to Pretty Little Liars I honestly believe that a reunion of the one-time super couple will only bring a whole bunch of problems for both Hanna and Caleb — and these are two kids that just don't need any more problems.
According to TVLine, Hanna will have to decide whether to continue her relationship with the adorable Travis in the 100th episode of the series titled "Miss Me x 100." It's clearly not a coincidence that Caleb will return to PLL for the 100th episode — after all, when the former love of your life comes back from chasing down ghosts, it's natural to consider giving them a second chance.
But while Hanna may consider giving Caleb a chance at her heart (assuming he still wants a chance at her heart), I'm firmly in the camp that a reunion between these two exes is not such a great idea. Here's why, as much as I love these two as individuals — and as potential future friends — they would both be better off not rekindling their former flame... at least, not right now.
They Can Continue To Explore New Relationships
Unpopular opinion time: Is anyone else super into the new thing Hanna has going with Travis? Because I am. Caleb was great for Hanna when they first got together, and I think that Travis can be great for Hanna as well — in a totally different way. Hanna needs someone to distract her from the "A-ness of things" and Travis looks damn good in a suit — and that's plenty of distraction, if you ask me.
As for Caleb, he clearly had very deep feelings for Miranda during his time in Ravenswood, which means that while Hanna and Caleb may love one another very much, they both should explore their feelings for other people. After all, how can they find their way back to one another in a real way if they haven't dated around for at least a little bit when they had the chance to?
Hanna Has Bigger Problems Than Boys
Part of the reason we should all 'ship Hanna and Travis (Tranna, if you will) is because her relationship with Travis isn't quite as complicated as her relationship with Caleb. Travis knows the bare minimum about A, Alison's reappearance, and Hanna's not-so-squeaky-clean past. Honestly, Travis and Hanna just aren't "there" yet in terms of a deep relationship — and maybe that's good. Hanna has enough problems in her life, and a serious relationship just isn't one of them. Remember all the time Hanna spent making sure that Caleb was safe from A? It will definitely happen again if Haleb reunites.
Alison's Going To Ruin A Reunion Anyway
Ready for a spoiler that might make you want to write an angry letter to the PLL writers?
And here's how I feel about that:
No word on whether Caleb and Ali will really share a steamy kiss (SAY IT AIN'T SO, BRYAN HOLDMAN!) but considering that Ali seems to inadvertently ruin all of the little liars' relationships, I wouldn't exactly be surprised to see her macking on Caleb. If she does it when Hanna and Caleb are officially a couple again, I don't know who would want to kill Ali more: A, Hanna, or the entire PLL fan base.
Sorry, Haleb shippers, but I think this couple should sit this one out — at least, this season, anyway.
Images: ABC Family; pretty-lonely-girl/tumblr (2); sowefightandwecry/tumblr; holygrailofgifs/tumblr