She's Inspiring The Best Selfies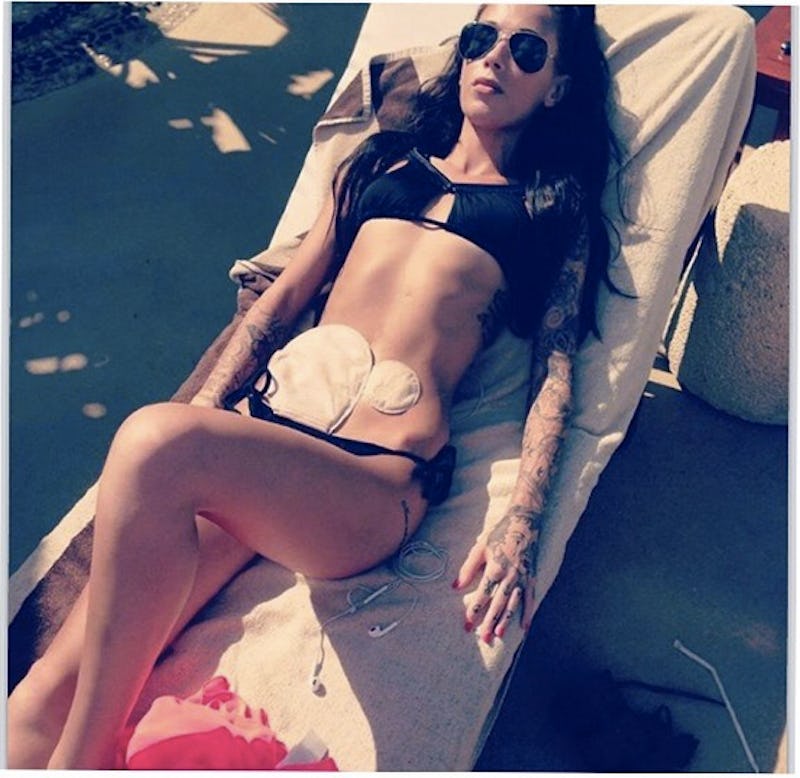 Last week, we loved hearing and talking about Bethany Townsend, the aspiring model who suffers from Crohn's Disease, as she boldly posed for photos on Instagram exposing her colostomy bag to the world. Of course, the world can't change overnight, but Townsend's viral photos are a step in the right direction towards a broader definition of the word "beautiful." Last week Townsend's selfie showed her self-confidence and strength, and this week that same strength and confidence has been transferred to more people who have undergone colostomies.
If you check out Crohn's and Colitis UK's Facebook page, you will see that many fans have taken to the community wall to post photos of themselves, bikini-clad or in everyday clothing, with their colostomy bags on display. They tag the photos with the appropriate hashtag, #GetYourBellyOut. Rather than to be ashamed of the ways that they are different because of their disease, they are putting everything out there, reclaiming their beauty and serving as inspiration for anyone who has felt "less than" because of their physical appearance. Commenters are posting words of assurance and encouragement to each other below the #GetYourBellyOut photos, and the presence of a strong and growing community is ever-so clear.
When Townsend was asked about the responses and how she's served as an inspiration, she said "I'm just so glad that it's brought about more awareness of Chrohn's disease and it's made me feel so much more confident about the colostomy bags."
"If I can inspire or help other people in my position to feel a little more comfortable in their own skin then I'm happy." she said.
Images: Instagram, Crohn's and Colitis UK