Things Have Changed for These 'Friends'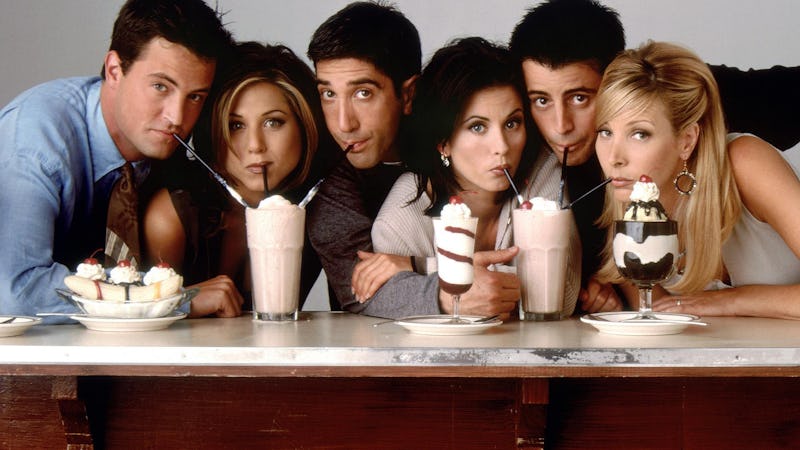 Admit it — you always wanted to be a part of the sixsome that was Joey, Chandler, Ross, Rachel, Monica, and Phoebe. The friends on Friends were the ideal support system to get you through those tumultuous 20s (and later, 30s). There's a reason that their theme song was "I'll Be There For You," these guys were there for one another, through every breakup (or, uh, "break," if you want to play that card), Thanksgiving disaster, and harebrained scheme. But what about the cast of the hit NBC sitcom? Do those guys still hangout? Luckily, the actors on Friends are just as fond of one another as ever.
Much like Ross and the gang, they don't see each other as much as they used to (remember Monica and Chandler's big move to Westchester?) but, lucky for us, they still keep in touch. According to Entertainment Tonight's interview with Matt LeBlanc the cast "don't get to see each other" as much as they used to. But don't cry yet — according to LeBlanc, when they do get together, it's just like old times.
But while the cast of Friends may not see one another very often, they have recently come together for quite a few projects. LeBlanc's Showtime series Episodes featured LeBlanc (playing a hyper-Hollywood version of himself) begging his former Friends coworkers to guest star on his new show. Unfortunately, all of the Friends cast members refuse to do it, considering that LeBlanc was a total jerk on the set — in this version of reality, anyway. Luckily, LeBlanc eventually scores a cast member, James Michael Tyler, AKA Gunther.
But while LeBlanc's show joked about his on-set antics, it seems that this cast really does like one another. David Schwimmer guest starred on pal Lisa Kudrow's Showtime series Web Therapy back in 2012. And the Friends power couple, Monica and Chandler, have also reunited on screen — Matthew Perry guest starred on Courteney Cox's TBS sitcom Cougar Town in January of 2014, while Cox appeared on his short-lived series Go On in 2013. Prior to that, Perry paired up with Kudrow in 2013 for an interview on Piers Morgan Live, where they talked about how the Friends run was really the best time of their lives — aww!
Perhaps the strongest friendship to come out of Friends is the one between Cox and Aniston, who also played long-time BFFs on the series. The two are still as close as ever (Aniston is the godmother to Cox's daughter, Coco Arquette) and often wax poetic about their friendship. How very Rachel and Monica.
Though this sixsome may not reunite very often, it's nice to see that they haven't forgotten their former Friends. I certainly haven't.
Images: NBC; Giphy (4)