Would You Get Married at McDonald's?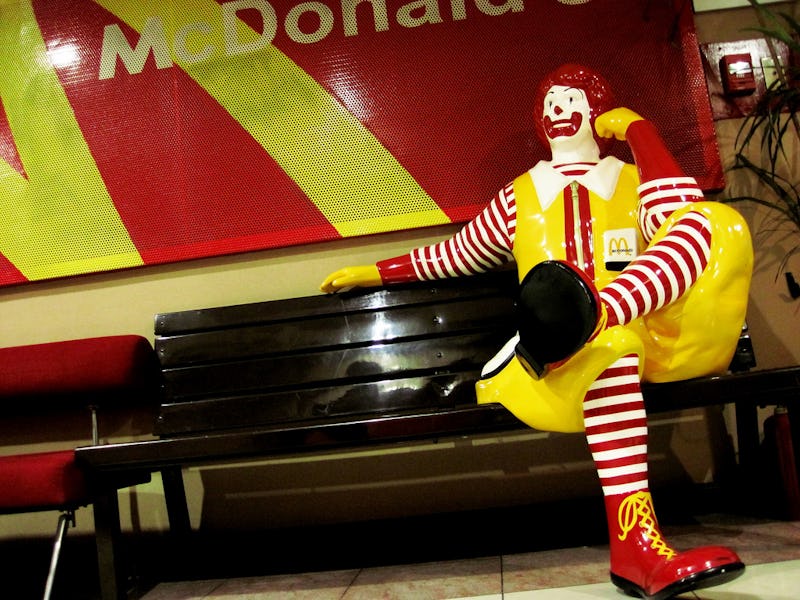 What do you think of when I say the word McDonald's to you? Burgers? Fries? Terrifying mascots? All of these answers would be correct — although now you can add something a little unexpected to the list: Marriage. Cue the McWedding march, because as unbelievable as it sounds, McDonald's now offers weddings.
The McDonald's Wedding Party program launched in Hong Kong in 2011 to meet regional customer demand, so why the heck are we just hearing about it now? Business Insider reports that the fast food chain initially offered the nuptial packages at just three restaurants, but it has since expanded to 15 and played host to a few dozen wedding parties. Wrote McDonald's spokeswoman Jessica Lee in an email to CNBC on Friday: "We started the program because many customers tell us that McDonald's is where they first started dating… McDonald's is where their love stories grew." She continued, "This connection is exactly why they want to hold their wedding parties and even anniversary parties at McDonald's — to relive sweet beginnings and bring their romantic story full circle." Because nothing says "romance" like a Big Mac.
There are four wedding packages to choose from, with the least expensive measuring in at HK$2,888 — around US$373 — and the splurgiest setting couples back HK$9,999 — about $1,290. The deluxe package nets you (among other things) a two-hour venue rental, balloon wedding bands, a bridal bouquet, an apple pie cake display, a crystal McDonald's house, decorations, and invites and McDonaldland character gifts for 50 guests. You can even buy a wedding dress from McD's for an additional cost; there are two designs to pick from, and they're both made of balloons.
You heard me. You can say your "I dos" clad in a balloon dress. They look like this:
I don't know, guys. I'm kind of torn about the whole thing. On the one hand, I can't think of anything tackier than a McWedding; but on the other, if that's what does it for you, then go forth and tie the knot. At least they're affordable, right? Given that the average American wedding these days costs almost $30,000, $1,290 is a bargain — even after you factor in airfare (Google Flights tells me you can get from Philadelphia to Hong Kong and back again for less than $1,500, round trip). For the record, you can also throw your engagement party, anniversary shindig, or bridal shower at McD's.
As for whether or not we can expect to see the McDonald's Wedding Party program making its way to the U.S., though… I wouldn't hold my breath. Lee told CNBC, "This is something unique to McDonald's Hong Kong at the moment" — which Jezebel's C.A. Pinkham translates to, "We can't believe this is a thing people actually want, and of course we're not going to try to bring this shit to America, are you high?!"
My one remaining question, though, is this: Will Ronald officiate the ceremony if you ask really, really nicely?
Images: McDonald's Hong Kong