Hilary Banks Is So Brooklyn Now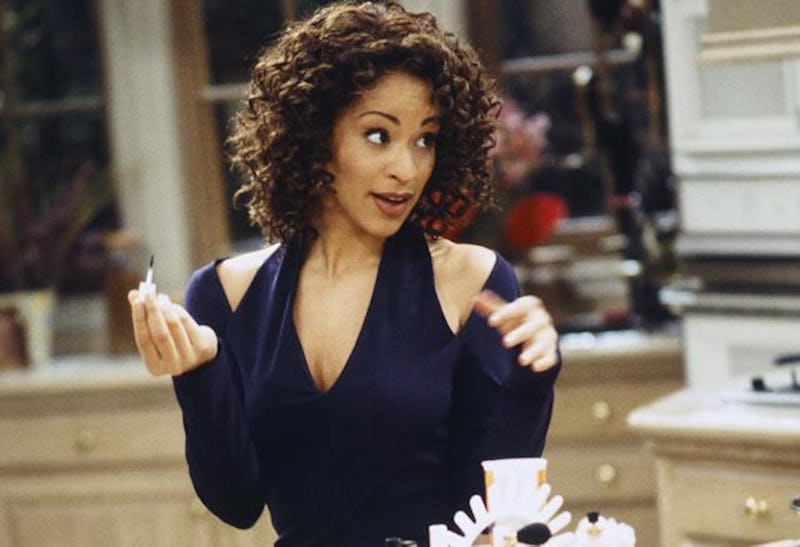 Now listen to a story all about how...a spoiled TV princess became an enviably cool Queen of Brooklyn. It's true; Karyn Parsons, best known as Hilary Banks in the NBC sitcom The Fresh Prince of Bel-Air, has decidedly less bougie digs these days, compared to her prissy character. While Hilary was introduced to America as a shallow shopaholic often entering or exiting scenes just to ask Uncle Phil for money, the real Parsons couldn't be further from her character. So what's so different about the adult Parsons?
For one, Parsons is rocking some insanely badass natural hair that could give Solange in the "Losing You" video a run for her money. In a sit down with Katie Couric, Parsons chatted a little bit about her journey from Bel-Air to Brooklyn, which includes being a mommy to her two children as well as a laundry list of amazing new projects. First among them, her organization Sweet Blackberry, produces an animated web series for kids that seek to highlight the untold stories of prominent African-Americans. In a report by The Root, Parsons comments on how schools often focus on simply "a handful of stories" or relegate African-American studies to a scant 28 days in February. In intention and message, it shares a lot with the Rejected Princesses campaign.
Parsons isn't the only Fresh Prince connection for the series. Former co-star Tatiana Ali, who played little sister Ashley, is also on the board of Sweet Blackberry and Fresh Prince cast members dined with the winner of a charity auction on behalf of the organization. The mini-reunion of sorts included Parson, Ali, as well as Uncle Phil himself, the late James Avery, Will Smith, and Alfonso Ribeiro (Carlton). The Root piece quotes Parsons as saying the experience was "a good reunion" in that it was the last time Smith would see his TV uncle before his passing.
Inspired by all of her story collecting, Parsons also has a Kickstarter project in the works: another animated short for children this time telling the story of Janet Collins, the first black prima ballerina.
The campaign, which ends this week, boasts some pretty slick rewards. Donate the right amount of dough to the Chris Rock narrated project and you can snag perks like a voicemail message from Joseph Marcell (a.k.a. Butler Geoffrey), a shopping trip with Parsons and Ali, (who wouldn't want a Banks sisters themed spree?), and even a meeting with the Fresh Prince himself, Will Smith. You're out of luck if you were looking to snag a pair of drumsticks signed by Questlove, though, those are sold out. At press time, the Kickstarter is still $10,000 short of its $75,000 goal.
But beyond her charity work, Parsons is no newbie to engaging web content. She also starred in the web series Mommy in Chief , a show where Parsons sat down with fellow mothers and gabbed all things kids and modern child-rearing (Laila Ali later took over her hosting duties in Season 4).
Being as busy and badass as she is, she of course has an equally creative partner in crime. According to Wet Paint, Parsons wed her director husband Alexandre Rockwell in 2003. The couple has two children, daughter Lana, born in 2003, and son Rico, born in 2007. The couple make statements together, like posing for a photo with their children designed to highlight "cultural evolution" such as changing attitudes about interracial relationships.
Other than producing new projects and family life, Parsons also spends her time being pretty ace at the internet. Parsons' Reddit AMA this year was ridiculously charming and she tackled some of the big questions, like how she felt when Hilary's fiance Trevor died in a bungee jumping accident (like us, she's still totally sad about it). Her Twitter is laden with great shots of both family, friends, and supporters, and it looks like the mommy maven still finds time to roll with Carlton.
While it seems like Parson's present has shaped up to be a fairly busy one consisting of many hats, I'm sure it's nothing the former television star can't handle.
Images: NBC; Manifestequality/Kiino Villand; Giphy