8 Times 'Almost Royal's Georgie & Poppy Carlton Really Pissed People Off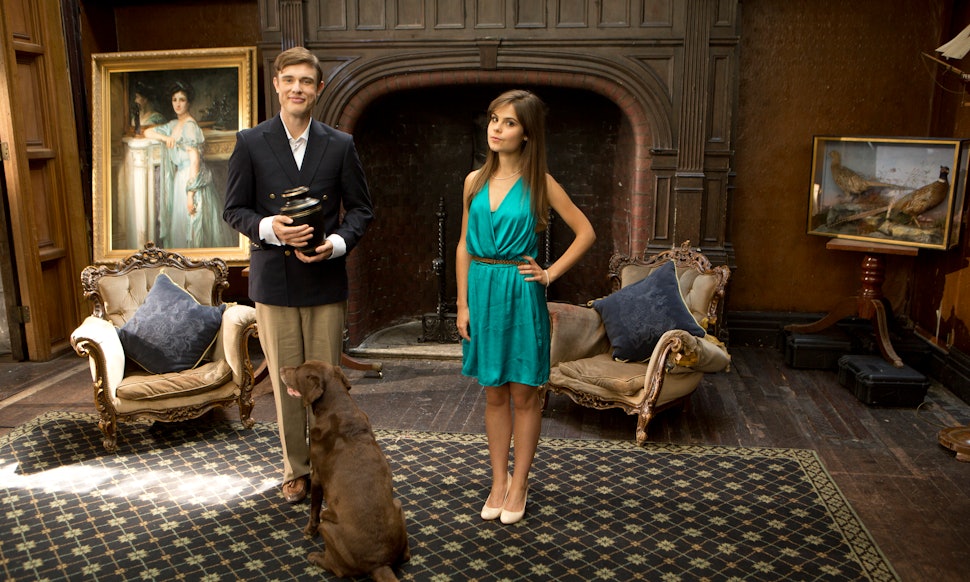 BBC America's sort of-reality series Almost Royal stars faux aristocrats Georgie and Poppy Carlton, who are actually comedians Ed Gamble and Amy Hoggart. Think of it as Borat-light as the Carltons spoof Americans into thinking they are royalty. Inevitably, people lose their temper with them, not realizing they are on the receiving end of an elaborate joke. Although tricking people on national television may not be the most ethical thing, it does lead to an entertaining show.
So far we have seen Georgie and Poppy visit Los Angeles, Boston, Texas, New York, and Detroit. On Saturday night they'll be visiting our nation's capital, Washington D.C., where they are sure to make some politicians and tour guides angry. So let's check out the top people who've lost their cool with the pampered and spoiled Georgie and Poppy so far.
Image: Burning Bright Productions/BBC America
Getting Around in LA
When Poppy and Georgie went on a celebrity bike tour, their tour guide really didn't like that the naive siblings kept claiming that they were "friends with benefits." (As Poppy said, "We're really close.") After a few times, the tour guide got serious with them and told them they couldn't say that anymore: "No, you two are not friends with benefits. Please stop saying that. You can't run around America saying that you're friends with benefits and brothers and sisters."
Image: BBC America
Coffee Breaking in NYC
Besides pissing off all of the cars they encountered as they sauntered across the streets of NYC, they really made Lilly, a Brooklyn barista, angry.
The first strike was when Poppy asked her if she was good enough to work at Starbucks. Lilly replied with, "That's insulting … Cause they don't care as much as I do."
When she showed them how to make coffee (and of course, Georgie and Poppy prefer tea), Georgie didn't like the demitasse spoon because it wasn't genuine silver, Poppy told him to just throw it away. The barista became very angry at how wasteful they were and said, "And that is why the world is in the state it is in." And expressed her concerns with the "fucking landfill" filling up. I think it's safe to say Georgie and Poppy will be sticking with tea.
Image: BBC America
Tea Partying in Boston
Speaking of tea, the British siblings mistakenly attended a meeting of the political Tea Party thinking it was going to be the type of tea parties they are accustomed to. But don't fret, Georgie was still prepared as a guest speaker. He gave a never-ending speech using cricket as a metaphor for hunting being banned in the UK (including a detailed description of cheese). Although the Tea Party is usually shown as being a hotblooded group, no one yelled at Georgie to shut up, they just got justifiably annoyed with his description of crumpets and jam.
Image: BBC America
Seeking Help in NYC
Poppy and Georgie were struggling in NYC without any hired help, so they decided they needed to interview personal assistants. Poppy and Georgie like when people tell them bedtime stories. So, Georgie asked one candidate to tell a three-line story about a hobo who saved Spain. The candidate got one line in before stopping because he didn't feel comfortable with using the politically incorrect term "hobo." He didn't get angry (he was on a job interview after all), but he clearly felt uncomfortable and strong enough about it to end the story. Props to him for not giving into the ridiculous requests even during a "job" interview. Needless to say, the Carltons were not satisfied with any of the American candidates.
Image: BBC America
Trash Talking in Boston
In Boston, Georgie and Poppy joined a trash-talking, tobacco-chewing baseball league. Georgie struggled with the transition from cricket to baseball. When he successfully hit the ball, he didn't know which way to run. One of the baseball players yelled, "You're supposed to run around the fucking diamond." But it may have been more in good fun, since the team not only coached Georgie on how to play baseball, they also taught him how to trash talk.
Image: BBC America
Rapping in Detroit
After their crash course in trash talk, Georgie and Poppy decided to join in on a rap battle in Detroit. Rapper Quest helped Georgie and Poppy do their own raps to challenge their opponents. Not all of the rappers were amused by Georgie and Poppy's antics though. After targeting one rapper who did not look pleased with them with this rap: "You've got a sour disposition. And you're so poor you haven't got a pot to piss in," Quest politely told them it was time for them to leave the rap battle.
Image: BBC America
Working the Runway in NYC
Poppy made her catwalk debut at New York Fashion Week. As Georgie sat in the front row — with their father's urn on his lap — he built up the anticipation for his sister to come out. When she finally hit the runway, she casually strolled down, waving the entire time, with Georgie cheering her on from the sidelines. Some people were amused at the "friendliest model," others look pissed off or confused.
As Georgie said, "She's the only one who thought to wave."
Image: BBC America
Demolishing in Detroit
The royal duo met Tyson and Pinky from the Michigan Urban Farming Initiative in Detroit. A great cause, the group demolishes old abandoned houses to make room for farms. When Georgie used a sledgehammer to help them demolish a house, Tyson lost his cool a bit since Poppy and Georgie were bickering and not paying attention to what they were doing. Pinky stayed more upbeat about the situation, but Tyson and Georgie's face-off over the sledgehammer led to the most awkward moment of the season this far.
Image: BBC America