He Can't Keep His Shirt On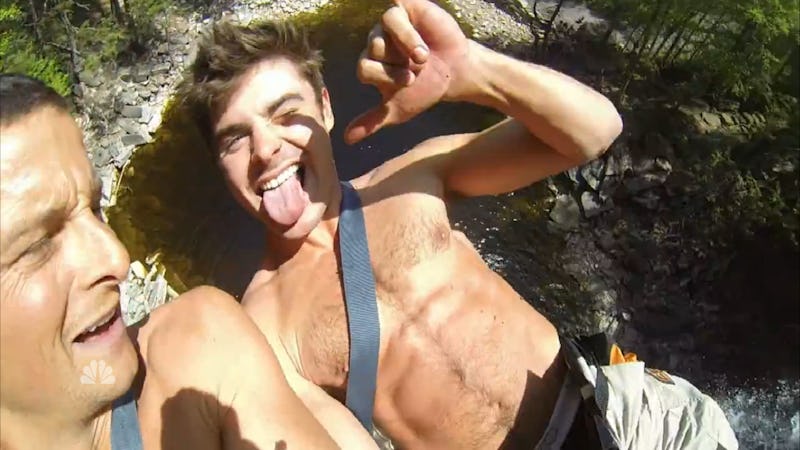 It's beginning to feel like Zac Efron is seizing every opportunity available to take off his shirt. And, of course, we appreciate him for it. In the season premiere of NBC's Running Wild With Bear Grylls , which airs on July 28, the actor links up with the adventurist and the two rappel down a mountain. Grylls recounted to People how Zac Efron came to appear on Running Wild With Bear Grylls, saying:
We reached out to him and he kindly said he was a fan of the show and that he was in 120 percent. He asked for the biggest, baddest adventure and it was an honor to oblige.
The two went to the Catskills Mountains, and for brief moment Efron seemed to second guess his decision, remarking, "I can't believe how high this is," as he looked over the cliff. When asked by the TV host if he wanted to continue, however, he said, "I'm ready as I'll ever be." And for good measure, Grylls threw their backpacks down into the water.
"I like to think he got to use his muscles to their max through the adventure," added Grylls to People. Because that's what's important, right? That we got to look at him shirtless and that his muscles got more …muscle-y.
The series is also set to feature a number of other celebrities including former NFL star Deion Sanders, comedic actor Ben Stiller, and the equally buff Channing Tatum. Check out Efron's jump below.
Image: NBC