He's Got The Power of Swoon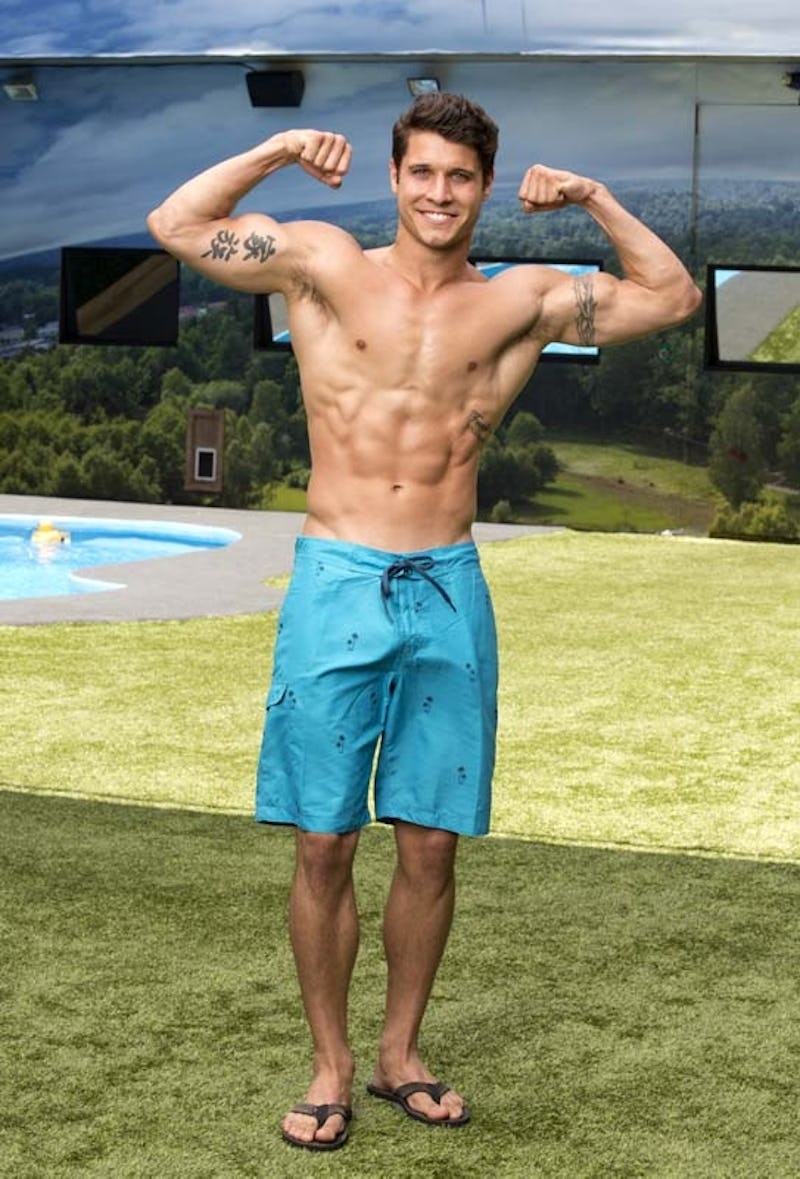 In Big Brother hot guy news, current HOH Cody Calafiore is still stealing the hearts of many across America. He might even be stealing the hearts of those in the house, like Amber, who seems to like Cody a hell of a lot more than creepy houseguest Caleb. But who could blame Amber? Cody Calafiore is attractive, an underwear model, and has the biggest crush on Zac Efron — like bigger than the crush I had on Zefron in 2006 when HSM came out. He used the phrase "Zac Efron is muy attractive," which is true — Zefron is "muy attractive" — but hearing Cody fawn over him like that made me love Cody even more.
Let's just go ahead and add "hot soccer player" to Cody's resume. Cody played soccer in high school, where he was the captain of his team, and even played through college. Cody originally started at Monmouth University but transferred to Temple University after his freshmen season (we see him sporting around a Temple soccer shirt all the time). At Temple, Cody played as a defensive midfielder and had a flourishing soccer career as an important team member. And don't worry; you can watch Cody play soccer on a loop for ever and ever with these:
It turns out Cody's soccer past is going to make an appearance during this week's Power of Veto competition. The POV comp was World Cup theme (which feels like forever ago, but hey, better late than never) and tested the player's skills on the field. Unfortunately for Cody, it looks like — spoiler alert — his skills didn't translate that well onto the Big Brother field, because Cody ended up as one of the houseguests with a punishment, and not the Veto at the end of the competition. The Kim K of the house, Victoria, ended up winning the Veto, subsequently removing herself from the block. Brittany, the other houseguest on the block, also received a punishment after the competition, having to score 2,400 soccer goals in 24 hours, which sounds, in a word, AWFUL.
Obviously we would much rather watch Cody score the 2,400 goals for 24 hours straight, shirtless. But because we can't have that, you have to see this video of Cody from college playing soccer and talking about the game. He even has a shoot-out at the end of the video with the interviewer, so it's basically the same thing as watching him shoot 2,400 goals, right?
Keep doing you, Cody.
Images: Cliff Lipson/CBS; PLAID PLAID/Tumblr (2); Big Brother 16/Tumblr