Watch McAdams Cringe At Her 'Notebook' Audition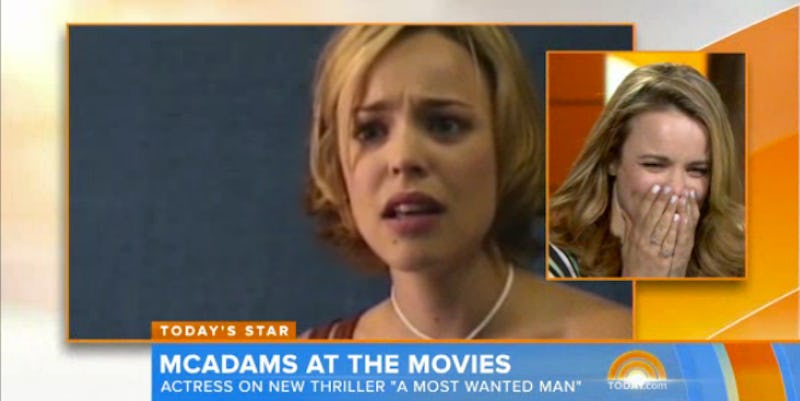 Unfortunately for Rachel McAdams, she's one of those actresses that, no matter what film she's currently in, people will always want to talk about her more iconic roles. So, while promoting her new film A Most Wanted Man on Today on Tuesday morning, it was no surprise that Matt Lauer eventually turned the conversation to McAdam's role in The Notebook . (But, hello, who wouldn't want to always talk about that time McAdams and Ryan Gosling were the most magical on-and-off-screen couple?).
Pushing the upcoming thriller with "a lot of tangled webs and lots of threads to follow" to the side, and not-so-smoothly transitioning to the 10-year-old rom-com, Lauer and Al Roker confessed to McAdams that they were moved to tears when they watched The Notebook. And because randomly bringing up the movie wasn't weird enough already, Lauer and Roker then awkwardly forced the actress to watch her own freakin' audition tape (which she has never seen before) in front of a live television audience. After kind of recovering from the initial shock of realizing what was about to happen, McAdams spent the entirety of the clip looking completely embarrassed, overwhelmed, and uncomfortable. But, seriously, who wouldn't cringe at the site of a early-2000's haircut? (No one.)
Poor, poor Rachel McAdams. Hopefully next time she'll make sure that no one has an old audition tape for her to watch.