MTV Hasn't Captured All of Their Drama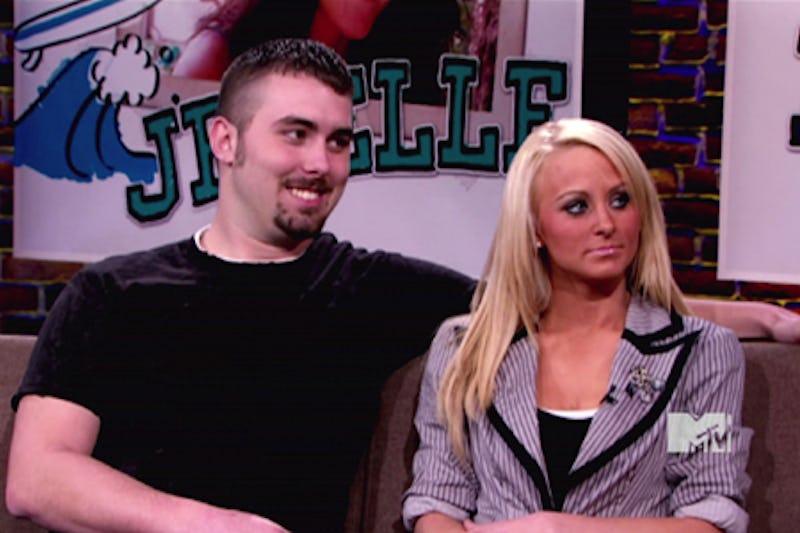 Having a child very young is hard enough, but it has to be even more difficult if you're also navigating through a divorce and trying to raise your children in a split home. Such is the trouble for Teen Mom 2's Leah Calvert, (formerly Leah Messer). While from what we've seen, it appears her twin daughters, Ali and Aleeah, have a strong support system behind them, there's more to Leah's relationship with her ex-husband Corey Simms than fans saw on Teen Mom 2. While the on-the-books reason for the couple's rocky six-month marriage was Leah's infidelity, the tell-all book Teen Mom Confidential claims that Corey had physically assaulted Leah and cheated on her multiple times.
It doesn't end there, though. Corey got re-married in 2013 to Miranda Patterson in a casual ceremony where the groom wore jeans and the bride wore cowboy boots. His twin daughters with Leah served as the flower girls, but the teen mom herself did not attend, taking the weekend to get away with her new beau Jeremy. Corey doesn't seem to mind, and his twitter feed is littered with devotion for his wife and daughters. You'd think everyone might be peachy keen and agree to go their separate ways at this point, but it didn't actually play out that way.
Leah has been stirring up some more truth bombs this year, alleging Corey cheated on his current wife when they first began dating. She also says Corey texted her incessantly up to her wedding to Jeremy, expressing his desire of wanting to be a family again, and telling Leah a bunch of TMI details about Miranda. Corey's current wife isn't phased though, tweeting "don't believe everything that you hear." While Leah did spill some pretty damning secrets, The Stir points out she was being grilled pretty heavily on camera. Leah tweeted a subtle jab at the show in an effort to remind fans and viewers how much editing goes into each episode.
Corey chose the following charming comment to respond to everyone's fairly diplomatic tweets.
Still, we can only assume they've buried the hatchet for their daughters, who Corey and Leah have proven come before their own issues, and are looking as cute as ever.
Image: MTV