Is It 'Revenge' O'Clock, Yet?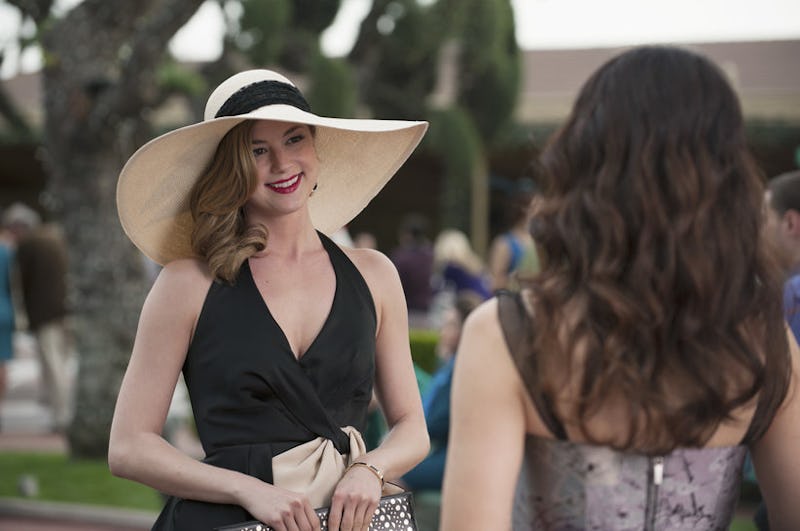 Season 3 of ABC's dark Hamptons soap was lagging a bit, but then the finale aired and received our undivided attention. But heading into Revenge Season 4 — spoiler alert — David Clarke is alive and well (apparently), Conrad and Aiden have kicked the bucket, and ding dong the wicked witch Victoria is confined to a sanitarium (seriously, the best ending ever). And with all that, I couldn't be more thrilled that ABC finally has an official air date for Season 4. Drumroll please…Revenge season 4 will premiere Sunday, Sept. 28 at 10/9c. It seems so close and yet so far away at the same time.
Until then we will be not so patiently awaiting a first look at the new season and all the drama that it will entail. We need to know if Jack and Emily are ever going to get together, when the dramatic father-daughter reunion will take place or if it takes place, and if Daniel will take his father's place as the most hated character on the show. If last season was any indicator, we can expect some horrifying things from that one.
Although there aren't many clues as to what will happen next season, a few rumors have been floating around including a potential new love interest for Emily named Ben. Supposedly, he is a Hamptons cop and Jack's close friend. Until the show airs we will have to make due with re-runs. Of course Seasons 1 and 2 are available on Netflix and you can always find Season 3 on Hulu or on ABC's website if you're as obsessed (and in withdrawal) as I am.
And in case you've forgotten what happened and don't have time to re-watch the entire season, below is a quick reminder of all the craziness that ensued in the finale. I personally think it goes down as one of the best ABC finales of all time. I mean, the Revenge writers were channeling their inner George R.R. Martin by killing off not one, but two main characters was a bold move and really exciting. Even if I'm still not over Aiden.
Images: ABC; Crushable (GIF)