Can Andriod Users Meet Kim Too?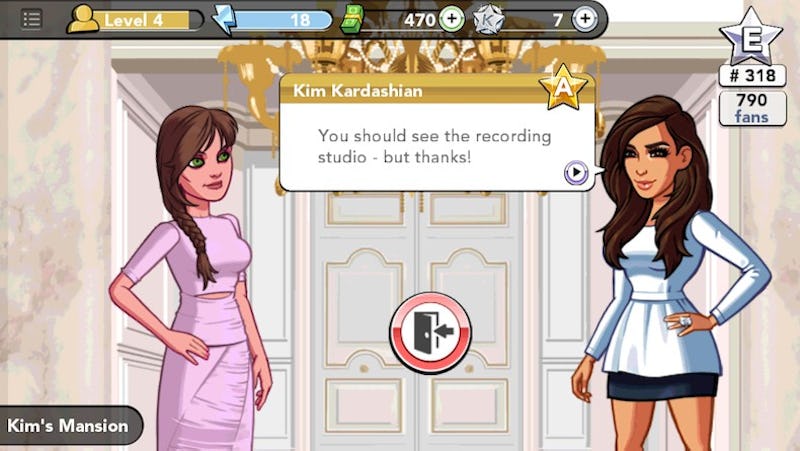 If you're an Andriod user, you probably heard about Kim Kardashian: Hollywood and thought, "I wish I could play, but alas, I am just a humble Andriod user and fantastical creations like the Kim Kardashian game are not for me." Well, you're in luck, person who just had to have a QWERTY keyboard with real buttons! (At least, that's why I have an Andriod...) The Kim Kardashian game is available for Andriod! That's right, you can go to photo shoots, talk to creepy animated men, and pretend to be friends with Kim just like all those snobby iPhone users you know.
The Kim Kardashian game was actually released for Android the same week it was released for iPhone. Did you just assume that your phone couldn't get it? I understand. While you were fuming about the fact that your stupid phone couldn't get you access to cartoon versions of L.A.'s hottest clubs, you could have been hanging out at L.A.'s hottest clubs. (Virtually, of course.)
So how do you get Kim Kardashian: Hollywood on your Kyocera Rise (represent, represent!) or Samsung Galaxy, or any of the many Andriod phones? It's easy! Just follow these simple steps:
Step 1 — Go to the Google Play Store
Click that circle with the dots in it, or whatever your menu button happens to be, and find the Play Store.
Step 2 — Search "Kim Kardashian: Hollywood"
It will probably be suggested immediately because this game is so hot right now.
Step 3 — Click on it, yo
Don't click on that other game next to it! That's not the right game! ARE YOU CRAZY?!
Step 4 — Press "Install"
Don't not press "Install." This is key.
Step 5 — Accept a bunch of questionable things
Accept that it wants access to your in-app purchases, location, photos/media/files, wi-fi connection information, and device ID and call information. Why do they need your location? Um... maybe Kim wants to come visit you in real life.
Step 6 — Wait for the game to download & install
The first time I did this I swear it took, like, two hours. If that's that case for you, don't complain to anyone nearby because they'll probably be like, "Oh, well, if you had an iPhone, it would definitely go faster." This person does not know if that is even true, but such is the way of Apple people. The second time I downloaded (that's right, I erased my game in order to bring y'all these instructions), it only took about ten minutes, so it probably depends on your Internet connection or whether or not you're wearing a aluminum foil hat.
Step 6 — Don't Choose an Email Address & Don't Connect to Google+
The game will ask you to connect your email address to the game or to create a new email account. You don't have to do this. If you click an email address, the game with then tell you to link with Google+. (You know, that thing you have but that you never really understood or do anything with.) This is not necessary either. As long as you don't choose an email address, the Google+ prompt won't appear.
Or you can connect to Google+ if you aren't paranoid about all your technologies being synched together and somehow ruining your life.
Step 7 — Play!
You can now play Kim Kardashian: Hollywood! When you open the game, you may get a message that says something about video not being able to sync. (This might happen every time you open the game, FYI.) Just click out of this or ignore it or close the game and reopen repeatedly until it goes away. As I see it, this is the equivalent to blowing in video game cartridges back in the day — a necessary sacrifice.
Now you can enjoy the game. Collect that energy! Schmooze with those Hollywood weirdos! Compliment Kim because that's the only option! You can do it!
Images: Kim Kardashian: Hollywood; Lia Beck