The Guys in the Kim Kardashian Game are the Worst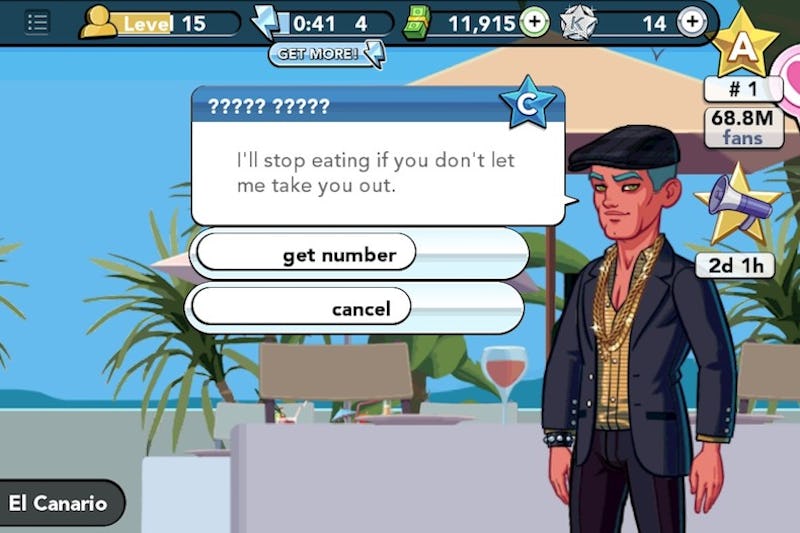 There's a lot about Kim Kardashian's iPhone game that I don't enjoy. The amount of time it takes to get energy without paying for it is one example. Being basically forced to do a nude shoot is another. But one of the weirdest parts of the game is the terrible pick up lines guys use on me in bars. I don't know if these things have actually been said to Kim before, but if they have I feel so sorry for her. The Kim Kardashian: Hollywood world is populated with the grossest of men, and I'm not just talking about the creepy actor Brandon Marlo who smelled me.
I mean, every guy I bump into has some sort of line to try to get me to go out with him. It's entertaining because I happen to find ridiculous pick up lines hilarious, but it's also pretty crazy some of the stuff these guys say. Things actually get even worse the more famous you get because random E-list stars will try to pick you up and mooch off your A-list fame. Sigh, the struggles of being a star.
With these guys being the best the game has to offer, it's no wonder I don't feel like spending my hard earned energy and money on dates. Here are the 10 types of men you're likely to come across in Kim's digital world.
THE OLD SCHOOL PICK UP LINE GUY
The 90s called, they want their pick up lines back.
THE OBSESSIVE GUY
Uhm, I guess you're going to starve then?
THE ART SCHOOL LITERARY TYPE
These people exist in real life, and they're terrible.
THE JOB DROPPING GUY
He may want to keep that career choice on the down low, because frankly that's not very impressive. Or has he not heard I'm on the A-list?
THE "I'M TOO GOOD FOR YOU" GUY
Why is he putting me down when he's trying to pick me up?
THE GUILT TRIP GUY
Dude, I don't owe you my phone number.
THE FASHION GURU
Yeah, I really want to start that date with you now...
THE NERD APPROACH
Hey, I give him points for creativity. If only he didn't have that pornstache.
THE "TOO INTO ANIMAL METAPHORS" GUY
I'll bet he's a tiger in the bedroom, too.
THE NICE GUY
I'm glad to see they're not all weirdos. But since he asked, yes, it's awkward. I'm a B-list star after all. He's just an E-list wannabe. Nice try though.
Images: Kim Kardashian: Hollywood (2); kimkardashian-hollywood/Tumblr