'Don't Be Tardy' Star Kim Zolciak's 10 Best Wig Moments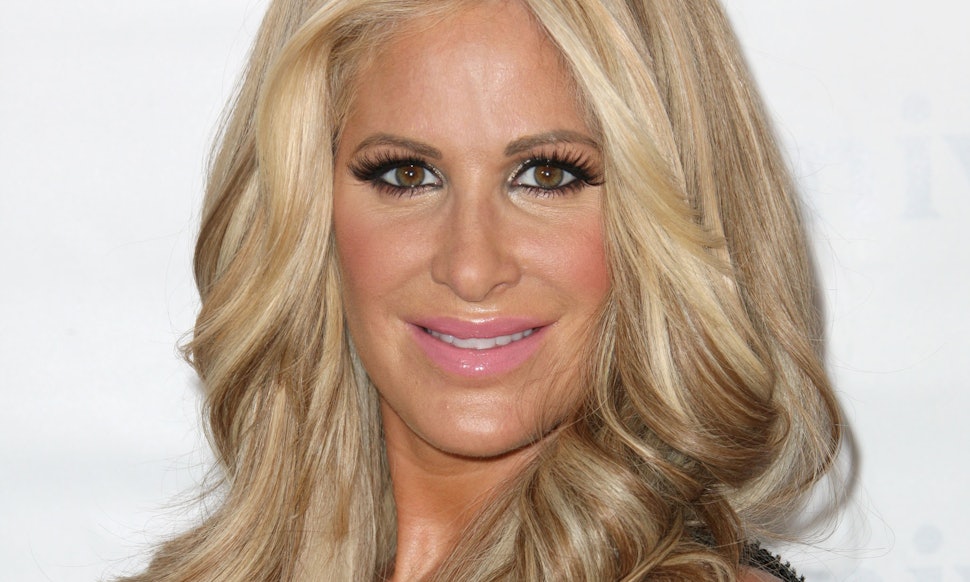 Frederick M. Brown/Getty Images Entertainment/Getty Images
Former Atlanta housewife and current Don't Be Tardy star Kim Zolciak has made a name for herself on Bravo but personally, I think Kim's blonde wig obsession is the real reality star here. Season 3 of Don't Be Tardy has premiered on Bravo and I am pumped to see Kim and all her "wigness" this season.
Over two years ago on the show, Zolciak finally took the wig off and revealed that she did indeed have hair, because everyone was questioning why she wore a wig. Her response? "I know I have great hair, but I love wigs and look good in 'em." I mean you do you girl, but her regular hair definitely doesn't need to be hidden and her wigs may not even be better — at least not all the time. Sometimes they're so shiny they kind of reflect off the screen, which is a good or bad thing, depending on who you ask. But anyone would agree that it all leads to very exciting TV, as fans watch to see what Kim's wig is going to look like in the next episode.
In honor of Don't Be Tardy's third season, I have complied 10 of Kim Zolciak's perfect wiggy moments over the years. You're welcome.
The Marge Simpson
Then there was that time her hair bun resembled a blonde Marge Simpson. I mean that bun could stand tall for days. I'm intrigued at how it stays on whilst pretending to have just gotten back from the gym.
Images: Instagram/kimzolciakbiermann
Kim's Early Wigging Days
This must have been her early days in the wig biz. She doesn't seem to have mastered it yet.
Image: Straight From The A
The Carrie
Remember when Kim channeled her inner country star with her Carrie Underwood wig and her attempt to become a legitimate country star?
Image: kimzolciakbiermann/Instagram
Birthing Wig
I think most people were surprised when Kim gave birth but continued to keep on her bouncy blonde wig. How did it even stay on?
Image: KimZolciak/Twitter
The Dye Dilemma
Call me crazy, but did she buy a wig that needed its roots dyed? Is that a thing?
Images: Instagram/kimzolciakbiermann
The Straight Wig
This is a different look for Kim, but I have to say, the straight hair and blunt bangs suit her. Also, I guarantee wherever Kandi was living, it was not dangerous in the slightest.
Image: WiffleGif
Bigger and Bigger
Seriously, her hair just keeps growing and growing. I can't wait for even more hair this season. Bring it on.
Image: Bravo
The braid
The time she got confused because no one noticed her wig was in the perfect fishtail braid. Rude, guys.
Image: Bravo
This perfect moment
…except that time Sheree tried to rip her wig off. That was a beautiful moment in wig history.
Image: WiffleGif