She Honored Her Grandpa with Some Sweet Throwbacks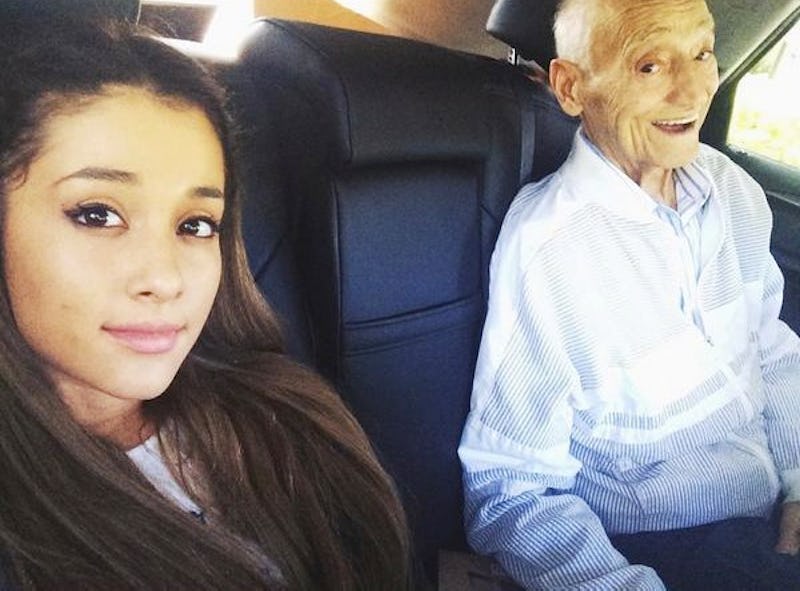 It's impossible to miss at this point, but for those who aren't on top of their Grande family news it was announced on Wednesday that Ariana and Frankie Grande's grandfather had passed away. Both Ariana Grande and Frankie Grande, who is currently staying in the Big Brother house, were incredibly close to their grandfather and so his passing came as a huge blow to them. In fact, when Big Brother told Frankie about his grandfather's death, Frankie not only spent most of the night crying but also insisted on doing a eulogy for his grandfather on Big Brother After Dark that was incredibly moving. In fact, it was so moving that Ariana Grande broke down in tears watching Frankie's eulogy, as she revealed on her Twitter Wednesday evening.
"Watching [Frankie] talk about grandps after reading our letter on the live feed. Sobbing / laughing hysterically," tweeted Grande. "Love you Frankie, so much."
This tweet came at the tail end of a long day in which Grande broke the news to her fans in the midst of a speech about how much her grandfather had meant to her as a person and how hard she was going to try to live up to everything he had taught her and wanted for her. In response, supportive fans got Grandpa Grande and #RIPGrandpaGrande trending on Twitter to mark the passing of such an important man. Seemingly out of words, Grande's tribute to her grandfather then got photographic as she posted never before seen throwback pictures of her grandfather and her "Nonna".
It's not as though even the most casual Ariana Grande fan didn't already know that she was incredibly close to her grandfather, but sharing his life with her fans through these pictures was a touching tribute to his legacy. A picture is worth a thousand words, after all, and what Grande seems to be saying with these is that her grandfather will always live on in her heart and that she appreciates every single second that he lived that turned him into the man who helped to raise her.
According to the letter the Grandes sent to Frankie in the Big Brother house, they won't be having a formal celebration of their grandfather's life until he returns from Big Brother but for now this is more than enough. In the meantime, Frankie has asked his fans and Ariana Grande's fans to help her stay strong until he can be there to hug her himself and that's the least we can do to help the family through this tragic time.
Image: ArianaGrande/Twitter