Here's Why Beyoncé Needs To Play Anastasia Steele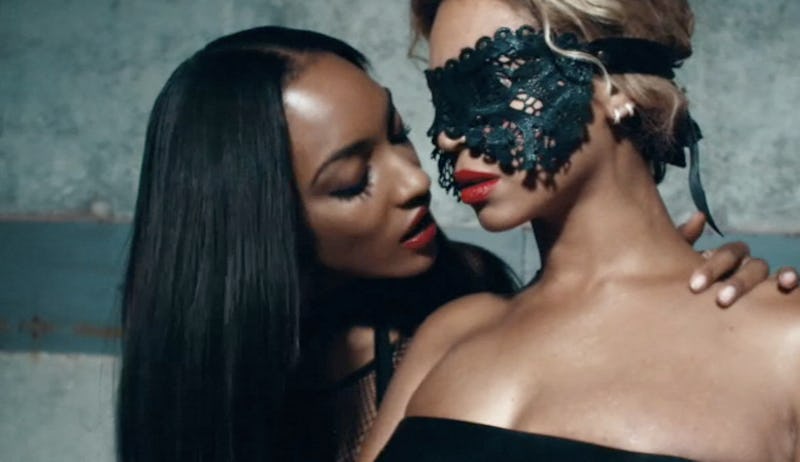 I, like every other living, breathing human being, had been waiting with bated breath for the release of the Fifty Shades of Grey movie trailer, and finally, it's here. It gives us the illusion of nudity, a piercing stare from Jamie Dornan that I've only dreamed about, and the promise of exploratory sex scenes. Needless to say, I read the book, in my cubicle at work between meetings, and as a fan (yeah, I admit it, the book is an interesting read), I had incredibly high expectations for the movie interpretation.
Besides the fact that Charlie Hunam should've played Christian Grey, I'm starting to have second thoughts about Dakota Johnson's ability to play the character of Anastasia Steele. Now, this is no shade to Johnson, but let's be real here — the second Beyoncé Instagrammed a sneak peek of the Fifty Shades movie trailer, I instantly gasped and thought, "My goodness, could my prayers have been answered? Is it possible that the casting directors changed their minds and cast King Bé to play Anastasia Steele?"
Sadly, the only ounce, and I mean ounce of Beyoncé that the trailer gives us is an incredible rework of her 2003 hit "Crazy in Love." I'm going to stand up and say what everyone else has been thinking/is too scared to say:
Beyoncé should have been cast to play Anastasia Steele! Don't believe me? Well, let me convince you..
BEYONCÉ IS QUEEN, AND THE QUEEN ALWAYS GETS WHAT SHE WANTS
Unless you want the Beygency coming after you, I suggest you bow down.
BEYONCÉ WOULDN'T HAVE TO WORRY ABOUT SOME CRAZY CHICK STEALING CHRISTIAN AWAY
Let's be real. If you've got Beyoncé at home, you'd be a fool to look at any other woman.
Bé HAS GOT THE MOVES TO PUT CHRISTIAN IN A TRANCE
I mean... I'm sold.
BEYONCé DIDN'T HAVE A SONG CALLED "NAUGHTY GIRL" FOR NO REASON
Dakota Johnson, are you capable of putting in this caliber of work?!
BEYONCé OOZES SEX APPEAL
Come on! Oozes might even be an understatement. Beyoncé IS sex appeal! She created it!
BEYONCé COULD TEACH CHRISTIAN GREY ABOUT "SURFBORT"
Surfbort changed my life, and I know it would do the same for Christian Grey.
BEYONCé COULD TEACH CHRISTIAN A THING OR TWO IN THAT LITTLE SECRET SEX ROOM OF HIS
Get it Bé!
BEYONCé KNOWS HOW TO "PARTY"
Anastasia Steele is sort of a "goodie goodie" but trust Beyoncé would bring an unexpected element of surprise to the role.
BEYONCé CREATED THE PIERCING SEX STARE
Even Jamie Dornan could learn a thing or two.
BEYONCé COULD UPGRADE CHRISTIAN GREY
Christian Grey may think he's "Flawless" but Beyoncé's anthem "Upgrade You" created an anthem for all women to let their significant other know essentially, "You're okay, but I can make you better." What looks better than having Beyoncé on your arm at your next black tie function, Christian?
I mean, this gif pretty much says it all. Beauty? Check. Class? Check. Style? Uh, Check. Ass? Wait.. I'm going to have to think about this one?
Oh yeah, sorry, check! I forgot who I was dealing with for a second. Let me wrap this up for y'all real quick. They don't call Beyoncé "Queen Bee" for nothing! This woman is a multi-millionaire, multi-talented, all around triple threat. If there's anyone on this Earth who is more suited to sit opposite Christian Grey, it's our girl Bé.
Images: Beyoncé/Youtube, Giphy (14)