New Olympia Le-Tan Clutches are A Princess's Dream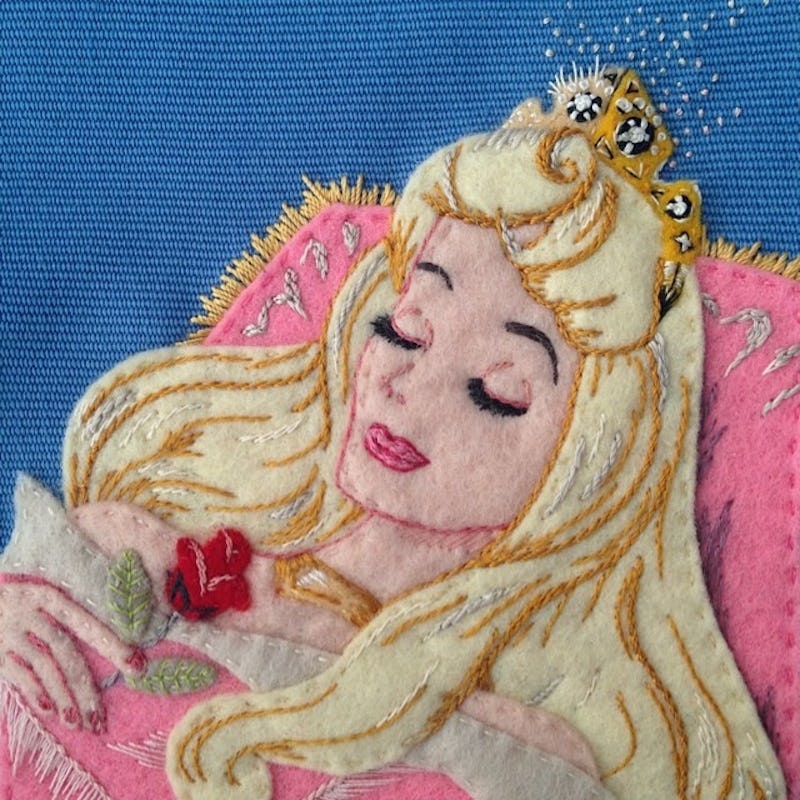 Disney-themed fashion for adults is big right now, probably thanks in large part to Angelina Jolie and Elle Fanning's sartorial choices on the promotional tour for Maleficent (they really nailed it, IMO). Suddenly, sporting the face of your favorite animated villain or princess is one of the chicest decisions one can make. If you don't feel like wearing a leotard with the Cheshire Cat's face on the bosom, you can go a subtler route with Olympia Le-Tan x Disney.
The collection, which has been teased on the Olympia Le-Tan Instagram account, will include clutches embroidered with scenes from Disney favorites like Sleeping Beauty and Alice in Wonderland . In typical Olympia Le-Tan fashion, the purses look to be both charming and tongue-in-cheek.
Disney is a great fit for the label, which specializes in quirky handbags that most literary fashionistas would die to get their hands on. This collaboration is sure to be as whimsical and wearable as Olympia Le-Tan's other designs. I'm dying to get my hands on the bag that depicts the Mad Hatter's tea party scene. Although a Disney tableau might not sound totally wearable, Elle Fanning has already proven that's not the case with the Aurora nightgown dress she rocked a few weeks back while promoting Maleficent.
So far the collection doesn't have a release date, so check out these close-up images of Olympia Le-Tan x Disney to get yourself in the mood for some prince(ss)ly fashion!
Images: olympialetan/Instagram