Meet Cats Who Are Against Feminism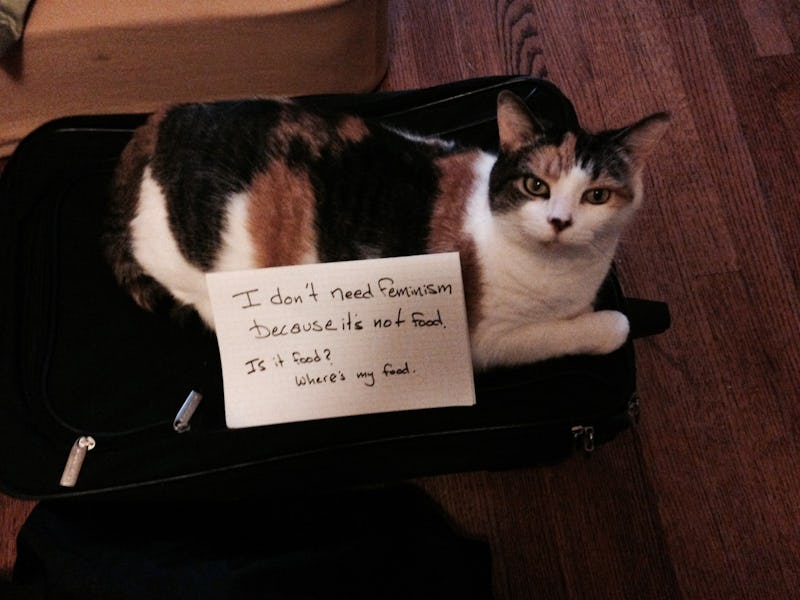 Did you feel like tearing your hair out as much as we did when you got wind of Women Against Feminism? Are you as baffled by the fact that such a huge number of people seem to have no idea what the definition of feminism actually is? Then we've got the perfect antidote for you. It's called Confused Cats Against Feminism, and it's my new favorite Tumblr. It exists because, as its tagline puts it, cats "have no idea what feminism is. They're cats."
According to the Guardian, this brilliant, hilarious, and thought-provoking Tumblr is the brainchild of feminist blog We Hunted the Mammoth. A reaction to what creator David Futrelle, a freelance writer based in Chicago, calls the "New Misogyny" — or, the "angry antifeminist backlash that has emerged like a boil on the ass of the Internet over the last decade or so" — We Hunted the Mammoth tackles misogyny head-on. It aims to "expose misogynists and the terrible things they say," and it does it with wit and panache. Cats Against Feminism combines two things that everyone on the Internet loves — cats and handwritten signs — and skewers Women Against Feminism in the best way possible. It takes on the belief that feminism limits access to certain things for certain people:
And weird and unfounded assumptions about feminists:
And the school of thought that believes anything that doesn't immediately benefit you isn't necessary:
And, of course, general confusion about what the term actually means:
It's only been live since July 25, but in that brief amount of time, it's taken the Internet by storm — and with good reason. Like all good comedy, it'll make you think as much as it makes you laugh. Who says you can't change the world through humor?
Confused Cats Against Feminism is currently accepting submissions, by the way, so if your feline friend is against feminism, but doesn't really know why, go ahead and send 'em in here.
And don't forget to pick up some tuna the next time you go to the grocery store.
Images: Cats Against Feminism/Tumblr