How Could You Miss This 'SYTYCD' Frontrunner?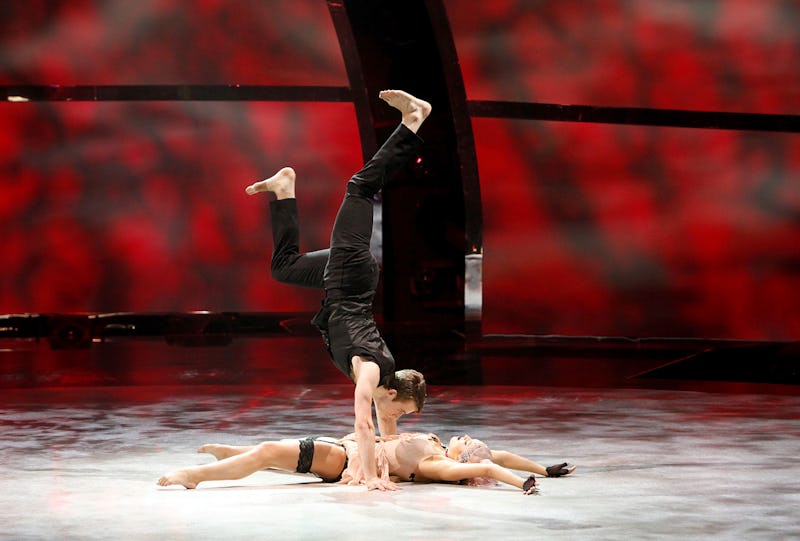 This week's So You Think You Can Dance will see the elimination of not two, but four dancers. One person who should definitely not be in the departing group is Zack Everhart. The tap dancer has impressed me week after week and I literally have no idea why he was in the bottom three last week. He's consistently proved what a versatile dancer he is and I have faith he'll do it again this week. Don't fail me, Zack!
Aside from his dancing ability, Zack has a personality I can't help but love. He seems really grounded for being 20 years old — which is something I appreciate since I'm not particularly a fan of the immature dancers. He kind of has a slightly Benji Schwimmer-ish look about him and Benji won Season 2, so hey, that could work out for him. He also has a "Don't Panic" tattoo on his wrist (from the fabulous The Hitchhiker's Guide to the Galaxy ) and that just makes him instantly cooler in my book.
In the first live showing, I thought Zack did a good job in his chosen style of dance — tap — with partner Valerie Rockey. But he wasn't a standout to me yet. Their tap sounds were great, but you could tell the routine was difficult for them (which definitely had something to do with the stairs). Although upon re-watching the dance, I do think he was just a bit stronger than Valerie.
The second week he got paired with Jacque LeWarne and the pairing proved beneficial for them both. I had been underwhelmed by Jacque and Jourdan Epstein's ballet piece the first week, so I didn't know what to expect from Jacque. And I definitely didn't know what to expect when Zack and Jacque were assigned an African jazz routine. But they kicked ass — after all, the song was "Dibiza (Kick Ass Mix)." Just check out how he lifts Jacque with his neck and shoulders at the beginning of the piece and how he hangs in the air around the 53-second mark.
By the third week, I was in LOVE with Jacque and Zack. Their hop-hop dance to Sam Smith's "Stay with Me" was goose-bump-inducing (seriously) — which made it all the sadder when Zack was placed in the bottom three the week after. Was it that people thought he didn't do a good job or just that he was overlooked?
Now, I definitely don't consider what they did to be a classic hip-hop routine, but that doesn't matter since there's tons of genre bending on the show. Maybe it had something to do with the smooth vocal stylings of Smith or the adorableness of the choreographers Keone and Mari Madrid (I just can't handle how freakin' cute and talented they are — take that, Napoleon and Tabitha!), but I was just obsessed with this piece. And yet again, Zack impressed me so much with not only his dancing, but his performance ability.
Last week, Zack needed to prove to the judges that he should stay and Jacque and Zack performed a jazz routine by Sonya Tayeh where his partnering skills shined.
Judge Misty Copeland picked on Jacque a bit since she is the more technical dancer of the duo, but that doesn't mean Zack should be off the hook for any technical flaws. Sometimes he falls out of his turns, but his performances still win me over every time.
So Zack better not be in the bottom this week. And as for what type of dance Jacque and Zack will perform — they haven't done a ballroom dance yet. That normally would make me nervous, but Zack has said he does have some experience with ballroom and based on his other performances, I believe he can pull it off.
Images: Adam Rose/FOX; letusread-letusdance/Tumblr