Hope You Never Had a First Day of School Like This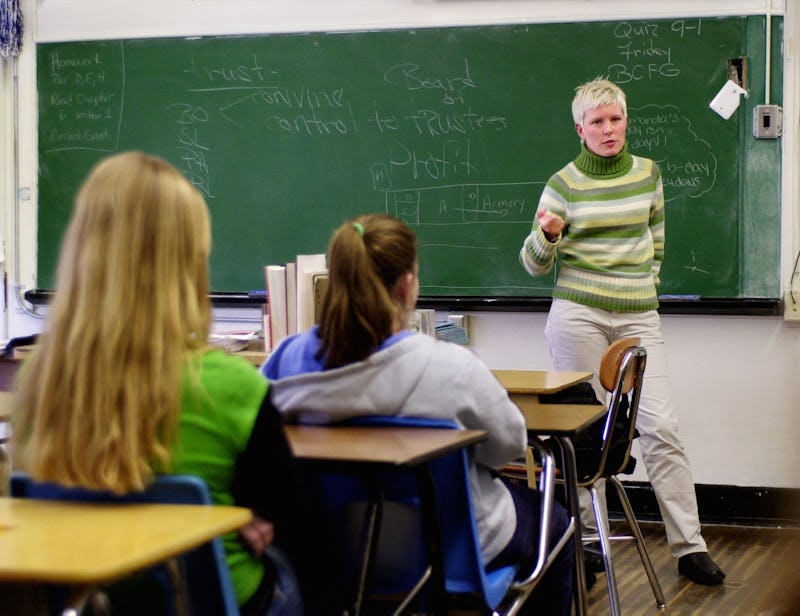 Michael Springer/Getty Images News/Getty Images
After a summer of beach days, vacations, and freedom, it was really tough to go back to school back when we were in grade school. There's homework, long days, and scheduled extracurricular activities until you're so sleepy you have to go to bed and wake up to do it all again. But, when you add in other terrors like curses, abusive principals, and stalkers, school becomes a whole other battleground.
In children's books and young adult novels, plots often focus on the protagonist facing drama in high school or middle school. Whether the book is fantasy or realism, its characters don't always have it easy in school. And despite how the rest of the year goes, the first day can be the most challenging of all and set the tone for the months to come. So when your friends are shunning you, you're sent to the principal, and you're getting threatening text messages from a mysterious person who is definitely not your secret admirer, how do you even face the second day?
Each of these 11 books feature the most terrible, awful, no-good, very bad first days of school. If you're heading back to the classroom, they'll make you glad that all you have to face is a heavy backpack and some homework.
It's the First Day of School...Forever! by R.L. Stine
This kid's face says it all: Being stuck reliving the first day of school Groundhog Day -style would be the absolute worst. And to add to it, it was a pretty bad first day to begin with. Artie falls out of bed and hits his head, then he gets syrup in his hair at breakfast, then he's splashed to make it seem like he wet his pants. But the best part is that as terrifying as this is, on the cover, Artie looks more exasperated than scared, so he's a tough dude.
Ramona the Pest by Beverly Cleary
Poor Ramona Quimby; she was so misunderstood. She was so stoked for her first day of kindergarten, but it quickly got away from her — as the title suggests. At first, Miss Binney loves her big fat Qs she writes, but Ramona gets in trouble when she pulls Susan's bouncy curls that were just tempting her to grab them and has to skip recess. And we all know how awful it feels when we don't think we're being understood.
Speak by Laurie Halse Anderson
In the realm of bad days, it would be hard to compete with the realistic, horrific challenge Melinda Sordino faces on the first day of school. Melinda survives a rape and calls 911, breaking up the party she was attending. Beginning freshman year at Merryweather High School, as a result, is extremely difficult, as she is ostracized even by her friends. No one should have to go through that.
The Testing by Joelle Charbonneau
When your first day of school involves people dying, you're going to be in for a rough year. In The Testing , Cia Vale's first day of the examinations means she's already being monitored and has encountered the exact room her father described from his recurring nightmares — not a good sign. So the hours upon hours of testing and the classmate struggles don't really seem as bad as when she finds her roommate committed suicide, supposedly.
The Absolutely True Diary of a Part-Time Indian by Sherman Alexie
Arnold's first day of school ends up being his only day at school. After discovering that his geometry textbook was his mother's — meaning it's at least 30 years old, he becomes enraged that the school can't afford newer material and throws the book, hitting his teacher in the face. Needless to say, he's suspended.
Vampire Academy by Richelle Mead
No one wants to be dragged back to school kicking and screaming on her first day. But after running away two years prior, Rose and Lissa are found and forced back to St. Vladimir's Academy, a place they fear because of a dangerous hierarchy they discover, which could threaten the royal Moroi Lissa. Basically, they're back in the place that could be the death of them. So, yeah. It's not a great day of school.
The Truth About Alice by Jennifer Mathieu
Rumors and backstabbing made Alice a pariah from the first day of school, but unfortunately for her, it only got worse from there. On day one, Alice suffered through whispering about her, and even her supposed friends ignored her in the halls. It wasn't just the students however, as even teachers and townspeople shunned her when the school year began. And it was all because of a rumor about what she did over the summer.
Pretty Little Liars by Sara Shepard
After queen bee Alison DeLaurentis disappears from a slumber party the summer before eighth grade, no first day of school is going to be normal for her friends Spencer, Emily, Aria, and Hanna. But three years later, the first day of school is probably the worst. After making out with a guy in a bar, Aria comes to her first English class to see the guy standing up front as her new teacher. Then, all four girls start receiving threatening text messages from someone called A. Essentially, from that day forward, homework is the last thing about school they have to worry about.
Hex Hall by Rachel Hawkins
Sophie is sent to Hecate Hall, or Hex Hall, as punishment for a spell gone wrong. Hex Hall is a boarding school for delinquent witches and other magical beings, so it shouldn't be too hard to have a bad first day, and she does. Sophie manages to make enemies with some seriously powerful students and becomes roommates with a vampire, who is the most hated person in Hex Hall. Add to that a ghost and rumors of students being attacked on campus, and you have everything you need for a really bad first day.
Matilda by Roald Dahl
If your school is led by Miss Trunchbull, no first day is going to be good. Sure Matilda encounters the impossibly sweet Miss Honey, but the vicious punishments from Trunchbull are probably enough to tip the scales over to the bad side. And sure enough, Matilda gets on her radar because her father sold the principal a lemon at his used car dealership.
Hate List by Jennifer Brown
In the aftermath of a truly tragic school shooting, all eyes are on Valerie. It was her boyfriend Nick, after all, who was the shooter, and he committed suicide after shooting Valerie in the leg. On her first day back at school, Valerie has to come face to the face with victims and friends of those her boyfriend killed, and she must confront the idea that she may have been involved — after all she helped him compile the "hate list." With her boyfriend gone, Valerie becomes targeted with blame, but she's still coping with the idea that Nick is dead.