Is it Worth it to Buy a House in Kim's Game?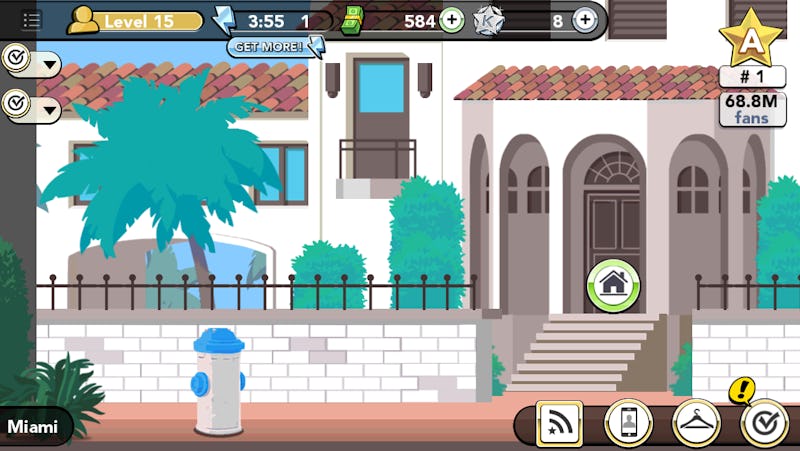 The Kim Kardashian game gives you so little money that it can be hard to decide what to spend it on. Do I want to buy a new outfit so my date stops insulting me? Do I want to get a bathing suit so that when I'm in Punta Mita it really feels like I'm on the beach? Or do I want to save up and buy an apartment or a house? I feel like the game forces me to make so many decisions! Ugh. So is it worth it to buy a house in Kim Kardashian: Hollywood? Well, yes and no.
I know, I know, what kind of an answer is that? But in Kim's game, like in life, there are no right answers. But in the interest of finding you a solution that best represents your interests, I've laid out a pro and con list so you can see the benefits and negatives for yourself.
Having bought two houses and one apartment in the game already, I've kind of figured out what's awesome about them and what sucks, so hopefully you can have a clearer idea of what you're getting yourself into before you make the purchase.
CON: YOU CAN'T REALLY DO ANYTHING IN YOUR HOUSE
Basically, all you can do in your house is stand there and look at it. Fans have suggested a number of things to the developers that would allow them to interact with the house more, like sleeping on the bed to recharge your energy or being able to invite friends over. One can only hope the game designers listen to our suggestions.
PRO: IT CAN HELP YOU GAIN FANS
Just like real-life celebs get write ups when they buy new digs, your avatar will also receive a burst of fame for shelling out. Players have reported gaining as much as 3 million fans for buying houses. A word to the wise: the more expensive the home, the more fans you gain. Hardly anyone cares if you buy an apartment in Hollywood, but if you buy a mansion in Calabasas, that's a whole other story.
CON: YOU HAVE TO SPEND MORE MONEY AFTERWARDS
After you purchase the house you can't really do anything else besides spend more money to decorate it. Usually you're broke for a little while after spending so much to buy it in the first place, so your house just sits empty and mocking you until you can afford to furnish it.
PRO: YOU CAN GET A CAR
If you want to own a car, first you have to own a residence with a garage. I don't own a car because they cost a fortune, but I've heard after purchasing one you can use it to get around town instead of bothering with the bus. Plus, it also gives you points. Although, apparently you still have to pay to use your own car. Come on Kim, give us a break!
CON: SOME FURNITURE COSTS STARS
Stars take forever to earn. Sure, there are ways to get them for free, but even with all those tips I'm never going to be able to afford a 40 K star ottoman or a 35 K star grill. Because of this, my house is populated with tiny green bubbles letting me know I could put furniture there if I wanted. Since I can't, the bubbles just haunt me and make me anxious because I can't get them to go away.
PRO: IT CAN BE FUN TO DECORATE
But if you do have the funds to decorate, it can be a good time. I doubt I'll ever own a beach house in real life, so it's kind of cathartic to buy beach chairs for my pretend waterfront property.
CON: BUT YOU DON'T HAVE OPTIONS
Still, decorating comes with another downside: no picking and choosing types of furniture. Everyone's house looks exactly the same and unlike with clothing, you can't even customize the color bed/chair/table you want. If we're going to go through the trouble of buying a decorating a house, it would be nice if we had some furniture options.
PRO: PETS
Aside from adopting the stray cat in Downtown LA, the only way to buy more animals is to own a house for them to live in. Pets do give you energy and points so it can be worth it to own them. Plus, I just have a really big soft spot for animals, digital or not.
In the end, if you'd rather have a car, more fans, and pets, it's probably worth it to take the plunge into home ownership. But if you're more frugal, it might be better to hang on to your money and purchase clothes instead, which you can actually use. Basically, if you don't have the money to commit to the furniture/pet/car purchases, buying a house might not be very much fun for you.
It may be a virtual world, but that doesn't make the decision process any easier. In the end, it's up to you, but hopefully this list helped you make an informed decision about whether you're ready to buy a home or not.
Images: Kim Kardashian: Hollywood (5); reactiongifs; dukeofbookingham/Tumblr