There Will Probably Be More 'Return to Amish'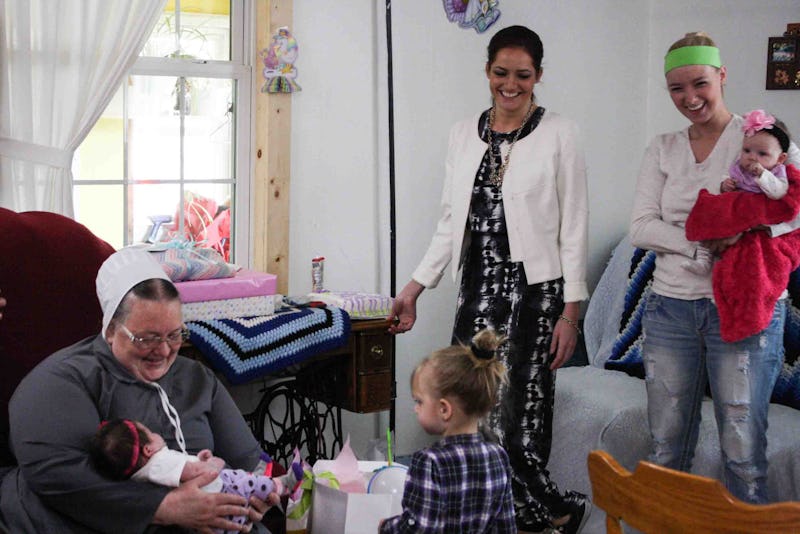 This past week was rough. It was the first week where we all felt the major void left by Return to Amish not being on the air since its season ended with "The Shunning Truth" special on July 20. What are we supposed to do without seeing Abe and Andrew bicker, the still-present sexual tension between Jeremiah and Sabrina unfold, and Mother Mary swing back a couple of vodka cranberries? Ugh, life is so very hard sometimes. The only thing that can get us through this difficult time is the hope we have in our hearts that Return to Amish will in fact return for another season. Unfortunately, TLC has not made any sort of formal announcement confirming that the series will be renewed, so we'll just have to keep on hoping that we'll get a chance to catch up with our favorite bunch of ex-Amish and ex-Mennonite folks some day soon.
But here's what we do know. The Return to Amish series premiere garnered 2.4 million viewers, winning its time slot among the all-important demographic of women aged 18-34. The series also averaged about 1.82 million viewers for its eight-episode run this season. Although the ratings for Return to Amish weren't spectacular and didn't achieve the network record-setting numbers of Breaking Amish , these ratings are still pretty solid and indicate that Return to Amish has great potential to be picked up for another season. Plus, given that Return to Amish is the second spin-off featuring the original Breaking Amish cast (Breaking Amish: Brave New World was a previous spin-off that aired in 2013), it seems likely that TLC will once again bring these crazy kids back to TV.
Jeremiah has already started a campaign to get the show renewed. He has asked his Twitter followers if they want another season, and he has encouraged them to retweet in order to show their support for another season of Return to Amish. Sure, since Jeremiah is one of the stars of the show, he can be influential, but what Return to Amish really needs to get more fans pumped for another season is a celebrity to spread the word about the show. Maybe Rihanna could work her magic again, like she did for Breaking Amish?
According to the cast members' social media feeds, many of them, including Jeremiah, Abe, Rebecca, Mary, and Chapel, are doing public appearances right now, so clearly they are enjoying their fame, and they would most likely be up for another season. And we have so many questions left unanswered after watching "The Shunning Truth" special, such as what's going on with Chapel's cancer battle, if Jeremiah will stay Amish, and if things are heating up with Katie Ann and her boyfriend. TLC can't deny us the answers to these questions, can they?
Luckily, we know we will have a new season of Breaking Amish to tide us over until the fate of Return to Amish has been decided. Just as Abe, Rebecca, Jeremiah, Sabrina, and Kate left their strict religious communities behind in Season 1, what seems like, so many years ago, a new crop of Amish men and women will follow in their footsteps to do as the English do in Brooklyn. Since hipsters have adopted much of the Amish style anyway, we're sure they'll have an easier time fitting in. However, whether we meet again on TLC or not, the original Breaking Amish crew will always have a special place in our hearts.
Images: TLC; fatefellshort93/Tumblr