5 Work-Appropriate Hairstyles Anyone Can Do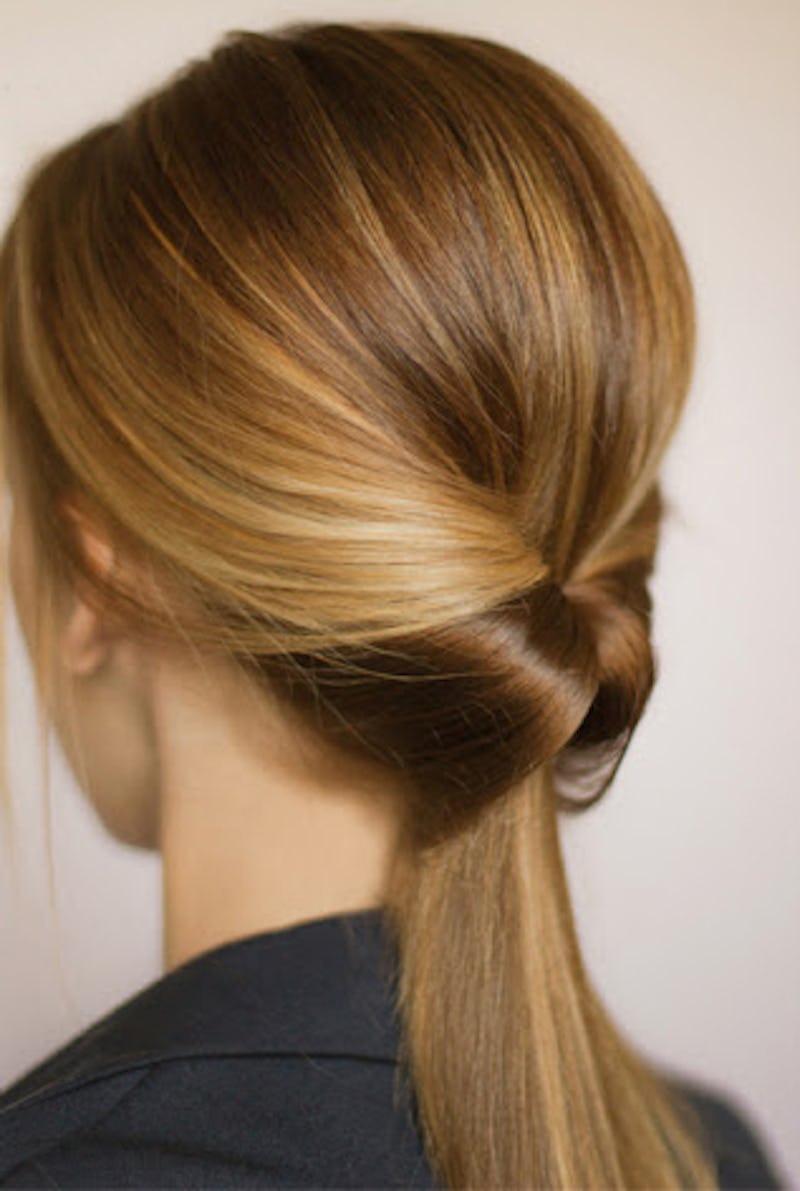 In my fantasy world that I often dream about, I start every morning with a blowout at Drybar. My mess of frizzy red hair is someone else's problem and, while I'm sitting in the hairdresser's chair, I use my extra time to catch up on important emails, read the super long stories in magazines that no one ever has time to finish, and fit in a few more rounds of Candy Crush.
Unfortunately, I no longer live in a city where there are Drybars, and even if I did, there's just no way I could justify spending the $40 per blowout that Drybar and other blowout bars like Blo and DreamDry charge. Not to mention the fact that I just don't have the time to be pampered every morning. Nope, for now it's a quick shower and a few dollops of whatever hair products I have lying around my bathroom. Ah, being 23 is so glamourous.
Read more: The 10 Best Hair Clips For Thick Hair In 2022
But just because you don't have the time or money for fancy hair appointments doesn't mean that you have to sacrifice style. All you need are a few tricks up your sleeve.
Here to help us out is Stephanie Brinkerhoff, a Utah-based professional wedding hair stylist, makeup artist, and creator/writer of her blog Hair & Makeup by Steph. She travels all around the U.S. to teach others about her beautiful hair techniques, and now she's here to help us!
I asked Brinkerhoff to show me how to do five different hairstyles that are work-appropriate, fun, and can be executed easily and quickly at home with my own two hands. Each one is a little twist on a classic, and they're all easy enough to accomplish in three steps (although you might need to brush up on your braiding skills first).
Truth be told, these 'dos are a lot more creative than a basic blowout, anyway.
Happy styling, ladies!
1. The Mini French Braid
Step one: Starting at your part, pick up a 1" to 2" section, leaving out your bangs.
Step two: Start a french braid that goes down toward your ear, leaving out the hair around your face to keep it soft.
Step three: Finish the braid just behind your ear and secure the end with bobby pins.
300 Bobby Pins, $6, Amazon
2. The Inside-Out Ponytail
Step one: Put all of your hair in a low ponytail in the back.
Step two: Use your fingers to create a small hole at the base of the ponytail.
Step three: Put your fingers up through the hole and bring the ponytail down through it, flipping it inside out.
3. The Wrapped Braid Ponytail
Step one: Put all of your hair into a mid to high ponytail in the back.
Step two: Take a small section of hair from the ponytail and create a braid.
Step three: Wrap the braid around the elastic to hide it, securing the end with bobby pins.
4. The Pompadour
Step one: Pick up the fringe section in the crown area and backcomb behind it to add volume.
Step two: Smooth out the front and loosely pull it back, creating a pompadour with volume.
Step three: Pin it by inserting one bobby pin on each side, crossing them for added security.
Teasing Comb, $5, Amazon
5. The Fishtail Bun
Step one: Put all of your hair into a high ponytail.
Step two: Braid the ponytail into a fishtail braid.
Step three: Wrap the braid around the base of the ponytail, creating a fishtail braid bun. Secure with bobby pins.
Oribe Superfine Hairspray, $33, Amazon
(All Images: Stephanie Brinkerhoff)