The Weirdest Underwear You Can Buy On Etsy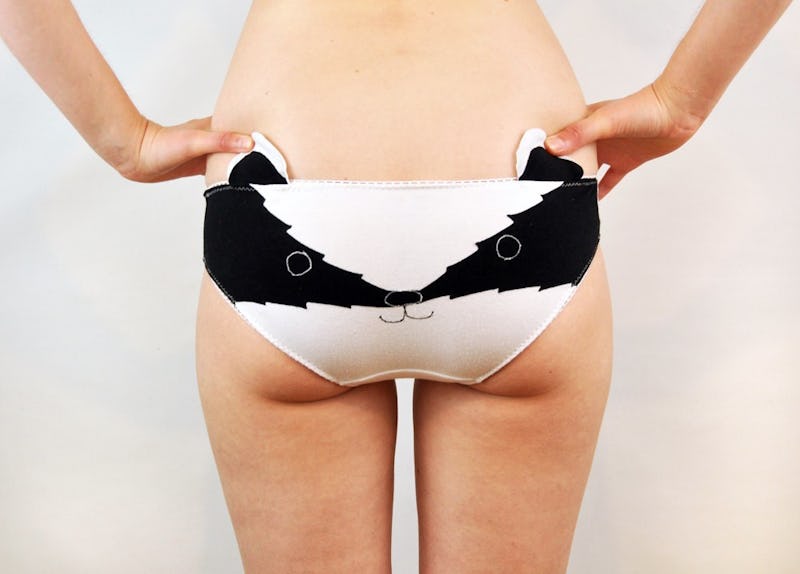 Whether you spend a great deal of time at Victoria's Secret to ensure your underwear drawer is full of matching sets or take more of a nonchalant approach purchasing new underwear only when necessary, one thing is certain: Unless your going commando which is a totally acceptable option; underwear is part of your everyday wardrobe. And today is National Underwear Day! Because there aren't enough fake holidays in the world already!
Now of course boy shorts, cheekies, low-rise bikinis, thongs, and g-strings are all acceptable underwear choices. Actually, wear whatever you want to celebrate, even if it's a C-String or asymmetrical man thong. I'm not here to judge. And, if you're ready to take an even bigger leap with your skivvies selection, may I suggest you check out Etsy? It's a veritable treasure trove of underwear you never knew you needed.
Vintage undergarments, animal panties, and flocks of feathers are just the beginning for bizarre undergarments. So, if you want a break from boring old hot lingerie (or sexy nursing bras thanks to Dita Von Teese), then these seven pairs of underwear are the perfect way to break the mold.
1. Badger Panties
Why not wear a badger face on your butt? Ears Included!
Panties with Badger Face and Ears. Lingerie Underwear, $39.00, etsy.com
2. Cupcakes
And all this time I thought I was supposed to avoid letting that cupcake go straight to my butt.
Cupcake Frilly Panties with Cherry Lingerie Underwear, $45.00, etsy.com
3. Peephole Panties
Call me crazy, but I believe that is larger than a peephole.
Black Peep Hole Panties with Black Bow Lingerie Underwear, $32.00, etsy.com
4. Vintage Bloomers
I'm all for vintage, but some looks should stay in the past. Exhibit A: these satin pink bloomers.
Vintage/Retro Style ShinyPink Satin Panties/Knickers/Bloomers/Satin Lingerie/Satin Underwear, $24.09, etsy.com
5. Marvelous Mardi Gras
Now that's one way to celebrate Mardi Gras!
32C - Red Multicolor MARDI GRAS Bra and Ruffle Panty Feather Set - Burlesque Lingerie Costume - Rave - Burning Man, $115.00, etsy.com
6. Pokemon Panties
For the ~sexy nerd~ in all of us.
Pokemon Geek Boyshort Panties Lingerie Your Size Your Fav Pokemon, $25.00, etsy.com
7. Galaxy Undergarments
Okay, these are kind of amazing.
Galaxy Nebula Space Bikini Boyshort Panties Lingerie Your Size, $22.00, etsy.com