American Apparel Is Posting Up-Skirt Pics Now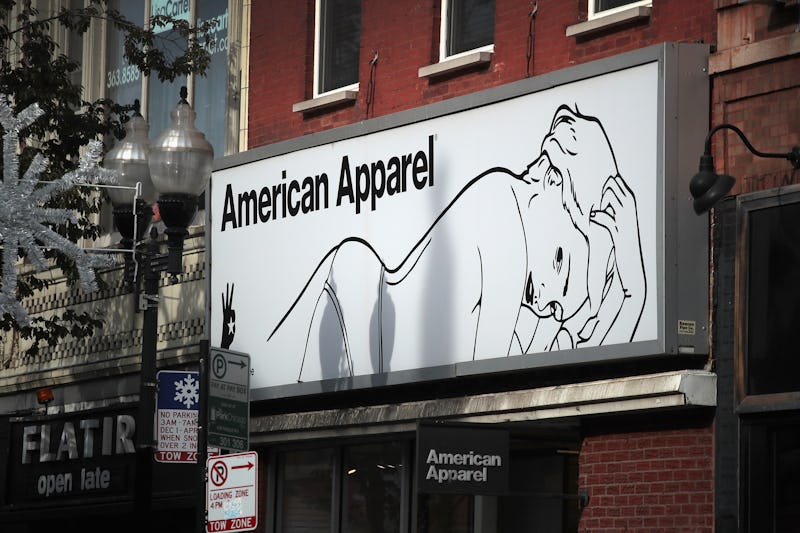 Scott Olson/Getty Images News/Getty Images
American Apparel has gone way too far this time. The fashion retailer — famous for it's provocative advertising and questionable CEO Dov Charney — recently posted a photo on Instagram of a model bending over in a mini skirt and exposing her butt cheeks and underwear. In other words, American Apparel basically posted an up-skirt shot on Instagram. Not. Cool.
According to the Daily Mail, the photo was a part of the retailer's "Back to School" campaign, and was intended to advertise mini skirts. In the image, which was posted on the brand's UK Instagram account, the model was shown bent over a car while wearing a mini skirt — the lower part of her butt cheeks and underwear visible.
Naturally, the post resulted in a huge social media backfire. Business Insider highlights that one Twitter user posted the image in question with the note that the brand is "fueling Lolita fantasies and rampant sexism". Others have joined in, pointing fingers at the company's obscene advertising and regular "scandals."
Oh, but it gets worse. According to The Gloss, this isn't even the first up-the-skirt style shot the brand has posted this year. In March, the company posted a similar photo advertising one of the brand's pleated mini skirts. Facepalm.
Seeing as sexual voyeurism in the form of up-the-skirt shot has become a huge problem, not only in the U.S., but across the globe, this image is beyond ridiculous. Earlier this year, the governor of Massachusetts signed a bill banning the taking of up-skirt style images in the state — however, it's still legal in other parts of the U.S. (thanks, first amendment). Cities like Hong Kong are in the process of taking similar measures — South Korea even requires that phones with cameras make a noise when photos are being taken. Like I was saying, ridiculous.
Unfortunately, this isn't the first time the retailer has made headlines this summer. In June, American Apparel CEO Dov Charney was fired for "alleged misconduct" — and being accused of holding an employee in his apartment for days and abusing and tormenting her (among other things). Often compared to photographer Terry Richardson, who has a similar, controversial background, the CEO was actually rehired not long after.
All things considered — and by all things, I mean Dov's history, the brand's overall obscene advertising choices, and now not one, but two up-skirt shots on their record — perhaps it's time for American Apparel to take a step back and rethink their image. I'm all about a good pair of easy jeans in jet black, but after this summer, I might look for a different fall staple. Get it together, American Apparel!