19 of the Best '90s Music Video Outfits: RANKED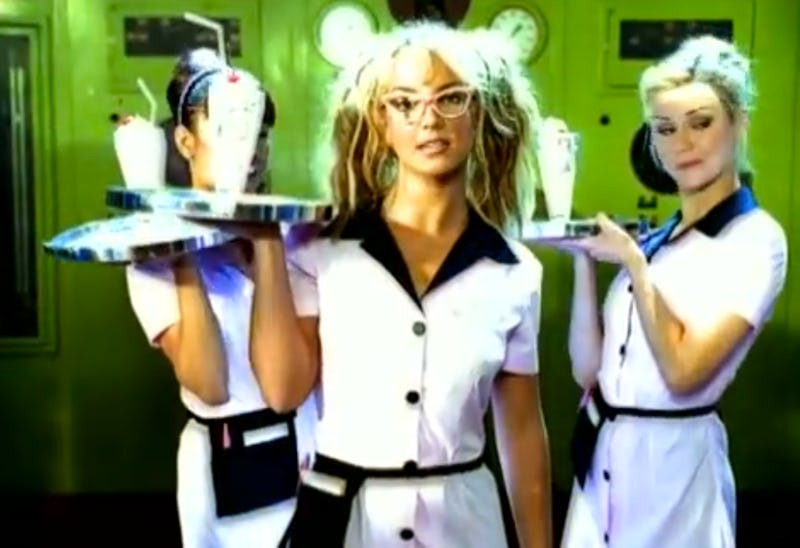 Ah, the '90s music video. It is a world of style unto itself. In the "90s Pop" universe, midriff-baring tops reigned supreme, UFO pants were in great taste, and sparkly bellies were never a bad idea. Looking at the first ladies of this decade in Pop, plenty of their '90s music video outfits went down in fashion history. They sparked imitations and parodies. They gave us fodder for Halloween costumes. They launched the inspiration for heaps of "Limited Too" merchandise. Sure, plenty of these trends can easily be filed away in the style folder of "NEVER AGAIN." Still, it's damn near impossible to look back on these moments of style iconography without a generous helping of fondness. That is, unless you just plain don't have a heart.
From early '90s high-fashion simplicity to turn-of-the-millennium futurism, the MTV airwaves saw plenty of styles that would grow into unmistakable pop culture totems. Madonna cemented a seminal suiting look into the American visual vocabulary with "Vogue." Alanis made an iconic ensemble out of her birthday suit. Britney gave us a slutty school girl look that would lay the groundwork for the naughty Catholic girl uniform for years to come. Let's count them down, from Annie Lennox to Christina Aguilera. Here are 19 of the most iconic '90s music video looks from the women of the decade, ranked.
19. Natalie Imbruglia's Alloy-catalogue-friendly knockaround outfit in "Torn"
What a period piece Natalie Imbruglia is in this video. Remember how you had basically the same outfit from Delia*s?
18. Jewel's black mesh dress in "Foolish Games"
In Jewel's "Foolish games", the singer/poet/yodler teaches us basic fashion math: sad wood nymph + laurel wreath = fashion.
17. Aaliyah's crop-top & UFO's in "Are You That Somebody"
In this video, Aaliyah shows that a mesh crop top paired with a nylon UFO pant in the nineties was never a bad idea.
16. Mariah Carey's crochet crop top in "Heartbreaker"
Consider a world in which a professional stylist chose to dress Mariah in a pair of jeans with a frayed waistband for the "Heartbreaker" video. This was considered good taste for the people of 1999. Then came the crochet crop top, or as I like to call it, the boob hammock.
15. Christina's white outfit in "Come on Over"
In the "Come on Over" video, pre-"Dirrty" Christina brings us back to the late '90s music video styling algorithm: midriff + sparkle + flared jeans = styling success.
14. Whitney Houston's leather dress in "It's Not Right, But It's OK"
In the 1999 video for "It's Not Right, But It's OK", the Diva emeritus gave us a sample of '90s leather. She's a dominatrix with one glove and a wallet chain.
13. Jennifer Lopez's string-bikini-as-shirt in "If You Had My Love"
While cam-girl J.Lo prances around her house being viewed by millions of "Jennifer's World" subscribers, she wears a string bikini with a pair of silk pants. Her torso was super hot, but her legs were freezing.
12. Lisa Loeb's casual LBD and glasses in "Stay (I Missed You)"
In "Stay (I Missed You)", Lisa Loeb set the standard for the "girl with feelings walks around her apartment" music video. The fact that she changed out of her pajamas for this endeavor indicates she will make it through her travails.
11. Mariah Carey's white bikini top & skirt in "Honey"
Prior to the emancipation of this elusive chanteuse, Mimi gave '60s Bond Girl style a try and killed it in "Honey". However, to stay true to her signature style, Mariah opts not to wear a real shirt.
10. Britney's diner uniform in "(You Drive Me) Crazy"
I mean, of course! Britney's retro waitress attire in "(You Drive Me) Crazy" is perfect for the diner she works at: a warehouse Johnny Rocket's.
9. Annie Lennox's Steampunk Gown in "No More 'I Love You's"
In the 1995 "No More 'I Love You's" music video, Annie Lennox's overall look lives up to her indelibly creative spirit. Those roses, the beaded gloves, the avant-garde scrunchies: it's all Louis Vuitton runway before Louis Vuitton runway was a thing.
8. . Shania Twain's layered menswear & womenswear in "Man! I Feel Like a Woman"
In the 1999 "Man! I Feel Like a Woman" video, Shania Twain is equal parts Risky Business and Burlesque. Plus, she wore like 7 outfits in this video all at once, divesting herself of the business layers to reveal the party layers underneath as the video progresses. Now that's range.
7. Annie Lennox's 18th Century French costume in "Walking on Broken Glass"
Annie Lennox serves jealous French noblewoman in "Walking on Broken Glass" in a period-appropriate gown like a pro. Sure, this isn't exactly '90s fashion, but it was a great moment of fashion that occurred in the '90s.
6. Missy Elliot's black parachute jumpsuit in "The Rain (Supa Dupa Fly)"
Sure, it's a lot o' wind in your pantaloons. Sure, the balloon jumper isn't exactly what you'd call wearable. However, this look is still, as Missy would put it, supa' fly.
5. Shania Twain's leopard print 3-piece set from "That Don't Impress Me Much"
This is what you wear when hitch-hiking in the desert... with the matching hatbox, obvi.
4. Alanis' birthday suit in "Thank U"
Even if she's technically not really wearing anything, this still counts. In "Thank U", Alanis went naked as a jaybird, sparking numerous parodies and cultural references. Give her a horse and she's Lady Godiva.
3. Christina Aguilera's fringe-top in "Genie in a Bottle"
When we first met little Christina in the "Genie in a Bottle" video, she jangled and swished her way into America's hearts with her nylon pants and her beaded crop-top. Also, can I just say that I had the same nylon pants from "Limited Too" when I was about 10?
2. Britney's school girl getup in "Baby One More Time"
Well, how can you not mention this? Britney's schoolgirl outfit in "Baby One More Time" may have been more than a bit statutory, but this was yet another look that defined '90s pop. Also, I will never tire of seeing Chris Parnell and Chris Kattan reprising this look in the SNL "DeMarco Brothers" sketch where they try out to be Britney's dancers. Classic.
1. Madonna's suit & cone bustier in "Vogue"
Thou shalt not underestimate the groundbreaking power of the Gaultier suit and the cone bra. In this 1990 video Madonna gave Marlene Dietrich's androgynous look new life and paid tribute to the drag ball circuit that inspired the song's premise. In return, she gave drag queens the world over another look to inspire their eleganza extravaganza. On behalf of '90s fashion enthusiasts everywhere, Madge, I salute you!
Image: NatalieImbrugliaVEVO, Atlantic Records (2), Shixsh, Matthew Weild, CAguileraVevo (2), WhitneyHoustonVEVO, JenniferLopezVEVO, LLOnline, MariahCareyVEVO, BritneySpearsVEVO (2), AnnieLennoxVEVO (2), ShaniaTwainVEVO (2), Alanis Morisette, Madonna/ YouTube