These Barbie Looks Should Be in Her Clothing Line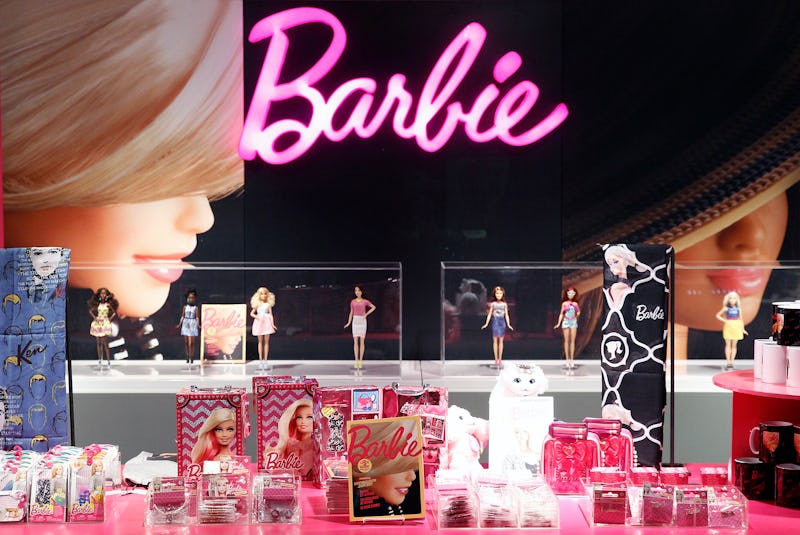 Thierry Chesnot/Getty Images Entertainment/Getty Images
The world's pinkest fashion closet is about to open its doors to the denizens of girl world. Just a hint, this wardrobe belongs to the world's most famous model/actress/entrepeneur/doctor/astronaut. That's right, kids. Mattel has announced a Barbie clothing line that will bring full-grown-person-sized doll fashions to a Malibu Dream House near you. As Vogue UK reports, a set of throwback Barbie-inspired capsule collections will be launched by Wildfox, Forever 21 and Lord & Taylor in early September with Mattel's backing. So I'm sure you caught my drift that when I said Malibu Dream House I actually meant "your local mall."
Rather than turning to her current wardrobe, the duds in these capsules will take a page out of Barbie's vintage closet. The three brands will be designing pieces based on classic Barbie looks from the '50s, '80s, and '90s. So here's your chance, children of the turn of the century. Finally, you can live your childhood dream of dressing like My Size Barbie, which was so hopelessly dashed by the ludicrous proportions of her body. Pfft, even at 6 years old, I would have had to go on a liquid diet or extract a rib to fit into that waist. Thanks for the positive body image, Mattel!
Now that the children of the past are able to avenge our selves of the My Size injustice, what looks would be the best to bring to the stores? Here are all the Barbie looks that I'd like to see from the '50s, '80s, and '90s in adult human size.
1959 Zebra-print Swimsuit Barbie
You can't think of making a nostalgic Barbie fashion line without a redux of the original 1959 Barbie's black and white striped swimsuit.
1959 "Gay Parisienne" Barbie
From the faux fur stole right down to the peep-toed pumps, this ensemble is vintage fashion porn. On behalf of all people who believe they were born into the wrong fashion era, this look would fly off the shelves.
1959 "Easter Parade" Barbie
The famous apple-print sheath worn by Barbie in this early look is literally my dream frock.
1959 "Roman Holiday" Barbie
She's like a candy-striper who became a secretary, but never lost her fondness for red and white.
1959 "Suburban Shopper" Barbie
GAHH! Adorable . . .
1980 Western Barbie
BEHOLD! Barbie's rhinestone cowgirl at her finest . . . and she winks!
1983 Great Shape Barbie
Eat your heart out, American Apparel.
1986 "Barbie & The Rockers" Diva Doll
Just sayin'. . . I would be jazzed to find a pair of star-print high-waisted pants anywhere.
The 1995 Clueless Dolls
The shiny tights, the bear backpack, the crop top . . . It's all perfection.
Maybe I would ditch the Kentucky Derby hats . . .
1997 "Arizona Jean Co." Barbie
I would wear this entire outfit, and I'm saying this without the smallest shred of irony.
1997 "Bead Blast" Barbie
BAM! She can basically walk out of the box and into the club.