T. Swift's Launching An Adorable Line of Kicks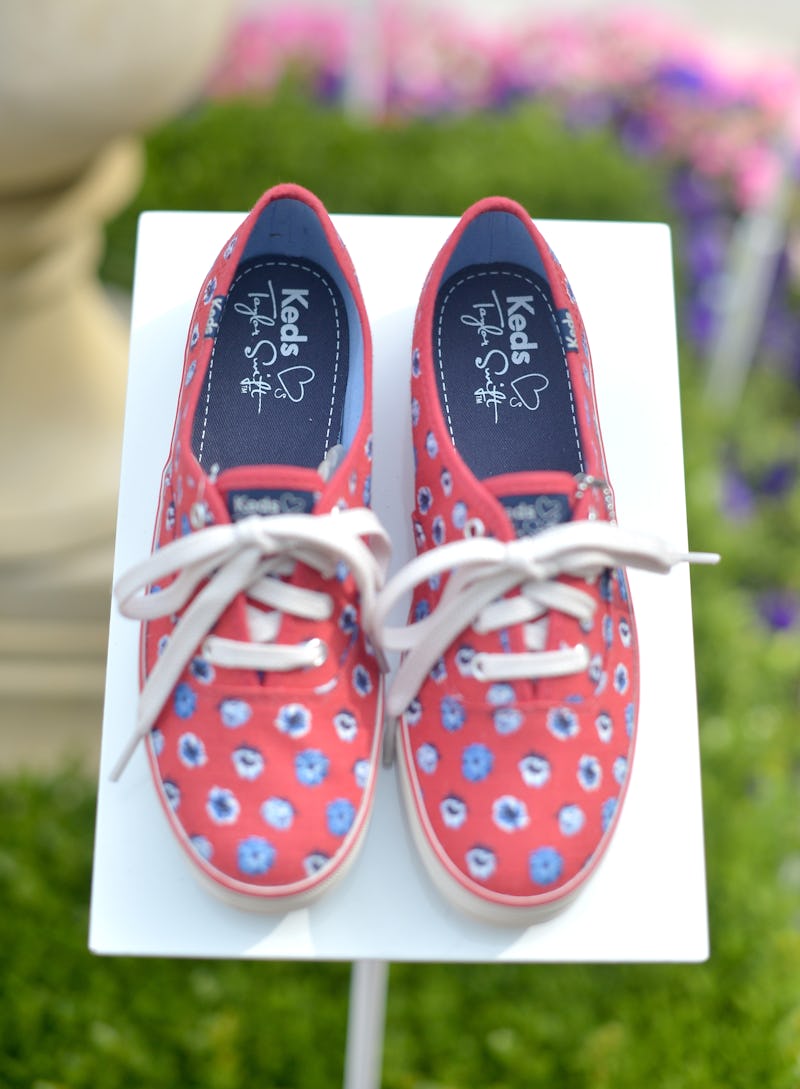 Charley Gallay/Getty Images Entertainment/Getty Images
Taylor Swift is making some big changes. She described her just-announced fifth album 1989 , out October 27, as her first "official pop" album, which essentially means she is really kissing her country and twangy roots goodbye this time out, although 2012's Red was pretty pop in its own right. And, with her new album, comes some new kicks, naturally. Taylor Swift is launching cat sneakers with Keds to celebrate 1989, and honestly? They're perfect.
What better way to compliment her big and official artistic change than with a stylistic one, too? Swift, who has cultivated a classic, wholesome, sometimes nautical, often striped, and decidedly America's sweetheart style, is getting her very own, Halloween-appropriate Keds sneaker to coincide with both the album release and her notorious love of cats. The design is not exactly what you'd expect from the singer/songwriter/The Giver star.
Swift has been shoed up with Keds for a few seasons now, releasing branded kicks with guitars pick charms and soles stamped with her John Hancock, which fall in line with her classic image and look. The shoe company even released a sneaker to celebrate the release of Red.
This time out, she's getting the Sneaky Cat shoe, which is an update of the iconic Champion silhouette and is certainly Meredith and Olivia approved.
T. Swizzle isn't the first person to come to mind when I think of celeb goth girls — her BFF Lorde probably takes that title. But these shoes are totally autumnal and anti-Swiftian; she is literally stepping out of her comfort zone. I can't wait to see her wearing these with an LBD and pink lipstick; Swift is known for red lips, but she ditches crimson for powder pink more often than you'd think.
Don't tell anyone, but I would totally wear these shoes — and I'm more of a dog person. They'd add such a playful element to an errand running, basics outfit like skinnies and a hoodie, which you'd wear in October and during the Halloween season.
They are black with black laces, which isn't exactly Swift's signature color. That'd be red. Or Red, of course. The eyes and ears of a mysterious and mischievous gray kitty are stamped on the outer side of each shoe. A guitar pick-shaped charm is there, while Swift's birthday (12-13-89) is stitched down the back. What a lovely little detail!
The shows are safely gothic and pretty adorbs, but they don't arrive at retail until October. But they are available for pre-order, so get to it.