'Glee' Can Do Better Than This In Season 6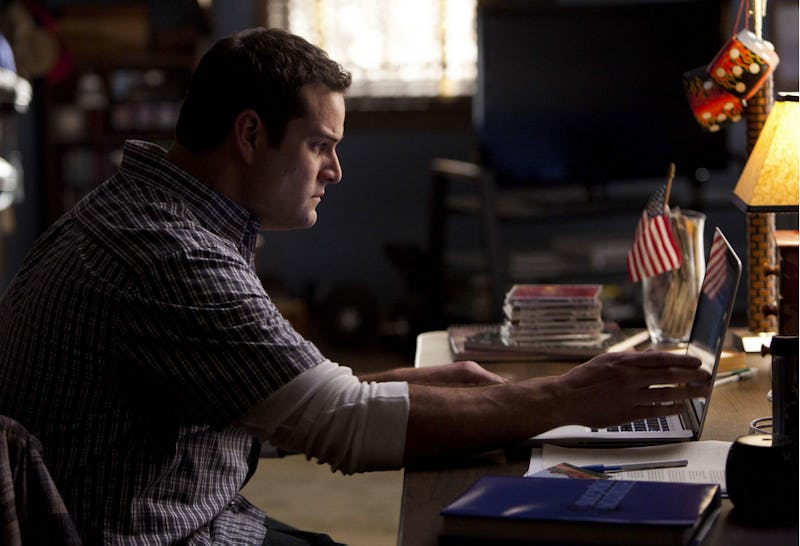 Next you're going to try to tell me that Rachel Berry isn't the star of Glee anymore. According to The Hollywood Reporter, Max Adler's Dave Karofsky will return for Glee Season 6 and apparently, he might be dating Blaine. I know, this news is even more confusing that the announcement that Glee 's final season would include six new high school characters. I get that the upcoming sixth season will be focusing on the series' original characters and how far they've come and I appreciate the idea of bringing Karofsky back because his storyline didn't really get that much justice, but to have him date Blaine is just plain insulting to Glee fans everywhere.
THR's exclusive report revealed that Adler will reprise his role as the former McKinley High football player for "at least four of the final 13 episodes." (So, is he going to be in more episodes than Naya Rivera? Because that's just crazy.) And, apparently, sources told the site that he could be romantically linked to Darren Criss' Blaine Anderson during his time on the show's final season. I know what you're thinking — not even Shirley MacLaine could break up Kurt and Blaine, there's no way anything else in the world could end their engagement. Right? RIGHT??? Well, Glee fans, we might have all been wrong. Even though I really hope we're not.
As if you could forget, Glee Season 6 will feature a dreaded time-jump because Ryan Murphy loves One Tree Hill so much that he goes above and beyond to repeat its mistakes on the FOX musical dramedy. So, if THR's source is revealing an actual spoiler for Season 6, sometime within that time-jump something broke up our beloved Kurt and Blaine. But that's really not even the worst part of this casting news.
Dave Karofsky has so much more potential than to just become Blaine's new boyfriend. (And god help me if he's not his boyfriend and just a random hook-up.) Actually, while we're at it, Glee never let Karofsky live up the potential of his gay storyline when it was introduced in Season 2. The series outed him as an explanation for why he bullied Kurt and then flipped the script on him, having him transfer schools and be bullied there for being gay before ending his arc with an attempted suicide. After all of that, having him return just to be Blaine's boyfriend in Glee's farewell season seems insensitive and just plain obnoxious. Are we supposed to be touched by the full-circle nature of this relationship — Kurt's bully and his hero end up together in the end? C'mon.
In its final season, I expect Glee to do better than this. Adler's Dave Karofsky went through major character development during his time on the series, but he was never a stand-alone character. Everything Karofsky did and experienced was because of his link to Kurt and frankly, he deserves better and he's worthy of more responsibility in his character arc if Glee is going through the trouble of bringing him back. If the upcoming season is set to dwell on "the original people that were on the show and what happens to them and how they give back," why can't Karofsky return from his experiences, older, wiser, and wanting to give back to the students of McKinley that he terrorized in his youth? And, more importantly, return as his own character — separated from his past with Kurt and Blaine?
Glee Season 6 doesn't need another chapter of the "Kurt & Blaine Saga," it needs to treat each character it brings back as an individual. Especially one with the experience and potential to be a great asset to the season like Max Adler's Dave Karofsky.
Image: FOX; we-got-the-gifs/Tumblr