How To Decide: VMAs Or 'True Blood'?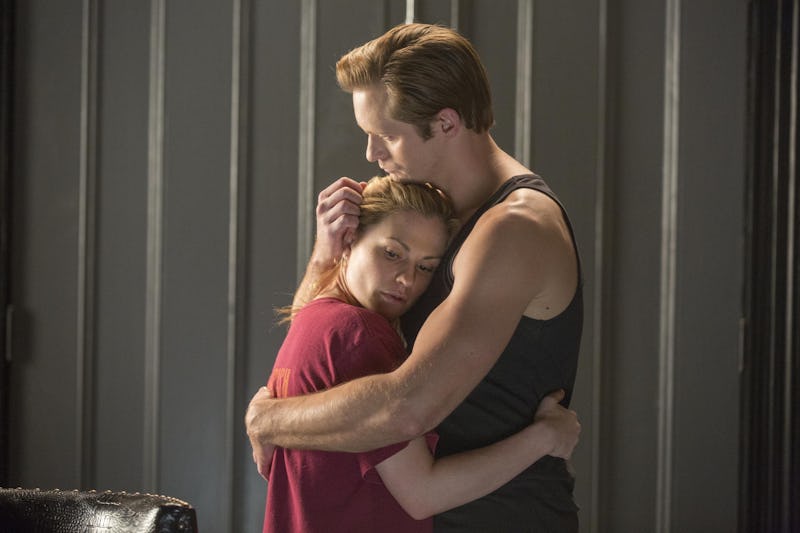 Someone hold me. Are we really going to have to choose between Beyoncé's "divorce announcement" at the 2014 MTV VMAs and the True Blood series finale? Thankfully, no, but I could still use a hug from Alexander Skarsgård anyway, if someone could kindly let him know for me.
If you've been living under a rock, you already know that True Blood and the VMAs will overlap on Sunday, Aug. 24. The great news is that, if you plan on watching both, it actually works out perfectly so that you won't miss any of the biggest "STFU DID THAT JUST HAPPEN?!?!?" moments at all. How, you ask, #TrueToTheEnd-ers and Beygency? You're welcome in advance because here's exactly how to get the most out of Sunday night's ridiculous, guilty pleasure TV.
Your inner-monologue is probably killing you right now trying to decide which show everyone at work will be talking about on Monday morning. Will Bey make that divorce announcement? If yes, everyone will be talking about it. Will Bill die on True Blood? If yes, everyone's going to be pissed that he and Sookie didn't get to be together in the end. Decisions, decisions.
Thankfully, this isn't a life or true death situation because you've got some options here (YAY). That all depend on how strongly you feel about the VMAs, True Blood, Beyoncé, Sookehhh, and social media. So, here's what your Sunday night schedule could look like:
8 p.m. — VMAs Red Carpet Pre-Show
Just do it, it's hosted by Pretty Little Liars' Lucy Hale and Fifth Harmony will perform during the pre-show. You don't have to sit there glued to your television set, but you'll at least know what's up like a Bo$$.
9 p.m. — The Hard Part
I know you'll be tempted to switch right over to HBO for True Blood, but hear me out. Usually, HBO series don't start exactly on the dot — in fact, HBO airs previews of upcoming series and a "Previously on True Blood" before they air a new episode. And considering the final season of Boardwalk Empire and the new season of Girls are both coming, you can expect at least three to five minutes of spare time. So, here's what I suggest — since there's no host at this year's VMAs, stick around for Ariana Grande, Nicki Minaj, and Jessie J.'s "Bang, Bang" before you swap over to HBO.
9:05 p.m. — True Blood and Embrace Your Social Media
Go for it, switch over to HBO now if you can't bear to not watch True Blood in real time. But, you'll want to have Twitter open so you can stay up to date on who's winning these awards. It's safe to assume that, because she's the biggest performer in the line-up, Beyoncé will perform towards the end of the night with either Iggy Azalea and Rita Ora or Taylor Swift performing during the 10 p.m. hour of the telecast. But, just in case they switch things up this year, you'll have Twitter to alert to to what's up and you can swap over.
10 p.m. — The VMAs
If you think True Blood's going to have a post-credits scene, you're probably right so stick around. If you don't really care about that, switch over to the VMAs where you'll be back just in time for the aforementioned Iggy and Rita or T. Swift performance. MTV never stacks the first hour of the show with its best performers (probably because they know we'd never stick around for the full three hours) so you should be safe to enjoy the top three performances and catch the biggest awards of the night. And Beyoncé, of course.
If You Skipped True Blood...
Well, you're in luck. If you felt the need to watch the entire VMAs, HBO will air True Blood 's series finale at 11:30 p.m. for a second time, which also happens to be the projected ending of the VMAs. You win, experienced TV-watcher. Just don't feel bad if you feel like this after:
Images: John P. Johnson/HBO (2); Getty Images; gifs-collection, dragonflyvanity, truebloodpics/Tumblr; Giphy