We'll Soon Know if the Giudices Are Going To Jail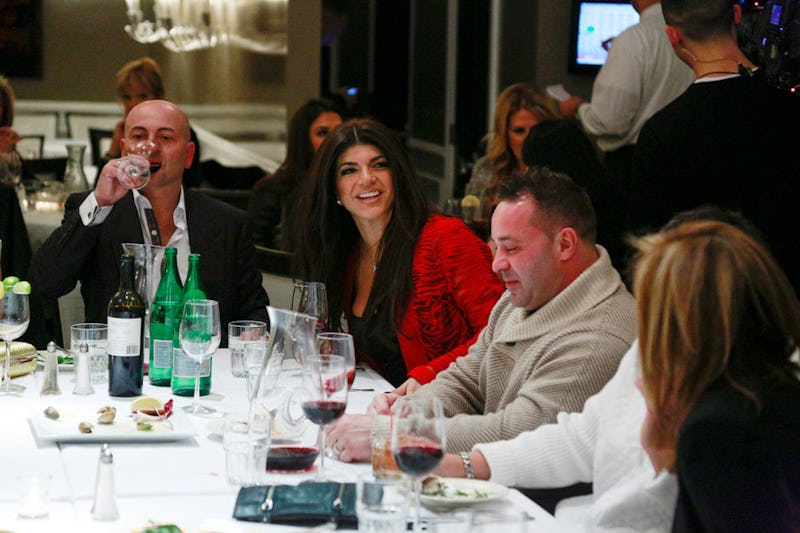 Update: On Oct. 2, a New Jersey judge sentenced Teresa Giudice to 15 months in jail. Even if you don't watch the series, you've probably heard about Real Housewives of New Jersey 's Teresa Giudice and the ongoing legal problems she's facing with her husband Joe. The couple was initially indicted on 39 charges, including mail and wire fraud, bank fraud, bankruptcy fraud, and making false statements on loan applications, back in July 2013. So with all of that going on, is Teresa going to jail?
RHONJ allows us to be a fly on the wall for all the more nonsensical activities that go on in the Housewives' lives, so when something as serious as what Teresa and Joe are facing comes up, not to mention what has been incredible tabloid fodder, you better believe it's going to be a major part of the show. The current season of RHONJ has been all about Teresa and Joe's upcoming sentencing. Though Teresa and Joe try to maintain their innocence and put on a brave face for their girls, it's to no avail. In each episode, you can just feel an impending doom for this couple, which has sucked out a lot of the fun and fabulousness the show once had.
Teresa and Joe's sentencing is like the biggest misunderstanding between two reality show castmates that just will not get resolved, times a billion. In each episode, I can't help but think how stripes would not look flattering on Joe's burly frame or ponder if Teresa likes orange. Is prison really something they have to worry about?
In March Teresa and Joe pled guilty to several of the fraud charges. Teresa faces a sentencing of 21 to 27 months in prison, and her husband, whose lawyers said he had a bigger role in committing financial fraud, faces 37 to 46 months in prison, as confirmed by ABC News. Joe, who is a citizen of Italy, could also face deportation after serving his sentence.
However, Teresa and Joe still have about a month left before they learn about their fate. Their sentencing was originally scheduled for July 8, but it was pushed back to Sept. 23. Some speculated that this was to give the family time to grieve for the death of Joe's father Frank, who suddenly passed away in June. However, Rebekah Carmichael, a spokesperson for the U.S. Attorney's Office, told The Star-Ledger the federal court date was moved due to an administrative issue, "100 percent not" because of Teresa and Joe's mourning.
Unless you can predict the future, there's no telling whether or not Teresa and Joe will be going to prison, and if so, for how long. Luckily, we were treated to the psychic stylings of medium James Van Praagh a few weeks ago on RHONJ, and he gave us his insight into what the outcome of Teresa and Joe's legal woes will be. He said he didn't foresee Teresa going to prison, but he predicted Joe will do time or at least pay restitution. The legitimacy of Van Praagh's readings have come under question in the past, but he did ask Teresa if her father-in-law had passed months before his shocking death, so maybe Van Praagh is on to something with his predictions about Teresa and Joe's fate.
To know for sure, we're just going to have to wait until September 23 for the real answer. I'm sure Andy Cohen will have all the scoop from Teresa herself — or try to get it, bless his little heart — for us during the RHONJ Season 6 reunion, which will air after the sentencing. As usual, Teresa will be the center of attention at the season post-mortem, although I can only guess that this is probably the only time she wishes she wasn't.
Images: Heidi Gutman/Bravo; peggywanker/Tumblr