She Seems a Little Confused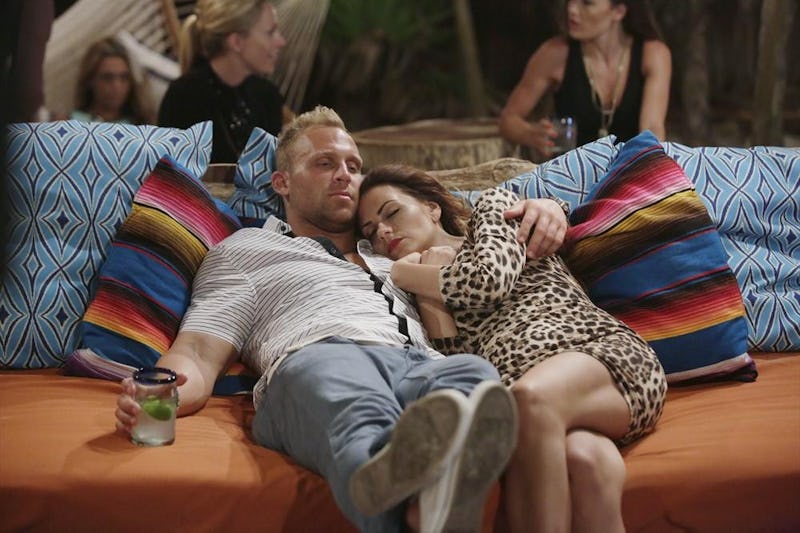 What are we to do with this woman? One week, Bachelor in Paradise's Michelle Money really likes Marquel. Another week, she's liked Robert the whole time, but still chooses another guy over him. Another week, she's crying crocodile tears over Ben — a guy she doesn't even like — having a girlfriend at home. But through it all, Michelle has retained one constant: She was here to find true love and her future husband. She wanted it so badly that Michelle cried at a rose ceremony until Chris Bukowski crowned her most deserving of real love. Then along comes Cody Sattler to shower Michelle Money with love and she loses her mind.
In her defense, she has a moment of worry because her past marriage failed and Cody seems dead set on her being The One after only a few days. It's fair that once someone does express feelings towards her, she seems overwhelmed. That is how feelings work. And Cody is laying it on really thick. He's talking about how he could see them ending up together. It's true that they don't know each other all that well at this point, but you know what's a surefire way of making sure you don't get to know someone better? Completely leaning away during your date and proclaiming "it's not real!" every five seconds during your totally obviously fake "Wedding Photos" date. (Which, by the way, was super creepy, ABC.)
All that being said, if I were in Michelle's shoes (or barefoot prints in the sand), Cody's readiness to love and commit would freak me out too. Especially after being rejected on The Bachelor and in real life, it's hard to imagine that someone could fall so easily so soon. She's seen it fall apart and she's being a bit more cautious. Plus, there's always the possibility that she simply doesn't like Cody as much as he likes her.
It's still too early to tell if Michelle is being overly cautious or if Cody is simply overly obsessed. (Those who frequent Reality Steve know how this goes, but keep it to yourselves, people.) But somehow, in the end, my cold, cold heart actually hopes these two crazy kids can make it. Cody had his world shattered by Andi Dorfman and Michelle hasn't been lucky in love for a while now. Plus, it's weird, but I actually think they're kind of cute together.
Image: Agustin Murillo/ABC