What's Under the Big Top in 'AHS: Freak Show'?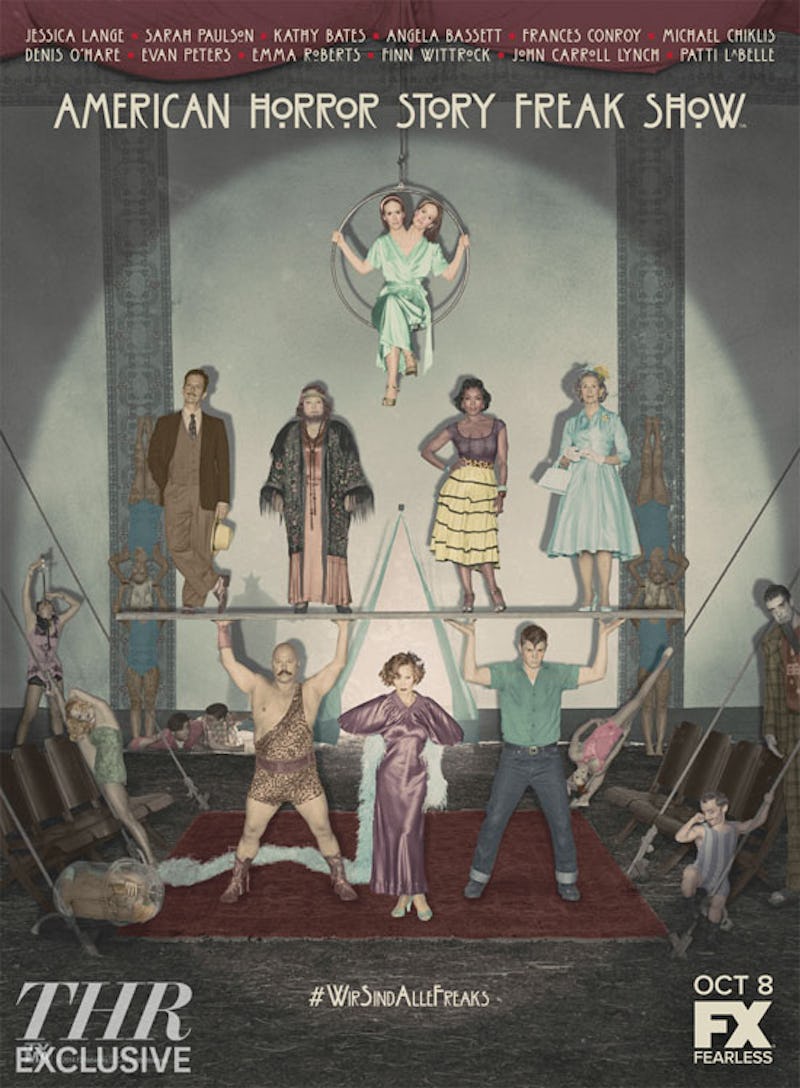 Although it may seem like eons until the next season of American Horror Story arrives, as always, the show is leaking just enough information from next season to keep you hooked. We now know many of the character names for some of the American Horror Story regulars, and not only has the actual world's smallest woman joined the cast, but mother-freaking (pun intended) Patti Labelle and Matt Bomer will be guest starring. Oh, and don't forget the traditional freaky and vague teaser clip... now with more tongue.
And now, it finally seems like we're getting a real peek under the Freak Show big top. American Horror Story: Freak Show has just released some "first look" cast art to The Hollywood Reporter, and it's revealing in more ways than one. Sure, you may not be able to see every actor — Emma Roberts and world's smallest woman Jyoti Amge are nowhere to be seen in the poster — but what's more important is you can see some of the actors in character. Now we finally know everyone's talents in the Freak Show, so here's the lineup of all the American Horror Story freaks, whether their talents are old, new, or still indecipherable:
Sarah Paulson
The talent of Paulson's character was always a dead giveaway, because she's playing not just one character, but two: conjoined twins Bette and Dot Tattler. And of course, she's pictured as the top performer in the Freak Show poster. After all, you know what they say: two heads are better than one.
Michael Chiklis
If the hiring of The Shield's Michael Chiklis wasn't already clue enough, the poster confirms it: Chiklis will play the freak show strongman, Wendell Del Toledo. He's the ex-husband of Kathy Bates' character, father of Evan Peters' character, and husband of Angela Basset's character. Speaking of which...
Angela Bassett
On first glance, Bassett looks pretty normal in the poster. But look a little closer...no, it's not Total Recall. Bassett's character, Desiree Dupree, is rocking three breasts. Apparently, this is actually a real thing. They're called "accessory breasts" and they can occur in both women and men — the most famous case Therese Ventre of Marseilles, France in 1827, who could nurse her children from the breast on the side of her left thigh.
Kathy Bates
Of course, what's a freak show without a bearded lady? Kathy Bates plays Ethel Darling, the show's resident hairy woman, ex-wife of Wendell Del Toledo, and mother of Evan Peters' character. Being the bearded lady ex-wife of a man whose current wife has three breasts? That's got to cause some insecurity issues. Still, she Ethel is working that hairy fringe costume.
Evan Peters
Evan Peters is the son of the strongman and in the poster photo, he's helping to hold up the rest of the cast, so the best guess here is...baby strongman? It figures that even in a freak show, Peters would still be swoon-able.
Frances Conroy
It's hard to tell what Frances Conroy's character will be from the show poster. She's simply dressed like a '50s housewife, and her character's name and biography have yet to be released to the public, although we do know she is a performer in the freak show. But making an educated guess, her talent will most likely have something to do with her beautiful and distinctive, discolored eye.