You Will Not Believe His Next Job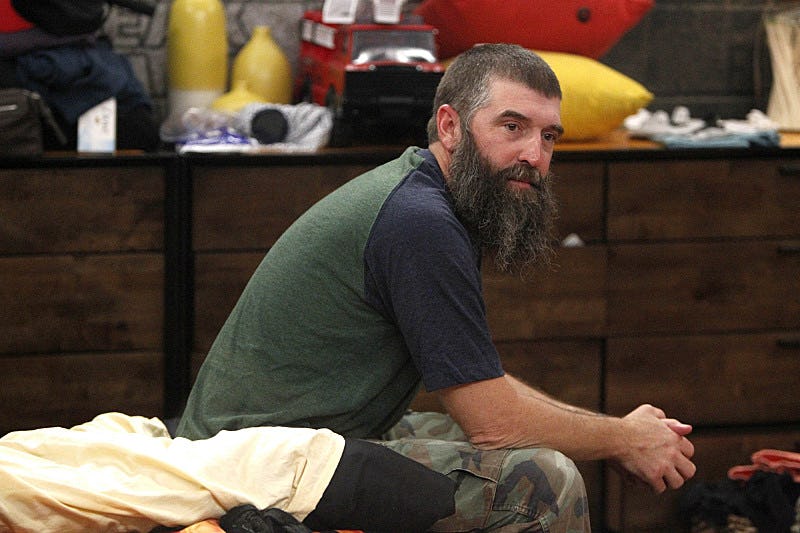 Well, that was sad . . . and unexpected. During Thursday night's live eviction on Big Brother , the houseguests finally evicted Donny, breaking the hearts of many a Big Brother fan. From the beginning of the season, the houseguests have been trying to get Donny out of the house, mostly because they thought he appeared to be more than a sweet, Southern groundskeeper. Certainly, they thought, he was secretly an ex-military personnel, an actor, or a professor. We all know he really isn't any of those things, but maybe he could play one of those roles on TV. Because Big Brother host Julie Chen told Donny after his eviction that the CBS soap opera The Bold and the Beautiful would like him to guest-star on an episode of the show. That's right — Donny will be on Bold and the Beautiful. Not too shabby for the oldest and arguably least dreamy contestant this season. (Take that, Cody!)
The news of what is sure to be Donny's breakout role came just after the evicted houseguest corrected Julie by saying he was a groundskeeper. Donny revealed that he had to resign his position working for a school district in Albemarle, North Carolina, to appear on the show. Those grounds need to be kept even during the summer, after all.
Anyone who voted Donny into Team America was no doubt devastated hearing that the houseguest might be unemployed when he returns home from his eviction. Especially after he said, in the most endearing way, that he hoped the school district would hire him back. ("I had to resign my position, and I pray I get it back," he said.) But Julie comforted him by saying that she can't imagine they wouldn't. (After all, Kellie Pickler's not the only famous person to walk through Donny's high school halls anymore.) Never doubt the wisdom of Julie. Never.
But it sounds like Donny will now have a budding career in soaps, so maybe he won't even need to remember the little people as he soars to fame. But he's definitely going to need a memorable character to portray if he wants a shot at stardom.
Perhaps now Donny can take on one — or even all — of the personas that his fellow houseguests speculated were his secret identity. He could play a hero returning from war who was once thought to be dead. Or a mad scientist who clones himself and gets into a whole mess of trouble with his doppelgänger. Or maybe he could be an actor who auditions for a reality show and fools his fellow contestants into thinking he's just a simple-minded janitor. Oh wait . . .
Personally, I think it would be kind of neat to see Donny portray someone a bit more dastardly on a soap. It would be interesting to see Donny as a totally different person from the man who will likely win America's Player, since we haven't seen him as anything but Big Brother's nicest player ever.
If all else fails, Donny could just go hang out with those dudes on Duck Dynasty. We all know that was a role he was born to play.
Image: Sonja Flemming/CBS; dannykelly38/Tumblr