Here's What Her Readings Are Really Like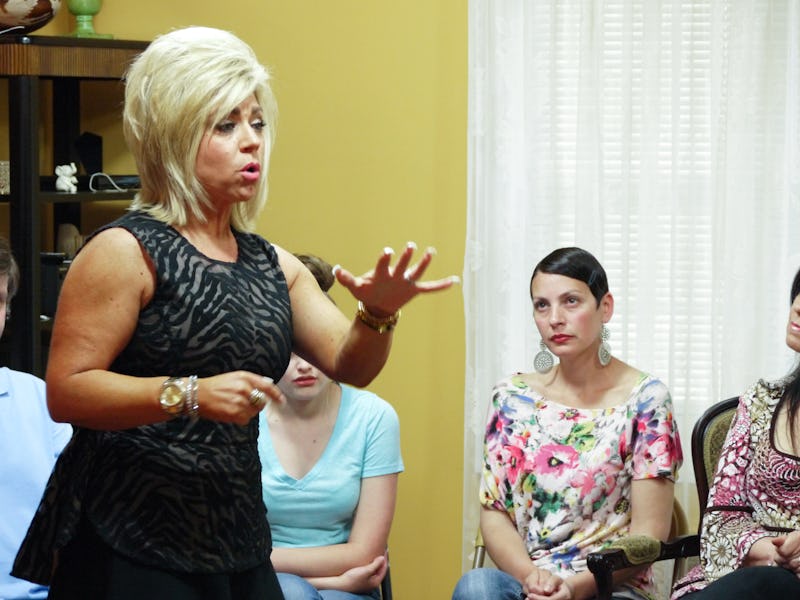 Seeing everyday people connect with their loved ones that have passed on every week on Long Island Medium really makes you want to hop on Theresa Caputo's waiting list for a reading. There aren't many people who can do what Theresa does, or do it as well as she does. Surely, we would all like to have a few more moments with someone we love who has passed on. But if you do end up scoring a private reading with Theresa, will it be just like the appointments we see on TV?
Very little of what appears on TV is a completely accurate portrayal. Parts of reality TV shows often have their entertainment value heightened as a result of production needs or editing. However, it seems like the experience of a private appointment with Theresa might actually be similar to what's shown on Long Island Medium.
Many of the accounts of appointments with Theresa posted online have a common theme: amazement. They point to how accurate Theresa is in her reading and that she is able to discover details that no one but close relatives would know. And I'm sure Theresa brings along her trusty cassette recorder, which she uses to record the sessions for her clients to have and listen to later, because she never leaves home without it.
A couple of bloggers have also posted their accounts of having an unexpected reading with Theresa, as we often see occurs on Long Island Medium when Theresa is out getting her nails done or grocery shopping. Barb Oates and Stephanie Robbins wrote about interviewing Theresa when she suddenly connected with their mothers who have passed on, seeming to know intimate details of their deaths. Robbins wrote about part of her experience in Broadcasting & Cable.
Some of the details she revealed relating to my mom and family were so personal and specific she could never have known about them. It's one thing to see it on her reality show, but quite another to experience it firsthand. As a journalist, I am skeptical by nature, but had to admit, I was transformed into a believer.
Of course, we have to take much of these accounts with a grain of salt. The forum posts, for instance, were written by anonymous users. The blog posts, on the other hand, have a bit more gravitas since they do come from journalists.
However, one of Theresa's former clients wasn't so happy with her reading. A 46-year-old widow from Bayville, N.Y., who spoke to RadarOnline anonymously due to legal reasons, had a whole host of complaints about her one-hour reading with Theresa that was filmed for Long Island Medium. She said Theresa's assistant asked for details about her husband's death before the reading, Theresa was very brusque, and she ultimately didn't really hit on any surprising details during the reading. The woman also revealed that the whole production took six hours, the crew moved around her furniture, took down photos of her late husband before filming, and filmed the reading twice because she "didn't say the right things."
If you can't afford your own private reading with Theresa or just don't have the patience to wait, she tours across the country doing her "Live Experience" show, which I attended in 2012. The show must have been a couple of hours long, and it was in a small ampitheater packed with a few thousand people. During the "Live Experience," Theresa looked, acted, and spoke just as she does on Long Island Medium, big, bleach-blond hair, nails that could cut you, towering heels, and all. She gave a bit of a speech about what she does and how it works, complete with witty banter and that Lawn Guyland accent.
Then, Theresa moved around the theater wherever Spirit took her. She stopped near a person and asked him or her if what she sensed was accurate, much like she does on the show. This continued for a few minutes, all the while Theresa picked up on personal details you find hard to believe she would know if she wasn't a medium, such as the circumstances of a person's death or his or her favorite pastime. She also passed on messages of comfort from the dead to the living. There were lots and lots of tears, from those who were read and the audience members alike.
In a "Live Experience" show, it is highly unlikely you're going to get a reading from Theresa. I did not receive a reading, and the vast majority of people didn't. However, it's still interesting to see Theresa work her magic, and it's not unusual to see people nodding or hear them gasping while someone else is getting read. A lot of the time Theresa showed her own amazement with her skills by saying things like, "Do you believe that?" After experiencing a reading with Theresa live, I actually do.
Images: TLC; tlcnetwork/Tumblr