Caleb is Paying the Price of Victory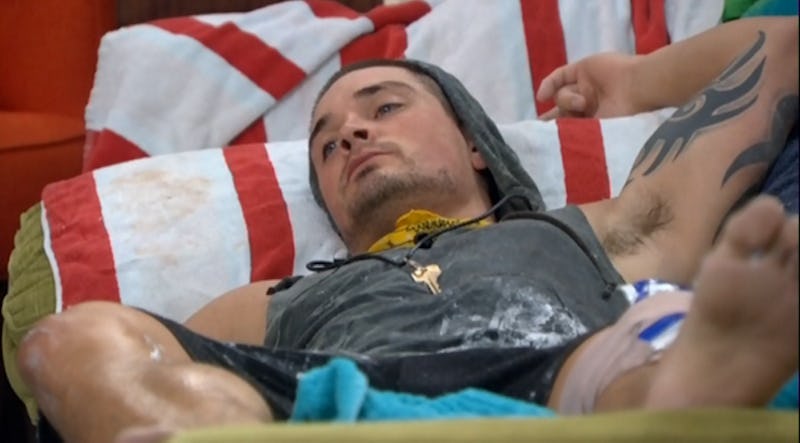 Although we sadly missed out on seeing the results of the Head of Household competition on Thursday's episode of Big Brother, the live feeds fixed that for us. Spoilers ahead. After getting Donny evicted from the Big Brother house, HoH Cody was dethroned by Caleb Reynolds in the competition, making Beastmode Cowboy the new law around these parts. However, it appears that Caleb went a little too far into Beastmode because when the feeds came back up he was on the ground and had to be carried back into the house by Derrick and Frankie.
The competition involved sliding from one side of the yard to the other to fill up snowmen and somehow Caleb managed to injure his knee. According to him, he has torn that knee before and might even need crutches. He was on his feet for the revelation of his HoH room, but it wasn't long before he was back down for the count with an ice pack on his knee. He even thinks that this injury might affect his ability to play in the jury competition unless it's another mental competition.
Caleb is the second house guest to have a medical issue this season, the first being Victoria Rafaeli. Victoria's face began to swell as her wisdom teeth came in and she eventually passed out, prompting production to send a doctor into the house to care for her. Now that Victoria is back on her feet, it seems like Beastmode Cowboy is now the one in need of medical attention. Could Caleb's knee actually prevent him from being properly able to play the game once his HoH reign is over?
Maybe. After all, though there have been a lot of mental competitions over the course of Big Brother season 16, a lot of those same competitions involve a lot more physical activity than just standing still at a buzzer. Luckily, Caleb has been through this kind of injury before and probably knows what to do to make sure he recovers properly, but the length of time that takes might mean that production either has to change the nature of future competitions to accommodate his injury or that Caleb might have to go home.
He can have someone play on his behalf in a PoV competition, but he can't have someone play on his behalf in an HoH competition. And with next week being a double eviction, it's even more important for Caleb to be at the top of his game in order to keep himself from being a target of his own alliance among the five guests left in the house just because he can no longer compete and win for them. After all, the Detonators aren't keeping Caleb around for his mental prowess and strategic abilities.