Ginger Spice's Most Ridiculous Outfits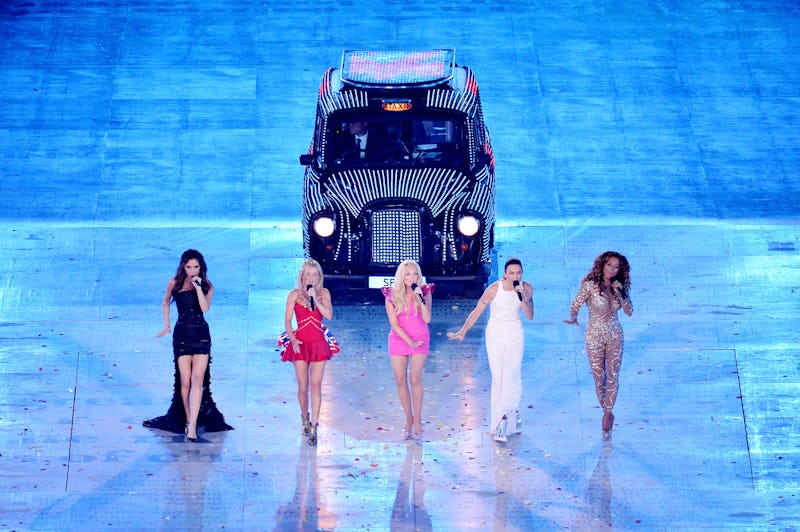 Stu Forster/Getty Images Sport/Getty Images
When I hear the name "Geri Halliwell," the first thing that comes to mind is Ginger Spice standing in a Union Jack mico mini dress with gigantic red platform boots. It only makes sense, seeing as how that outfit alone became the staple of the Spice Girls look from that point on. But the tight dresses and exposed skin didn't stop there: Ginger Spice appeared to have an entire wardrobe focused around hot pants, platform shoes, and many shades of red. And sometimes she looked flat out ridiculous.
The same argument can be made for all of the Spice Girls. Their nicknames created an entity of their own which allowed the girls to play into their roles through fashion — and it was awesome. For every great outfit Ginger revealed to the world, an insane one was soon to follow, but we loved them all equally. If Ginger was your favorite band member (because we ALL had a favorite) then what she wore always seemed like a hit... no matter how tight it was. And, let's just be clear right now — every single one of her outfits was straight up plastered to her skin.
It feels like a shame to describe anything that Ginger Spice wore as ridiculous, but in the spirit of pure Spice Girls nostalgia, I feel it is necessary to address the following outfits as a Ginger Spice fail — though even when her ensembles were a little questionable, she was still fierce as hell.
1. BAD RABBIT
At the 1997 Brit Awards, Ginger chose to dress as a really bad version of Jessica Rabbit. Her "girls" looked like they could hop out of the bodice at any second!
2. AMERICAN TOUCH
Ginger had another crazy outfit unveiling in 1997, this time while at the MTV Video Music Awards. The Spice Girl's may have won the award that night for Best Electronic Music Video for "Wannabe," but Ginger's nod to the American flag isn't exactly a winner.
3. DANCING BEADS
I want to love this look, but I just don't. It has too much going on and sadly it doesn't flatter our dear Ginger.
4. SHORT BLUES
Her stage look doesn't translate very well on the streets...
5. STRICTLY STRIPES
The mismatched look may be trendy now, but this look back in the '90s screamed more circus than it did fashion.
6. RUBY RED
Ginger obviously had a thing for the color red, but sometimes too much red is just too much red. Honourable mention goes to Scary Spice for an equally disastrous outfit here.
7. I SEE YOU
This one is a little bit confusing. Did the bright light of camera make it worse, or is her dress really just THAT see through?
8. GLITTERY GIRL POWER
The idea is cute, and truth be told Ginger looks quite adorable despite the fact that her top looks like it was made with a Jazzy Jewelry kit.
9. PSYCHEDELIC SPICE
Something about this groovy '70s throw back actually looks more like a cheesy Halloween costume.
10. PLEATHER QUEEN
It is hard to pass judgment on a stage costume, but this little gem is just too short, too tight, and way too shiny.
11. INFAMOUS MINI
It's not the outfit that is ridiculous. It's the length... or lack thereof.
12. BARE RUFFLES
As time went on and the Spice Girls decided to part ways, Geri Halliwell only experienced a few more fashion hiccups before she finally got it right. With the exception of that fateful year in 2008 when the Spice Girls went on a world tour and Ginger Spice wore what is perhaps her most ridiculous outfit to date.
Thanks for the memories, Ginger.