What Has Elizabeth Berkley Been Doing Since 'Saved by the Bell'? Jessie Is Definitely Showing Off Her Moves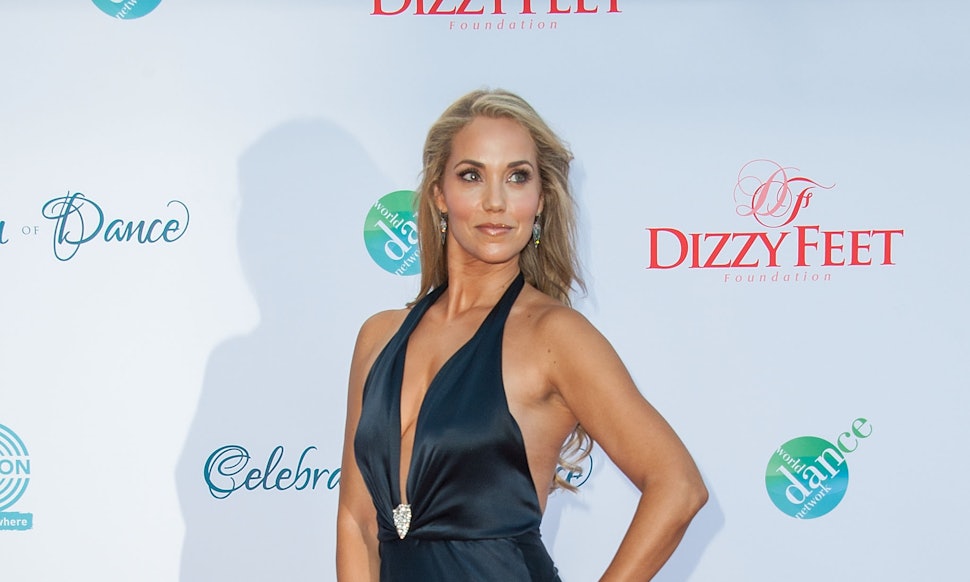 Valerie Macon/Getty Images Entertainment/Getty Images
I'm so excited! I'm so excited! I'm so, so... seriously excited. Lifetime's The Unauthorized Saved by the Bell Story airs on Labor Day, so where has Jessie Spano actress Elizabeth Berkley been since the '90s' best show ended? Besides defending how pregnant women are discussed in the media on Twitter (hoorah!), let's check in on our favorite brainiac.
Disappeared from Bayside
A mysterious thing happened during the last season of Saved by the Bell — Jessie and Kelly disappeared. They were replaced with tough-talking, leather jacket-wearing Tori. A mind-boggling phenomenon for a young, developing girl, I never knew why. Luckily, the Internet exists and I wasn't the only one with this question. The final season of SBTB was filmed (including the finale) and then NBC added more episodes. Tori joined the show when Berkley and Tiffani Thiessen were negotiating their contracts for these extra episodes.
Afterwards, Berkley didn't join the gang for the college years, but she did return for a bit in the Saved by the Bell: Wedding in Las Vegas special.
Image: Lionsgate Publicity
Had Her Last Chance to Ice
Showgirls, Showgirls, Showgirls. If you haven't seen THE GREATEST MOVIE EVER and are a Saved by the Bell fan, prepare yourself. Berkley as Nomi Malone is an ambitious dancer who lands in the underbelly of the Las Vegas showgirl scene and there will be things that you will see, that you will never be able to unsee.
Make sure you have plenty of booze onhand, and let the awkward hilarity ensue (especially during the Berkley-Kyle MacLachlan pool sex scene). And just ponder what feminist Jessie Spano would have to say. And if you're really ready to get the full-Showgirls experience, get the V.I.P. Edition DVD which includes shot glasses and drinking games. (But trust me, you'll come up with your own.)
Image: MGM
Returned to the Small Screen
After Showgirls, Berkley had small film roles — the most notable movies being First Wives Club and Any Given Sunday. As for TV, her next regularly occurring character in a show was in CSI: Miami in 2008.
She portrayed the troubled ex-girlfriend of David Caruso's Lieutenant Horatio Caine in Seasons 6 and 7 of the show. Her arc ended in 2009 and the show was canceled in 2012.
Image: CBS
Modeled for Animal Rights
Harking back to Jessie Spano's "Stop the drilling! Stop the oil!" days, Berkley supports People for the Ethical Treatment of Animals (PETA). In what had to be a response to Lady Gaga's meat dress, PETA began a campaign that included lettuce dresses (PETA India even tried to get Gaga to wear one). Berkley was a part of the "Lettuce Ladies."
Although I absolutely do not approve of sexualizing women in order to promote vegetarianism, I support the general message — especially after Gaga's comments on fur. And Berkley's lettuce dress is kind of fantastic.
Image: PETA
Became a Mentor
In a somewhat fascinating, yet completely refreshing role, Berkley started doing workshops called "Ask Elizabeth" for girls as an open forum for them to talk about their problems. Berkley told Entertainment Weekly that it started very organically, but Ask Elizabeth later grew. Berkley then created a website and wrote a book that was released in 2011 by the same name.
Encouraged by her husband to start the program, it's so nice to see a celebrity interacting with people on such a real level. As she told Entertainment Weekly, "There was a universal emotional journey that we all go through even though we might have a different story surrounding it."
Started a Family
Berkley married Greg Lauren in 2003 and they had a son, Sky Cole, in 2012. Lauren has been an actor, an artist, and — most recently — a fashion designer, following in the footsteps of his uncle, Ralph Lauren. Clearly talented, he also created his own perfume. Normally, I would never even consider spending $195 on perfume, but the fact that Lauren told The New York Times Style Magazine that he gave a personal touch to every bottle makes me intrigued. (Intrigued, but not yet buying.)
Certainly, Lauren is a bit different than A.C. Slater.
Danced like a Star
Berkley proved she can dance (among many, many other things) in Showgirls, so she took those skills to basic cable last year with Season 17 of Dancing with the Stars. (She previously had an unsuccessful run as a host of a Bravo dance competition called Step It Up and Dance.) In a bizarre reunion, Berkeley competed against Leah Remini who was on a few episodes of SBTB as Zack's love interest Stacey.
Berkley was unexpectedly eliminated in week nine, but not before she got to pay tribute to Jessie Spano by recreating her "I'm So Excited" Saved by the Bell scene with her dance partner Valentin Chmerkovskiy. And I adore watching her acknowledge her amazingly hokey roots.
Image: ABC
Got Portrayed on Lifetime
Tiera Skovbye plays Berkley in the Lifetime movie. Like most of the original cast members (except executive producer Dustin Diamond, aka Screech), Berkley had nothing to do with The Unauthorized Saved by the Bell Story. She told US Weekly, "I'm not really curious about it because we know the life we led, and I have no idea what their picture of it is."
So we'll have to see how the strong-willed Jessie Spano is portrayed Sept. 1 at 9 p.m. on Lifetime.
Image: David Bukach/Lifetime