Donny's Family Doesn't Want Fans' Charity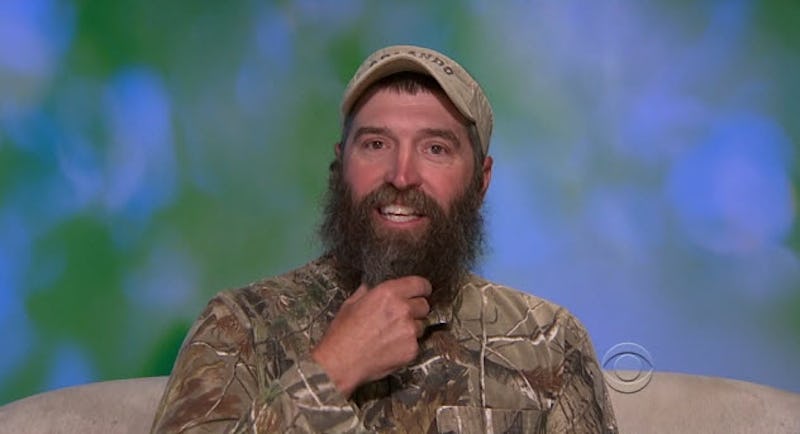 Has there ever been a Big Brother houseguest more loved than Donny Thompson? Sure, there have been better game players, but from the moment he first appeared on Season 16, Donny stood out as one of the sweetest and most sincere people to appear on the program (which is known for its contestants' backstabbing ways). Viewers chose him as the first member of Team America, and the show shot a segment in Albemarle, N.C. early in the summer so we could meet Donny's family. But despite being a fan favorite, audience members knew that Donny didn't have an alliance in the house, and it was only a matter of time before the Detonators voted him out, which they finally did on Thursday. So on Aug. 24, four days before Donny left the house, a superfan named Courtney Cavanaugh created a GoFundMe campaign called Dollars4Donny to ensure that he would be rewarded for his gracious conduct in the house, even if he didn't win the $500,000 prize. Despite Cavanaugh's good intentions, however, the fund has become controversial after the Thompson family publicly refused to accept the money.
On a website that claims to belong to Donny's brother Tommy, he explains his family's reasons for rejecting the donations, which so far amount to $2,500. Tommy said that, "Donny and I were raised by parents who taught us that we had to work to earn a living, We don't believe in taking handouts." Tommy said Donny wants to win money according to the rules of Big Brother, not through fan donations: "The house guest are not awarded money by some Internet beggar or Internet panhandler." He said that Donny didn't appear on the show to win money, but rather for the love of the game.
Tommy also added that since his family has chosen not to take the money, fans have been writing defamatory things about the Thompsons on the Dollars4Donny page, which he seemed to take as further evidence that the whole campaign is a bad idea. Tommy is worried that Cavanaugh has become "obsessed" with his brother, but he says that he knows Donny better than Big Brother fans. He knows, "Donny wouldn't want you to give away your hard earn money. Instead, he would want you to help someone in need from your own community."
Cavanaugh has refused to take down the page, and many commentors have argued that they donated the money to Donny, so he, not his family, should decide whether to accept it or not. All of the negative comments written about the Thompsons on the GoFundMe page have also been deleted.
Caught in the middle of all this is Kristine Bartley, Donny's girlfriend. In a video conversation between Bartley and several Big Brother alums, including this season's Amber Borzotra, Bartley confirmed that the charity is legitimate, and she expressed nothing but positivity towards its creators.
Though the Thompsons may appear harsh for refusing the funds, I can understand their reasoning. They might feel embarrassed that, after appearing on national TV, strangers have taken it upon themselves to give them cash. (It seems unlikely that a similar campaign would have been raised if Donny were wealthy, regardless of how much America loves him.) Tommy explained that his family is deeply religious, and quotes Timothy 6:10, which declares, "the love of money is the root of all evil."
But for those who are donating, Dollars4Donny gives them a platform to express their appreciation for their favorite houseguest. The page encourages not just monetary donations, but shows of support through the comments section as well. As Cavanaugh explains in the description, she and other fans are worried that because of the Team America twist, there won't be an America's Favorite Player prize this season—or that if there were, Frankie Grande would get it because of his sister's multitude of fans. Cavanaugh sees the campaign not as a charity, but as a way to reward Donny for playing with integrity, even if CBS won't. Some commentors have also acknowledged that Donny will likely donate the money, which they believe is his prerogative.
My advice to Donny:
You've earned it, bud!
Images: CBS; GeminiDragonGifs/Tumblr