Her NYFW Shoe Debut Is Highly Unexpected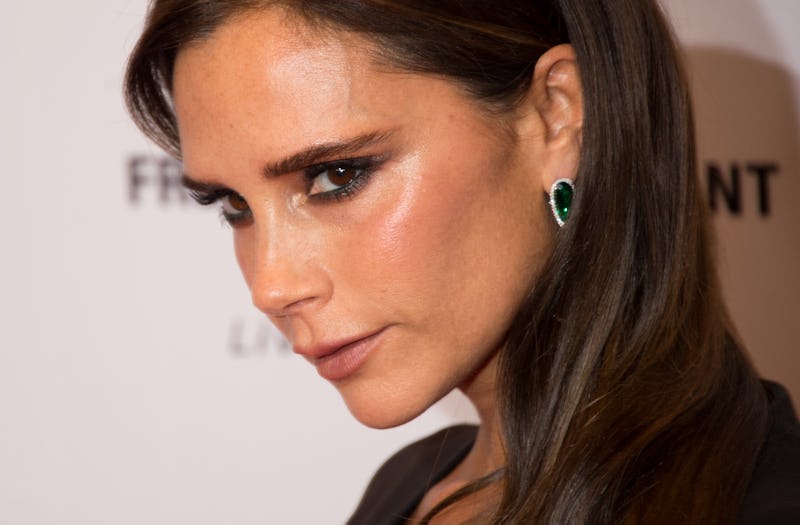 Ian Gavan/Getty Images Entertainment/Getty Images
The woman formally known as Posh Spice recently debuted her spring/summer 2015 show at New York Fashion Week. Most everything was pretty much as to be expected from the minimalist designer and fashion icon. There were monochromatic separates, conservative collars, and midi-length skirts. But then the funniest thing happened. For this show, Victoria Beckham debuted footwear designs. I know what you're thinking — why is that funny? Victoria Beckham always has the cutest shoes. Well yes, yes she does. But somehow, in this collection, she deviated from anything I could have possibly guessed for her to create.
In a backstage interview with Grazia Daily, Beckham divulged that this collection is "me, it feels very me." And yet, one of the shoes that she created are some pointed-toe, white, leather flats, with giant rose embellishments. WHAT. Wait though, it gets funnier. Also in her backstage interview, Beckham said, "I love flats, I wear a lot of flats myself." I have no words. Posh Spice is the queen of LBDs and classic, black stilettos. I know that was her look in the '90s, and maybe she's changed some since then, but I still couldn't believe that statement. I took to Google Images, and found that my instincts were correct. I scrolled through 12 lines of pictures of Victoria Beckham, and only found two pictures of her going out in flats. Two. And those were much cuter than what she's designed.
Granted, Beckham doesn't know if she will start selling her shoe designs any time soon, but I still can't help but wish she would have done something alluding more toward her Spice Girls days. So until she does, here are some examples of what I would have liked to see from Beckham's first foray into footwear.
Knee-Highs
Ankle Straps
Velvet Pumps
Nude Pumps
Yeah, yeah, I know it's a wax figure. But still, those shoes are killer.
Black Pumps
Black Pumps!!
No, Seriously, Black Pumps
I actually can't believe she didn't start with designing the ultimate, black pump. Maybe next time.
Images: Getty Images