Oh Yeah, They Went Full "Happy Ending" On 'BiP'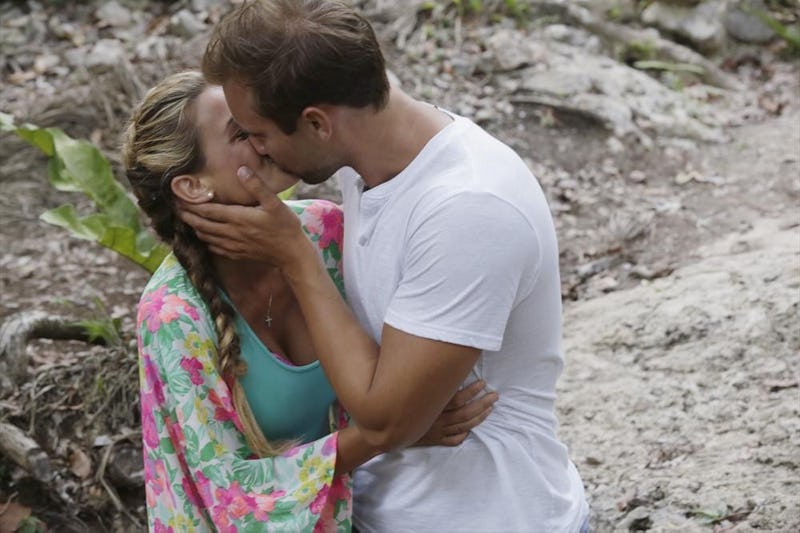 All season long on ABC's newest answer to Bachelor withdrawl, Marcus Grodd and Lacy Faddoul have been Bachelor in Paradise 's strongest couple. I figured they would sail through the final rose ceremony with some gushy speeches about how Marcus completes Lacy or how all the tears that have lead Marcus to this moment have been worth it. (Yeah Andi, he's talking about you.) But instead the couple offered some of the finale's biggest drama when Marcus announced before handing over his rose that he needed a minute to talk to Lacy.
Ordinarily this would be a dramatic "Are they breaking up?" moment but this is Lacy and Marcus — they fell in love about four days into production. So instead of a split, it seems more like the private moment was destined to be a proposal.
Rumors have been swirling since before the show even started that Marcus walked away from the show with a fiance so watching him walk Lacy to a private spot I was like, "This is it!!!!"
And guess what? It was. With the ocean as a backdrop it looked just as fancy as any normal Bachelor or Bachelorette proposal and it was just as sappy. "Coming here to Paradise and meeting you has opened me up to a new perspective on love. I learned what true love really was," Marcus said before getting down on one knee and proposing.
Of course Lacy said yes because the two have been inseparable for like seven episodes. Plus Marcus gave Lacy a Neil Lane diamond so they're now an official Bachelor couple worthy of the ranks of Jason & Molly Mesnick, Ashley & J.P. Rosenbaum, and more.
And actually, as sappy as it was, it was pretty sweet. Their love melted my cold heart just a little. I'm a sucker for TV romance, what can I say?
Will it last? Who knows, but may the odds be ever in their favor because I like this couple a lot.
See you all next year for Bachelor in Paradise Season 2!
Images: Francisco Roman/ABC; kristinruffin/Wordpress