Get To Know Kim Zolciak's Assistant, Sweetie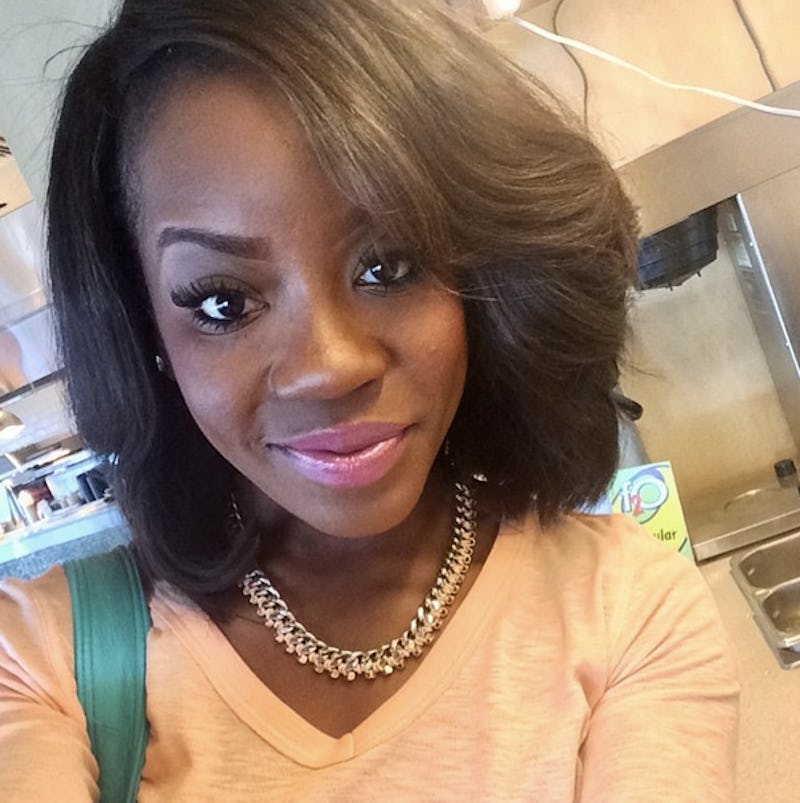 If you've ever binge-watched episodes of Don't Be Tardy , then there's a pretty good chance that you've binge-watched episodes of Real Housewives of Atlanta. And if you've seen RHOA, you'll remember Kim Zolciak shouting "Sweeeeetieeeee," at least 14 times per episode. "Sweeeeetieeeee," of course, is referring to Kim's assistant, Sweetie Hughes. But those of you who have no idea who I'm talking about are probably wondering, who is Sweetie?
Don't Be Tardy Season 3 definitely features some characters, from Kim's nanny Lana to Ms. Sweetie Hughes herself. But what do we know about Sweetie besides the fact that she's Kim's assistant, essentially her best friend, and clearly a cast member of the show? During Season 3 of RHOA, Nene Leakes referred to Sweetie as a slave when fighting with Kim, which is probably one of the most memorable moments of the entire show. During that confrontation, Sweetie can be seen standing very quietly behind Kim, taking drags of a cigarette. I've always wondered what there is to know about Sweetie because she's a season regular on pretty much every show Kim has appeared on and has been involved in drama like this, yet she is in the shadow of Kim and her wigs.
You might be saying how can she be overshadowed by wigs? Trust me, they're pretty big wigs. But back to Sweetie. Here's everything you need to know.
SHE GETS ALONG WELL WITH KIM'S KIDS
Sweetie has been working for Kim and her family for over 10 years now. She has a great relationship with all of the Zolciak-Biermann offspring, including Ariana.
SHE & KIM LOVE TO DRINK TOGETHER
Sweetie was always running around pouring wine into coffee travel mugs so Kim could drink in public during RHOA, but the two are definitely known for enjoying a drink (or five) together.
SHE'S AN AUNT
And seems to adore her niece.
SHE LOOKS JUST LIKE HER SISTER
They could pass for twins.
SHE LOVES SLEEPING IN
But who doesn't?
SHE'S NIGERIAN
Sweetie is a proud Nigerian woman who, apparently, is a powerhouse in the kitchen when it comes to making Nigerian food. Who knew?
SHE'S READY FOR WINTER
Sweetie may love spending time with KJ and the gang in the summer sun, but she can't stand bees or wasps. I get up and run from a table if I even hear buzzing so I feel you on that one, Sweetie.
SHE'S A MOMMA'S GIRL
Sweetie's mother just had a birthday on Sept. 10, and she posted this sweet pic to her Instagram.
SHE LOVES CHOCOLATE
Sweetie's just like us! I know when I even think about a Three Musketeers Bar I start drooling. Alright, now I'm drooling...
SHE LOVES HAIR AS MUCH AS KIM DOES
This is probably what makes her and Kim such a good match as friends, among other things.
Overall, Sweetie has been a fiercely loyal employee, friend, and confidante to Kim and her family. She offers an insane amount of comic relief on any show she appears with Kim on, not that Kim isn't funny enough on her own. It's nice to see two friends who have been friends and working together for multiple years. If you want to see her and Kim talking about wigs and chugging wine for yourself, tune into Don't Be Tardy on Bravo.
Images: Sweetie Hughes/Instagram (9)