Instagram's Mayhem Made Her NYFW Debut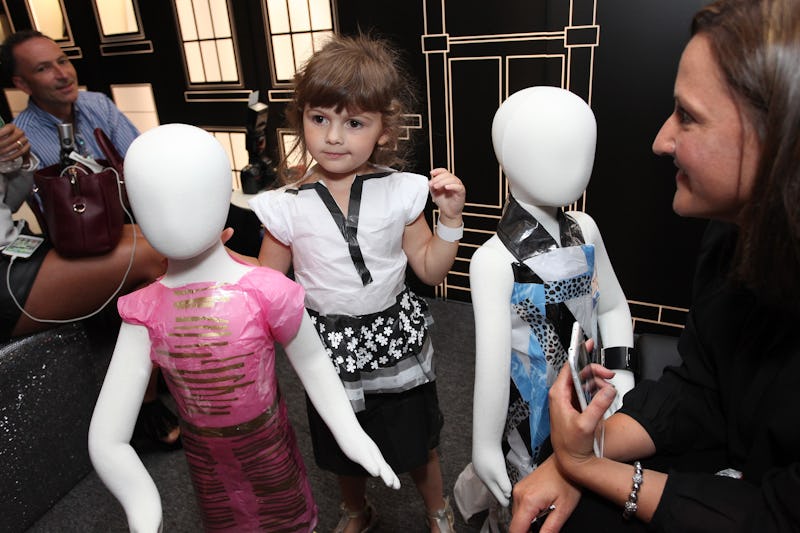 Donald Bowers/Getty Images Entertainment/Getty Images
In May of 2013, a mother-daughter duo named Angie and Mayhem began posting photos of handmade paper gowns to Instagram under the handle @2sisters_angie, garnering attention from the likes of Vogue, Huffington Post, and, yes, Bustle. One year and 400,000 followers later, four-year-old Mayhem officially made her New York Fashion Week debut! Not bad for a girl who hasn't even started kindergarten yet, huh?
Mayhem and her parents headed to Lincoln Center to take in the Reem Acra Spring 2015 presentation and show off some new paper dresses to a small crowd of adoring journalists, myself included, at the Samsung Galaxy Backstage Lounge in the tents. Sporting a black and white dress with a flower-studded peplum — yes, she made a peplum out of paper and it was infinitely cooler than any other peplum — Mayhem posed for photos beside two mannequins dressed in her other brand new creations.
A pink and gold cap sleeved confection was directly inspired by a similar design seen the previous day on the Reem Acra runway. The third dress was a complex halter covered with strips of leopard, black, blue, and white duct tape. What's really awesome about this project, which started simply as a way to expand Mayhem's dress-up collection, is that the youngster actually does a ton of the work! Explains her mother Angie, "In the very beginning, I laid [the materials] out and she watched and then little by little, over the months, she really picked up out to do it. There are many, many, many dresses that she does entirely on her own."
Mayhem's inspiration from Reem Acra SS2015
Mayhem is so cute and so talented that I'm not even mad that she got to attend NYFW at a mere four years old while I had to wait 23 years (okay, I'm a little mad). All I can say is that we definitely have the next Tavi/Isabella Rose Taylor on our hands. I can't wait to see what Mayhem does next.
Images: Getty Images; Getty Images for Samsung(2)